Farrier Talk with Tommy Boudreau • Video Series Part 1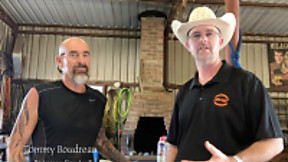 Author: Cutting Horse Central
Everyone in the performance horse world relies on farriers to keep their herd's hooves in the best condition to walk into the show pen. Everything great starts with a good foundation, and the phenomenal runs we witness at big events wouldn't be possible without excellent hoof care.
Master farrier Tommy Boudreau has more than four decades of experience in the field and has seen it all. His resume reads like a who's who of hall of fame horses and not only has he been an instrumental part of some of the legendary horses from the past, but also some of the current Champions making a name for themselves one cut at a time!



Tommy Boudreau has more than four decades of experience as a farrier.
Anyone who has been in the cutting community for some time has probably seen Tommy around ranches or shows working on some of the industry's top athletes. His trademark tank tops and friendly smile have been a familiar site in many of the high profile cutting horse barns for a long time.
Cutting Horse Central took time to catch up with Tommy to learn more about how he got his start in farrier work and some tricks of the trade. We had initially planned on editing the interview into a short video about Tommy and his experiences, but we soon realized there was way too much great content here to cut into one article so we decided to turn it into a six part series to highlight some of the interesting things we learned.
We hope you'll enjoy watching this as much as we did making it.

This first episode talks about how Tommy got started as a farrier and some of the people that helped shape his career over the years.


We hope you enjoy this first installment of the six-part educational series.
.