Jimmy Orrell 1933 – 2019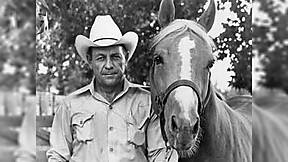 By the NCHA
Members Hall of Fame honoree Jimmy Orrell, 85, Monticello, Ark., passed away on Tuesday, March 12, 2019. Orrell, a friend, helper, and mentor to cutting competitors and newcomers to the sport for nearly six decades, said that the greatest reward for his efforts was the appreciation expressed by so many.
Raised to farming in Dermott, Ark., Orrell was introduced to cutting in 1954, while he was riding and training roping horses for Jack Mehrens. Riding Joe Peg for Mehrens four years later, in 1958, Orrell found himself in a three-way tie for first with Matlock Rose, on Goldwood, and Bill Iller, riding Poco Pine, at the renowned Fort Worth Fat Stock Show and Rodeo.
To read the full article, click here!
.