Cannon Quarter Horses – Only Quality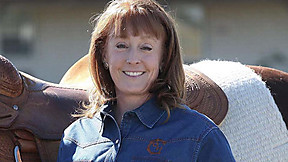 We have grown to love the cutting and cow horse industries for their incredible athletes and competitive atmosphere, and overtime, the horses have only become stronger and more impressive. It truly takes a superior individual to stand out among the rest, and Cannon Quarter Horses has been dedicated to putting out those quality prospects.
Owner Michelle Cannon has been devoted to producing that quality cross that excels in the show pen, and with a powerhouse mare lineup, it's no surprise that Cannon Quarter Horses-bred cutters and cow horses have time and time again been crowned champions at premier events.
Michelle Cannon has been dedicated to breeding quality horses throughout her life.
Their broodmares are comprised of some of the best in the industry including performers with impressive show records, now passing along their talent to the next generation. Lil Lena Long Legs (Smart Little Lena x Lil Lucy Long Legs) is one of the stand-out mares at the heart of Cannon's breeding roster. She earned nearly $200,000 in her cutting career and recently surpassed the $1 million mark in offspring earnings!
Lil Lena Long Legs, an incredible mare at the heart of Cannon's breeding program, just reached $1 million in PE!
"She is really exceptionally special," Michelle said of Lil Lena Long Legs. "My goal for her when I got her was to try to make her a million-dollar producer. I just had no idea she would get there so quickly!"
Cannon's broodmare band is also stacked with some other industry greats like Louellas Cat (LTE $302,483), Tootsie Rey (LTE $209,117), Kual Gun (LTE $103,205) and Sparktilion (LTE $76,177), just to name a few. View their complete mare lineup here.​
With those quality mares at the center of the operation crossed on a variety of high-caliber stallions like Metallic Cat, One Time Pepto, Docs Stylish Oak, High Brow Cat, CD Lights, Shiney Outlaw and more, there is truly a quality prospect for any one!
Some of Cannon Quarter Horses bred performers that stand out include, Sir Long Legs (LTE $336,460), Cat Belue ($190,232) and Two Time Dual ($172,668), and horses like Chexy Louella, 2018 NCHA Non Pro Futurity Champion & current NCHA Non-Pro Horse of the Year leader, are continuing to build up their earnings to make their own mark on the industry.
Sir Long Legs, bred by Cannon Quarter Horses, has accumulated $336,460 in his cutting career!
Cannon Quarter Horses is also home to two notable stallions, Shiney Outlaw and Shiny Nu Nickle, both by Shiners Nickle, the 2009 Snaffle Bit Futurity Open Co-Champion. Shiners Nickle (Shining Spark x Shesa Lota Nic) earned more than $105,000 in NRCHA events and was headed to the breeding barn before his untimely passing. Shiney Outlaw, an AQHA Reined Cow Horse world record holder, has some great looking prospects on the ground, and if they are anything like "Outlaw," they are going to make a big impression.​
Shiney Outlaw is an impressive stallion owned by Cannon Quarter Horses who has recently started his breeding career!
Michelle is proud of her horses, ensuring each one is started and placed with the best trainer in the most suited discipline! She is looking toward the future and always improving. She has had a few people say that her current yearling lineup is the best one thus far, and we are certainly looking forward to seeing those future stars shine in the show pen!
"My goal is just to breed the best in the industry, and I want everyone to be mounted on a great one."
Michelle loves sharing her horses, and always has a great lineup of weanlings, yearlings, 2-year-olds and more for sale. Be on the look out for some of her talented young prospects in the CHC Horses For Sale section!
To read more info on Cannon Quarter Horses, visit their website > www.cannonquarterhorses.com
.