High Brow Cat Breeding Fees Lower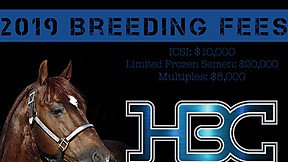 By: Press Release
Beechfork Ranch and Colt Ventures are excited to announce the restructuring of High Brow Cat's 2019 breeding fees. The fee for ICSI breedings will be lowered to $10,000. All additional pregnancies produced from a contracted donor mare during the 2019 season will be given a reduced stud fee of $8,000. With ICSI, multiple pregnancies from one procedure are possible, and we encourage breeders to take advantage of the reduced fee for additional pregnancies. Any ICSI frozen embryos resulting in pregnancies in subsequent years require a new contract for the the year the embryo is implanted.
The partnership has made the decision to allow a limited number of frozen semen breedings in 2019; due to ICSI allowing the limited supply of frozen semen to be stretched further. Frozen semen breedings will be available to mares approved by the High Brow Cat partnership and Weatherford Equine for $20,000. Mares will receive two attempts with frozen semen. In the instance that a frozen breeding results in multiple pregnancies, any additional pregnancy in the same breeding season will be charged a reduced breeding fee of $8,000. If no pregnancy is obtained in the first two cycles, any following attempts must be ICSI. Any rebreeds on frozen semen contracts will be ICSI breedings.
For breeding contracts please contact Weatherford Equine Breeding Center at 817-594-9181. For additional information please contact Madison Crum at 901-826-7297 or Darren Blanton at 214-649-7889. We look forward to working with previous and new mare owners breeding to High Brow Cat!
.