NCHA hires Kirk Slaughter as the new Executive Director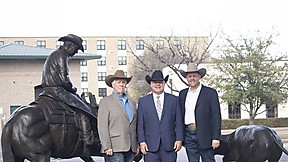 By: NCHA Press Release
The National Cutting Horse Association announces the hiring of Kirk N. Slaughter as the association's Executive Director. Slaughter will officially begin his role May 1, 2019.
Slaughter's ties to the Fort Worth community run deep and his passion for the equine industry is strong. Since 1998, Slaughter and a very talented team, have led the Will Rogers Memorial Center, the Fort Worth Convention Center, the Office of Outdoor Events, the Fort Worth Sports Authority and various other related services.
Slaughter's background includes leading first-class equestrian, livestock and agricultural facilities and major convention centers. Kirk believes in delivering outstanding customer service and having a passion for high-quality, cost effective service delivery with accountability for results within the private and public sectors...
To read full NCHA Press Release, click here!
.