Brent Erickson Claims Second Classic Limited Open Championship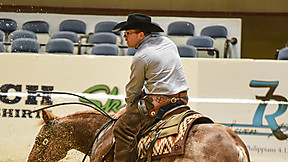 The Classic Limited Open kicked off our list of finals to be held throughout the 2019 NCHA Kit Kat Super Stakes last night in Fort Worth! It was Brent Erickson and This Bentleys Hot (Hottish x Spookys Nine Eleven), owned by Dacole Investment Company, that took home the first Championship for the show! They marked a 220 in the first hole draw to collect the formidable $9,287 Champion's check!
"B" has always been a special gelding to the Erickson team. He has a sweet personality and tries hard every time he walks to the herd. He had also always shown a ton of promise, but unfortunately had to go through colic surgery early in his four-year-old year. He missed out on most of the year but is making a statement in his comeback! They have already made several finals and now claiming a Championship in the big pen, needless to say it is good to have this guy back in the swing of things in the Erickson barn!
Brent had three horses in these eleven horse finals which is hard to do having to have pretty solid runs in the first go round to get to this point! He knows that this feat could not have been accomplished without his help, great owners, and his long-time girlfriend Kerinne Edgar and he was sure to give credit where credit was due! This is also Brent's second Classic Limited Open Championship in a row at the NCHA Super Stakes, having won it aboard Reyefied (Dual Rey x Shes A Smooth Cat), owned by Dacole Investment Company, last year which was another horse he made this year's finals on along with Princess Pandora Cat (Metallic Cat x Spookys Got Cash), owned by Jeff Barnes. It was a great night to say the least for this team, taking home a total of $16,681 between the three horses!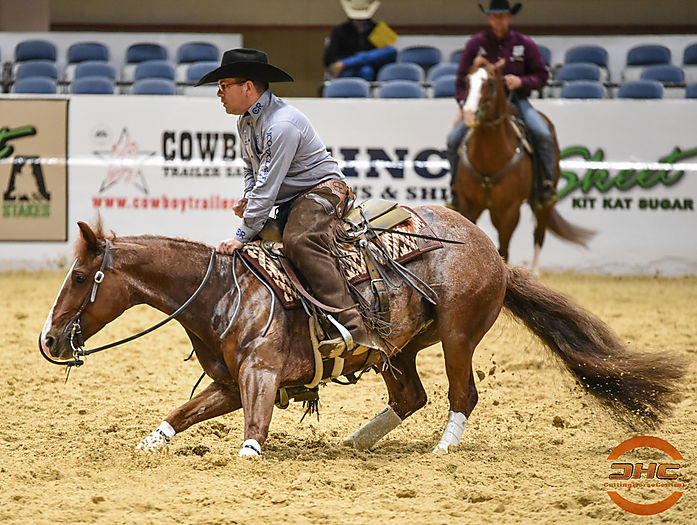 Brent Erickson and This Bentleys Hot
Listen to Brent's Exclusive Interview with Section K - https://cuttinghorsecentral.com/sectionk/
Reserve Champion was Constantine Caloudas marking a 219.5 riding WR This Cats Smooth (WR This Cats Smart x Foxs Molly Brown), owned by Chestnut Ridge Int Inc. This duo had an eligant run a little bit later in the set to take home the $8,396 Reserve Champion's check.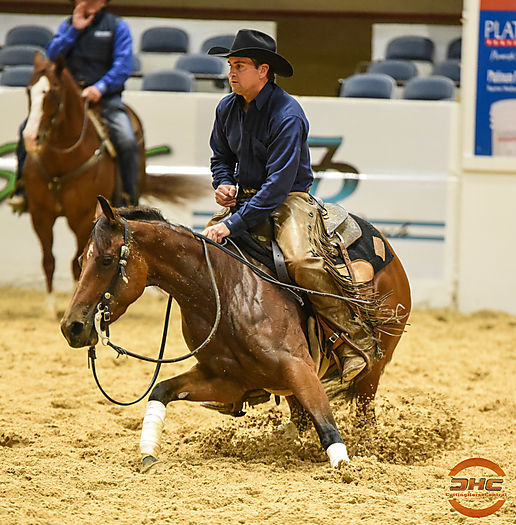 Constantine Caloudas and WR This Cats Smooth
Third Place was Eric Magby and One Sneaky Bluegrass (Bluegrass Cat x Squeaky Boon), owned by Browne Enterprises LLP. They marked a 217 to collect a $7,505 check.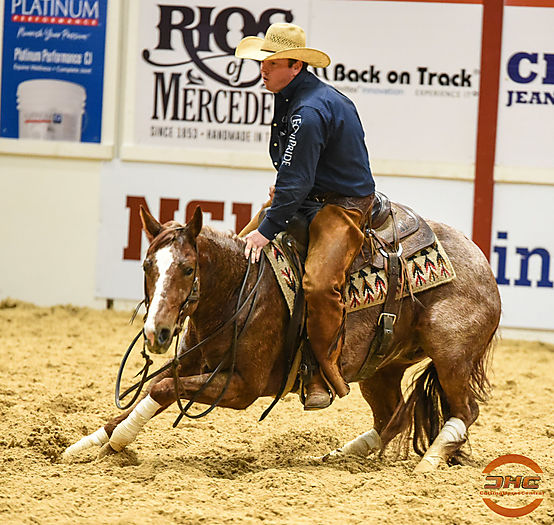 Eric Magby and One Sneaky Bluegrass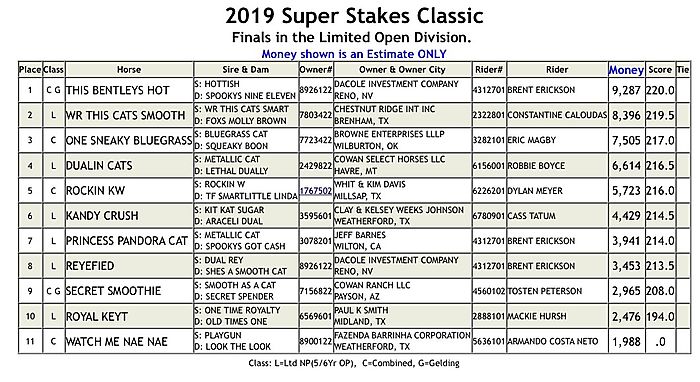 Today will continue the Open competition with the Derby Open Semi Finals. Then tomorrow will be both the Derby and the Classic Open Finals! It is a big couple of days in the Will Rogers, good luck to everyone competing and congratulations again to the Classic Limited Open Finalists!
.