Hanson, Galyean, and Green Close out Open Competition with a Bang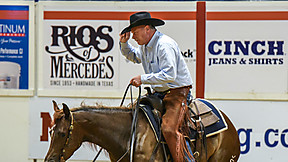 The Open classes are in the books at the 2019 Kit Kat Sugar NCHA Super Stakes and what a finals night it was on Saturday followed by the Derby Limited Open finals last night. The experiment with the new triple crown schedule has had good and bad reviews but it sure made for an exciting few days of cutting in Fort Worth! It was preceded by the first ever Pre-Finals Live Show with the guys of the Section K Podcast, the official podcast of Cutting Horse Central.
Section K Podcast is a new venture for three of our cutting veterans, Cody Hedlund, Collbran Larsen, and Kaden Rutherford, to discuss current events of the sport. Their journey is just beginning and we are excited to be collaborating with them for things such as the Live Show! If you missed it on Saturday be sure to tune in for the next one because we all had a lot of fun promoting the sport we all love together.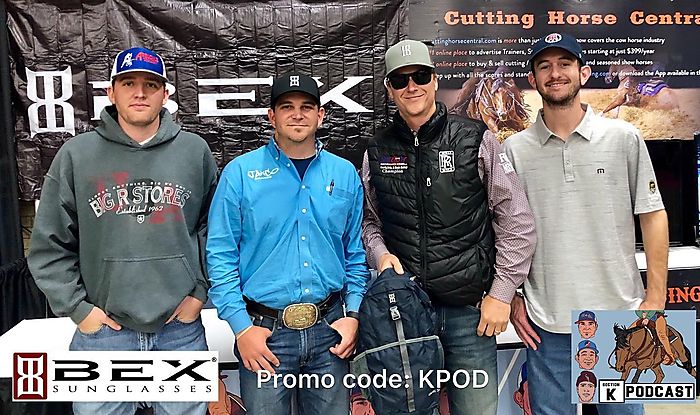 The guys of Section K Podcast with Classic Open Champion Beau Galyean
Classic Open
In the Classic Open Beau Galyean took home his third Super Stakes Classic Open Championship in a row, this time aboard the exceptional stallion Rollz Royce (Dual Smart Rey x Show Biz Kitty), owned by Thomas Guinn. They marked a huge 228 first out in the second set and as always "Royce" wowed us with his unique moves. He has a way of giving the true lovers of the sport goosebumps every time he goes to the herd. Beau, as always, executed a clean run presenting his horse confidently and the rest fell into place. He talked a little bit about his plan for the finals during the live show which included just that, to put together a clean run and let things build. We often want to make things happen in a finals, especially in the big pen.
As we mentioned, this is Beau's third Classic Championship in a row at the Super Stakes, first being on Metallic Rebel, the second aboard Stevie Rey Von, and now riding Rollz Royce. He has been blessed with some pretty exceptional horses as of late and he is certainly making the most of it! He often says how blessed he is and we know he does not take one moment for granted. The win now puts the young stallion over the $225,000 mark taking home another $24,675 for the Guinn's.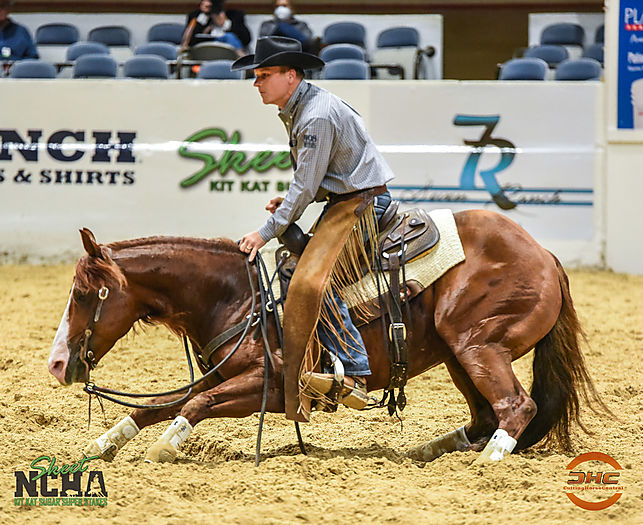 Beau Galyean and Rollz Royce
Reserve Champion was Lloyd Cox riding Second Spot (Spots Hot x Reycey Moon), owned by the Barker Cutting Horses, marking a 225! "Lilly" shines time and time again in the Will Rogers and she did not disappoint again on Saturday. It has to be mentioned that she was a past NCHA Open Futurity Champion with trainer Matt Gaines and she has won and been a finalist in countless other shows with Lloyd. Not a bad couple of riders for the great mare as they have both won over $8 million in the cutting arena! Lilly's extreme athleticism draws you in wondering what exactly she will do next but no doubt about it, there will be a huge stop! The duo received a $22,241 check to add to her already stellar career.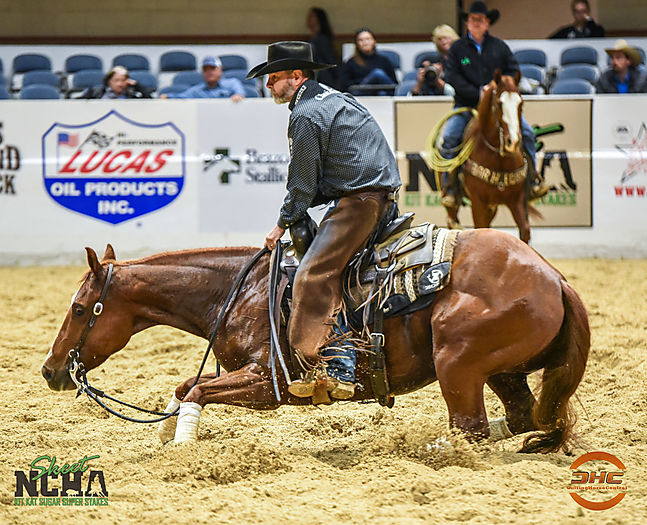 Lloyd Cox and Second Spot
Third Place was Jesse Lennox and Cinca Im Hot (Spots Hot x Cinca De Mya), owned by the Rockin P Ranch, marking a 220.5! This team has been one to watch for as well from day one. Once these horses get to the Classic Open there really are no slouches! It could be anyone's cutting and that makes it all very exciting to watch. Jesse mentioned in the Live Show that he was going to just think to himself "WWLD or What Would Lloyd Do" when preparing for his run. For those that do not know Jesse he is quite the character always making all of us laugh. He is truly always happy and fun to be around. He joked about the little saying but in all honesty, what would Lloyd do? This title added another $19,806 to this amazing team's earnings and give us all another reason to smile which is what it's all about!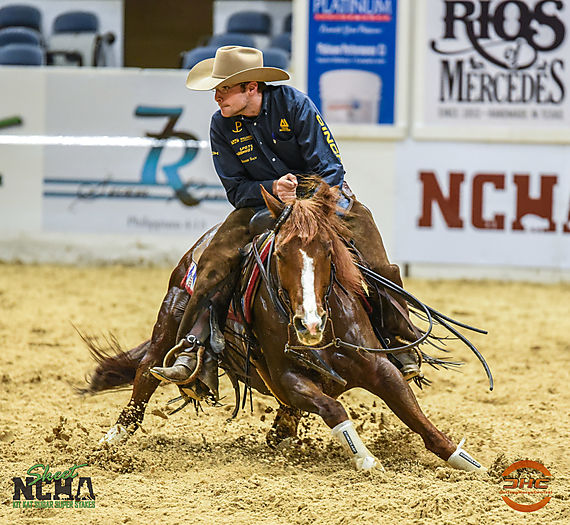 Jesse Lennox and Cinca Im Hot
Jesse also rode the Gelding Division Champion CR WRS Royal Tee (Wr This Cats Smart x Cee Dee Royal Tee), owned by the Rockin P Ranch, marking a 218. They received a $15,142 check for their sixth place finish in the finals with additional money earned for their Gelding Division title.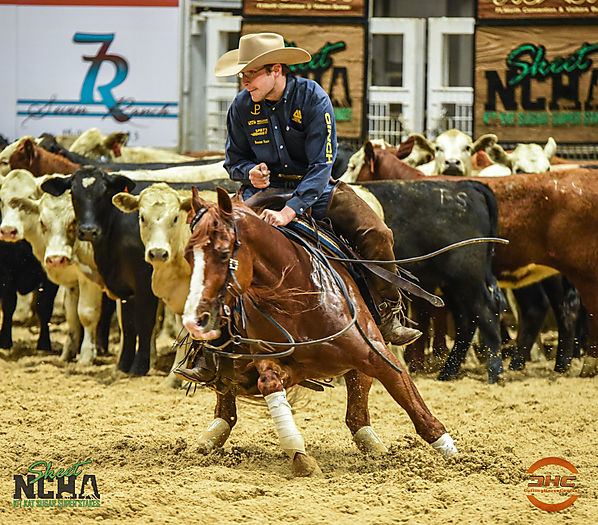 Jesse Lennox and CR WRS Royal Tee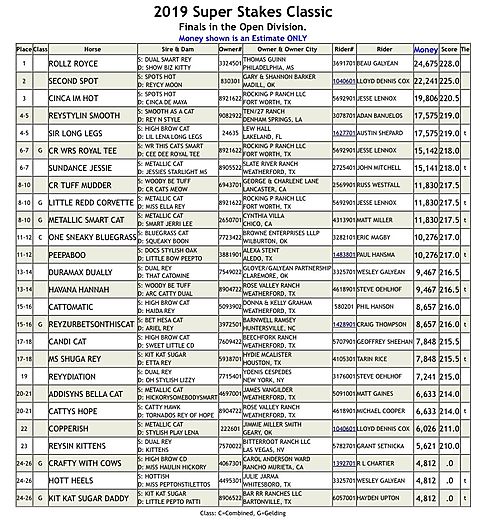 Derby Open
In the Derby Open Phil Hanson claimed his third jewel of the ever elusive NCHA Triple Crown. Granted, he did not win it all in one year on the same horse but this is a huge accomplishment to say that you have in fact one all three in your career! We want to start off by saying congratulations to Phil for this great feat!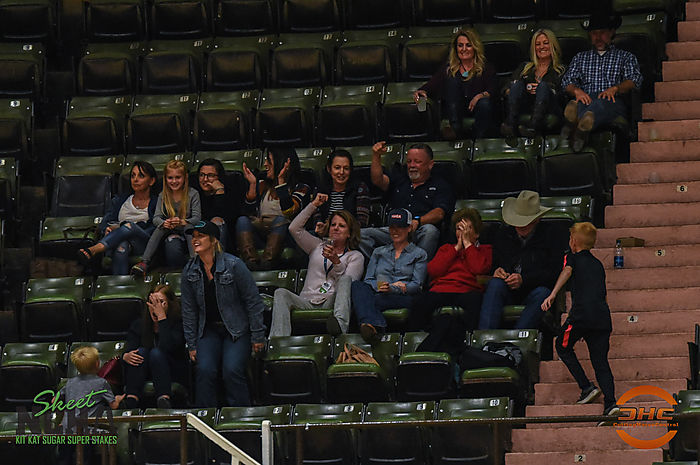 All of Hanson fans!
He and Hiss N Vinegar (Dual Smart Rey x Hissy Cat), owned by Jeff and Jennifer Foland, marked an unmatched 227 in the second set of the finals to collected the coveted $72,294 Champion's check. This win put "Smudge" over the $100,000 mark in earnings! It also put her mother, Hissy Cat, over the $1million dollar mark in production, which is very special to the Foland's who own the legendary mare. It was a family affair making the win have all of the warm and fuzzies attached to it. Phil trained the mare from the start and mentioned she was an easy horse to train always wanting to please. He finished eighth on Smudge at the NCHA Futurity as well as making several other finals up until this point!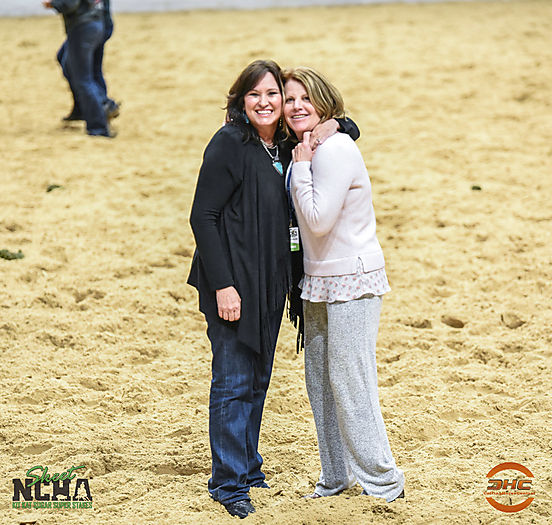 Phil also joined Section K for the Live Show giving advice, strategies, and extra information about his horse. It was so interesting to listen to all of these finalists and their takes on how to approach the finals. Phil's son Jake also came on the show and talked about his first big Open finals in Fort Worth! It was certainly a special night for the whole team.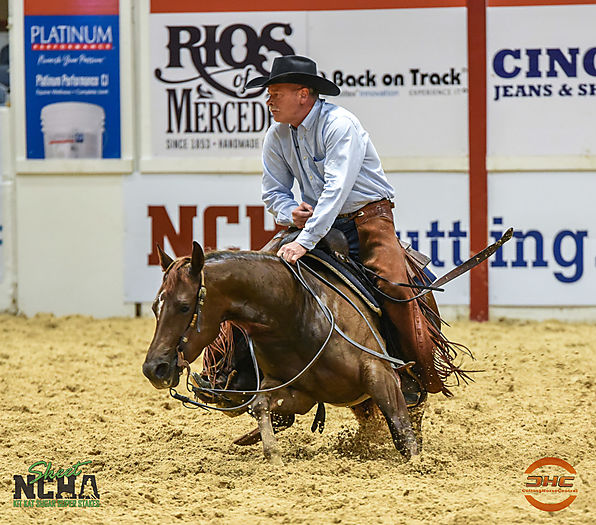 Phil Hanson and Hiss N Vinegar
Reserve Champion was Matt Gaines riding Sugrspiznevrthingniz (Kit Kat Sugar x Jewels Gotta Lizzy), owned by James Vangilder, marking a 221.5. Matt and "Mercy" have been on a hot streak all year making several finals and claiming a number of titles. The gritty, quick mare can handle just about anything making the challenging cattle in the finals a piece of cake. She is pretty special to all involved and for Matt to say she is a special on is saying something. He has ridden some of the best of the best but continues to bring these special horses out of his program. He has always looked fearless while showing and Mercy seems to match his fearlessness making them an unstoppable team. This win added another $63,633 to the young mare's earnings!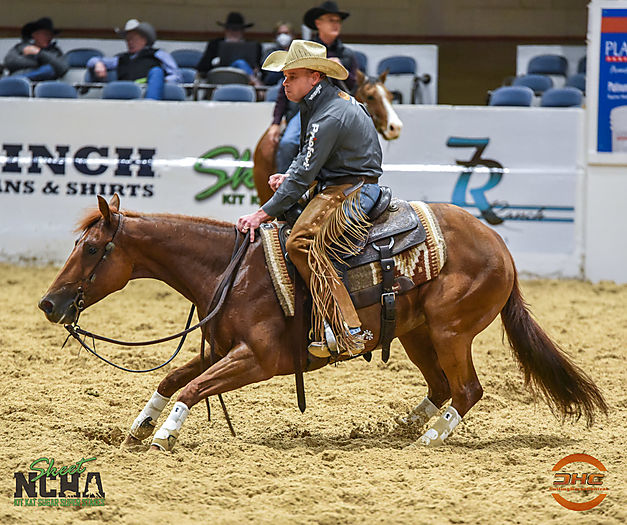 Matt Gaines and Sugrspiznevrthingniz
Third Place was Jesse Lennox once again marking a 220.5 riding Metallic Curveball (Metallic Cat x Cinca De Maya), owned by the Rockin P Ranch. They took home a $54,972 check along with the Gelding Division Championship and the Novice Division Championship! This gelding is also a half-brother to Cinca Im Hot, making for an "all in the family" evening for Jesse as well.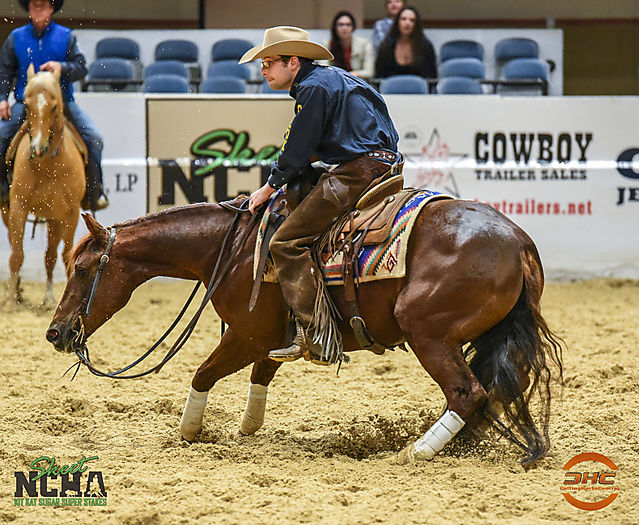 Jesse Lennox and Metallic Curveball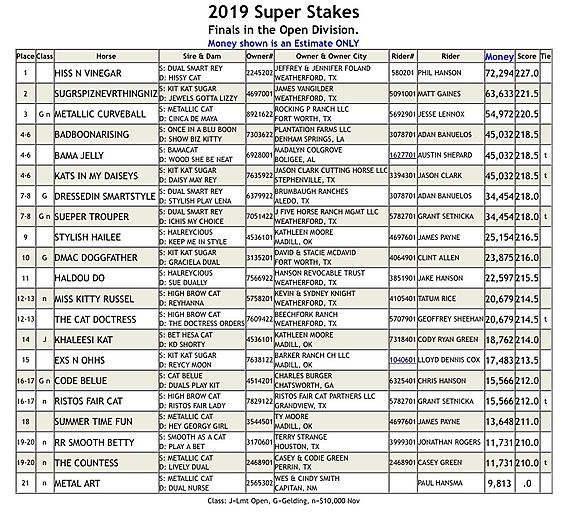 Derby Limited Open
The Derby Limited Finals finished out all of our Open Division finals for the show and it was the Cinderella Story of Cody Green and Khaleesi Kat (Bet Hesa Cat x KD Shorty), owned by Kathleen Moore, that came to a perfect end with them taking home the Championship!
Throughout the show Cody has been the crowd favorite! He and the quick little mare have put together solid runs throughout the rounds with a 219.5 in the Open Semi Finals to finish second in the round and make his first ever Open finals in the Will Rogers! It was undoubtable the loudest in the arena when he showed in the Open finals on Saturday night where he finished with a 214.5 after some testy cows challenged him. The whole thing brought chills to any sports lover though despite the score. Cody coming back to win the Derby Limited Finals was the story book ending we all wanted for this hard working young cowboy! Cody is the assistant trainer at the Payne Ranch which we all know is one of the hardest working programs out there. He has put in the time and to see it all come together is truly heartwarming.
They marked a 217.5 for the win and collected a $6,426 check to add to their amazing week. Cody literally tripled his lifetime earnings in one week of showing, again what a fantastic close to their story at the Super Stakes!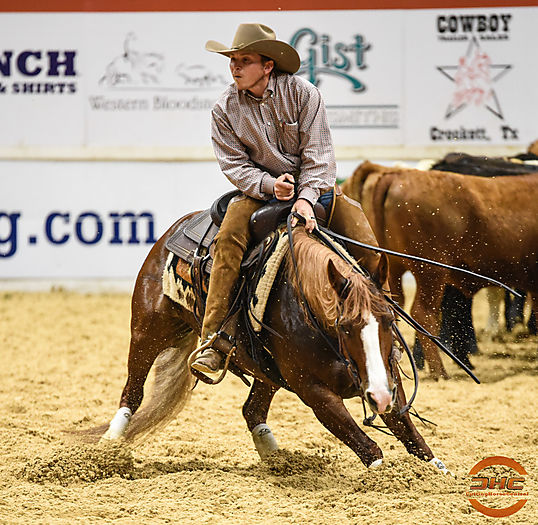 Cody Green and Khaleesi Kat
Reserve Champion was Armando Costa Neto riding Arosesuchastyle (Docs Stylish Oak x Arosesuchaclatter), owned by Fazenda Barrinha Corporation, marking a 217 first out in the finals. They received a $5,793 check to go along with their title.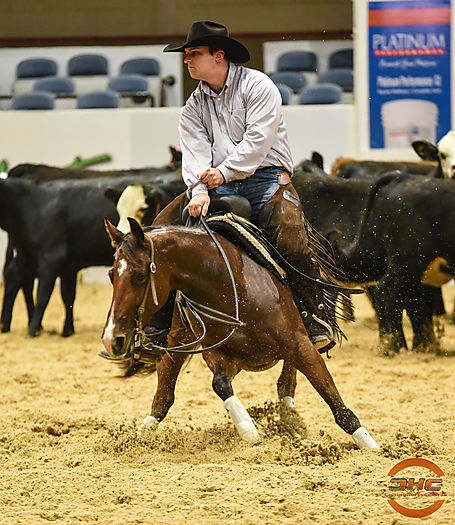 Armando Costa Neto and Arosesuchastyle
Third place was Ryan Moore riding Pepsi Boon (Once In A Blu Boon x Paula Dual), Jerry and Luann Jeffries, marking a 216.5 to collect a $5,159 check.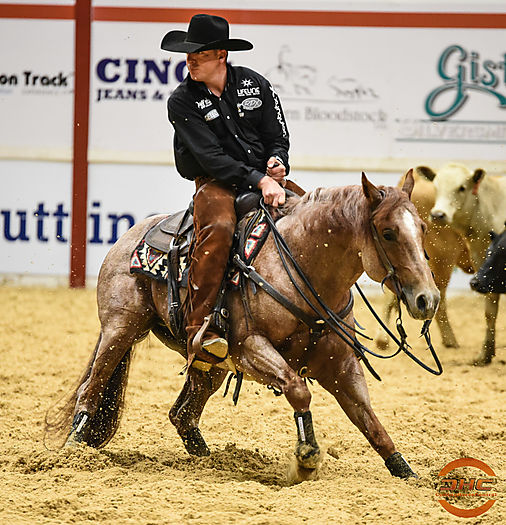 Ryan Moore and Pepsi Boon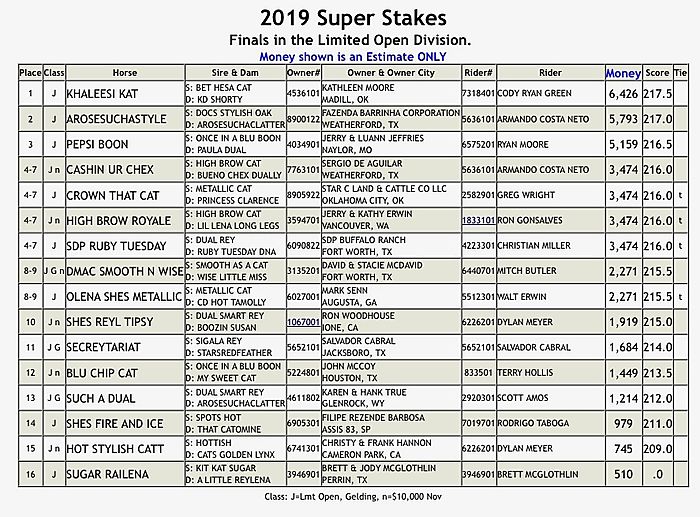 There is still quite a bit of cutting left to go at the 2019 Kit Kat Sugar NCHA Super Stakes with both the Non-Pro and Amateur classes left to go! Congratulations to all of the Open Finalists and good luck to everyone left to compete at the show!
.