Chelsea and Selena Strike Again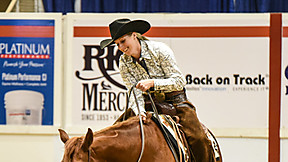 The Non-Pro is well underway at the 2019 Kit Kat Sugar NCHA Super Stakes! Chelsea Tatum and Bobs Smart Rey (Dual Rey x Bobs Smart Chance), owned by she and her husband Cass, marked a 223.5 late in the set to take home their second Classic Limited Non-Pro Championship in a row! They were also Champions here at this show last year and funny enough Chelsea was wearing the same shirt too! She had not worn it since her win last year and decided to bring it back out along with her "lets go for it!" frame of mind.
We could tell as soon as she drove her first cow out that Chelsea and "Selena" were in it to win it! This mare has been a blessing for Chelsea from the start and continues to be as time goes on. She made both these Limited Classic Finals and the Classic Non-Pro Finals while also carrying a Metallic Cat baby! They successfully flushed an embryo in the midst of all of the other excitement. She has been a once in a lifetime mare with still more to go throughout the rest of this year. This win added another $6,914 to their earnings along with their title.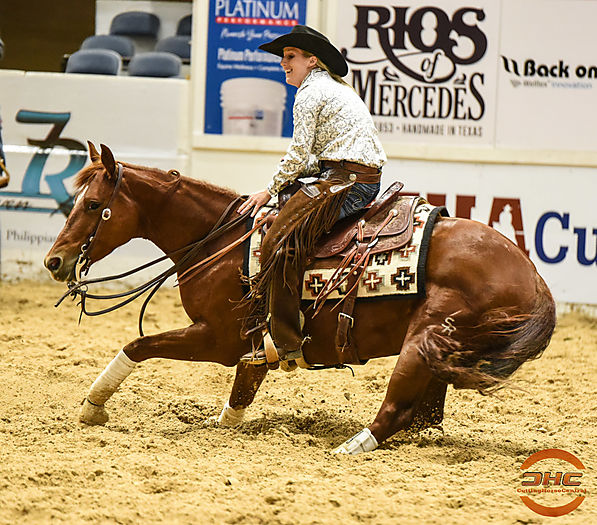 Chelsea all smiles when the buzzer rang after her run!
Reserve Champion was another crowd favorite, John Johnson, riding Miss Masterson (Cat T Masterson x Too Smart Toodie) marking a 221! They are another staple of the Payne Ranch that has made a stir at this show and always has quite the cheering section backing him. The duo collected a $6,596 check, not a bad Thursday night at the Will Rogers!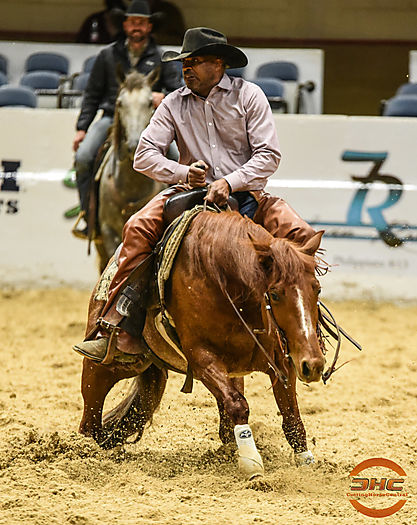 John Johnson and Miss Masterson
Third Place was Gentry Gonsalves making a 218 aboard Georgia Bootlegger (Dual Smart Rey x Cats Barmaid Chic), owned by Double G Cutting Horses. They received a $6,277 check.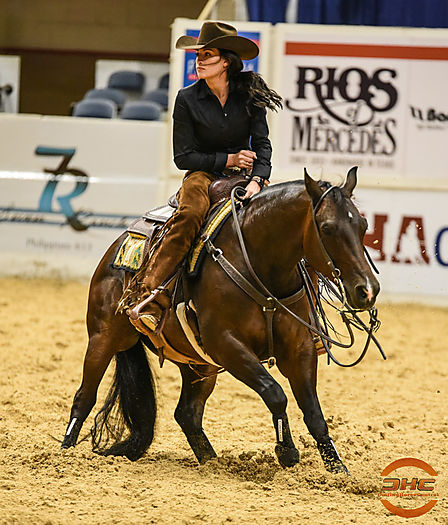 Gentry Gonsalves and Georgia Bootlegger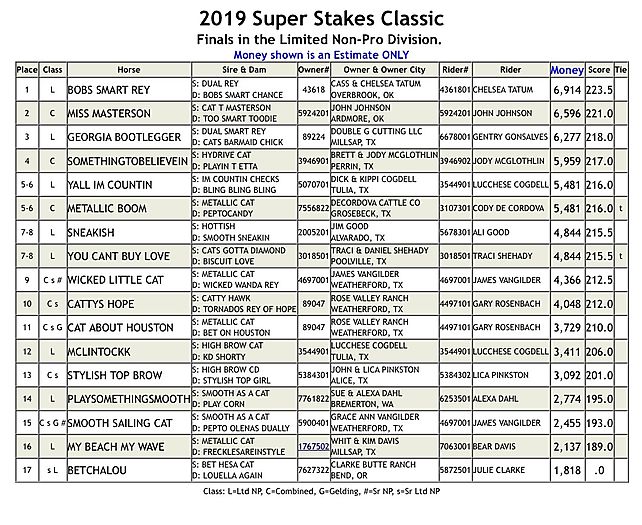 They Derby Non-Pro second go round is underway and the rest of the Non Pro finals will be held this weekend! It should be a fun few days in Fort Worth, be sure to tune into CHC's Live Scoring to keep up with the action.
.