Megan Miller and Alannah Chalmers Take Home Non Pro Wins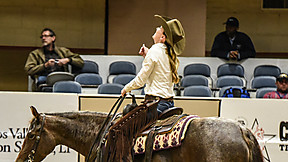 The 2019 Kit Kat Sugar NCHA Super Stakes has been one to remember for many of our riders and that continued on into the Classic Non-Pro Finals and the Derby Limited Non-Pro Finals last night! It was an impressive group and the scores throughout reflected just how serious our Non-Pro riders are about the sport.
Classic Non Pro
Megan Miller made a statement marking a huge 226 aboard Carolena Reyn (Dual Smart Rey x Carolena Moon), owned by she and her husband Matt, early in the first set of the Classic Non-Pro Finals! It is no surprise that she and her great mare "Lucy" took center stage having already claimed a number of Championships including the Derby Non-Pro Co-Championship last year at the NCHA Super Stakes. Lucy has earnings in excess of $206,000 adding another $16,442 last night for this win. That being said you know she has had big run after big run for both Megan and Matt in the Open, but this run was something else! Everything fell into place and the cows were tough enough to challenge the young mare but still gave enough time for her to show off everything that is so unique about her. It was this duo's night and when the buzzer went off Megan took a huge breath with a smile on her face both relieved and excited to have such an amazing run in the big pen!
This mare is extra special to this family because she came out of their exceptional breeding program they are known for. They often sell the babies at some point in their careers and they continue to be successful in other programs but Lucy is at the Miller's to stay! Her mother, Carolena Moon, is now 19 years old so Lucy will continue on her legacy as time goes on. It is such a heartwarming story for this family and we are excited to see what the future holds for their program.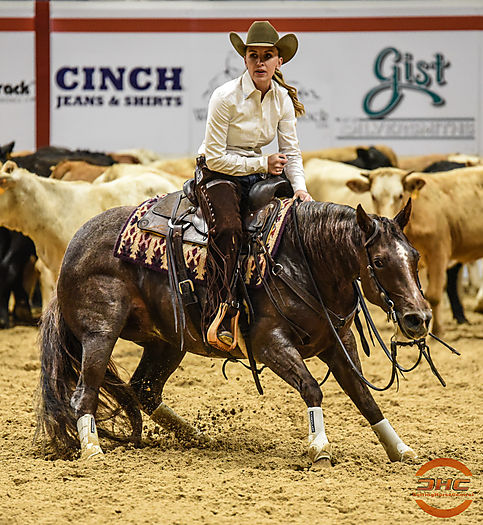 Megan Miller and Carolena Reyn
Reserve Champion was Kristen Galyean riding Duramax Dually (Dual Rey x That Catomine), owned by the Glover/Galyean Partnership, marking a 222.5! This duo laid it all on the line and the quick stallion made the most of the two and a half minutes. "Dually" is an unconventional, athletic mover making it look like a challenge to ride but Kristen was not intimidated. She showed him aggressively like she wanted to win and was also all smiles when the buzzer rang! Dually was also raised by this family who is building quite the breeding program as well in both the cutting and pleasure horse world. They took home a $14,969 check to go along with their title and wonderful memories for all involved!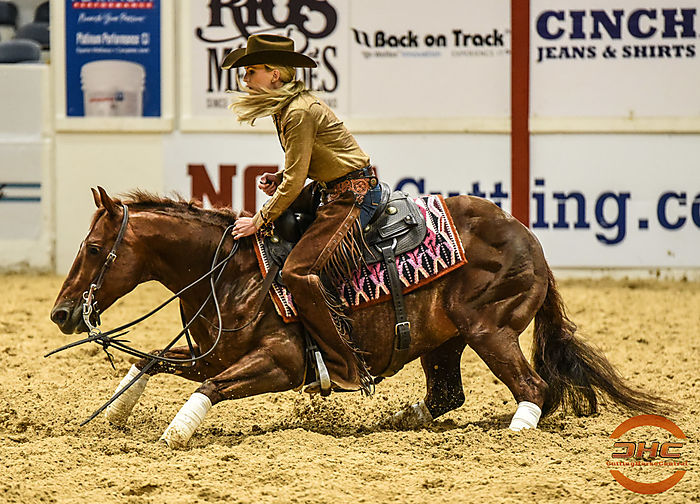 Kristen Galyean and Duramax Dually
Third Place was Paula Wood riding Suen To Be Black (Boon Too Suen x Chitas Blue Boon), marking a 221 first out in the finals! Paula collected a $13,496 along with another $6,261 aboard her second finalist Cool N Hot (Hottish x Donas Cool Cat). Not a bad evening for the Wood family!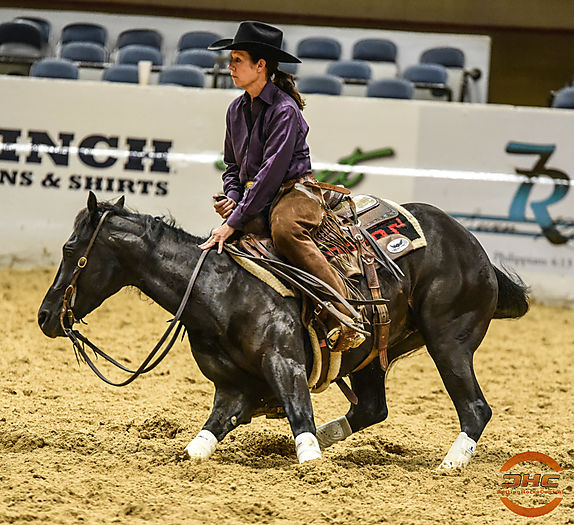 Paula Wood and Suen To Be Black
The Gelding Division Champion was High Stylin CD (High Brow CD x Stylin Playgirl) ridden by Langston Pattillo marking a 218.5.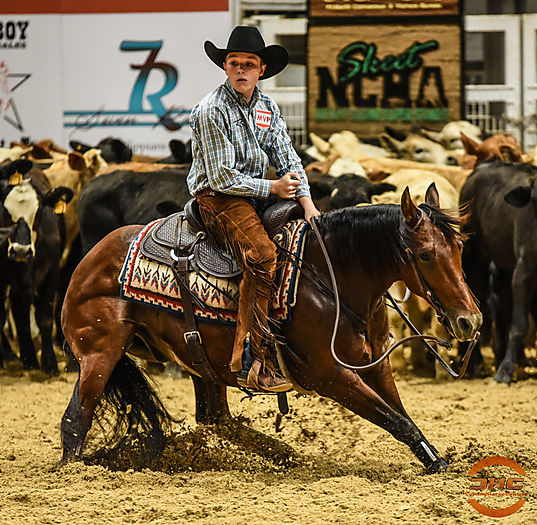 Langston Pattillo and High Stylin CD
The Senior Division Champion was Julie Clarke aboard Betchalou (Bet Hesa Cat x Louella Again) marking a 215.5!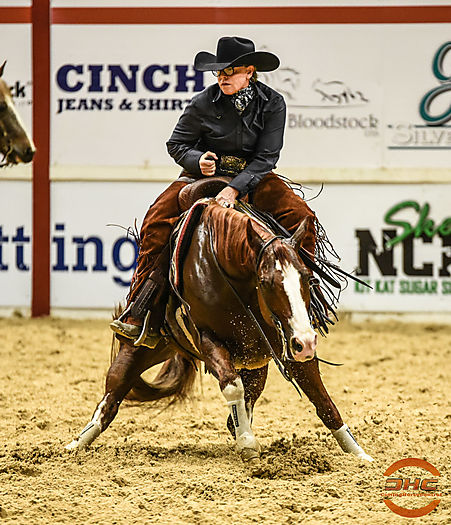 Julie Clarke and Betchalou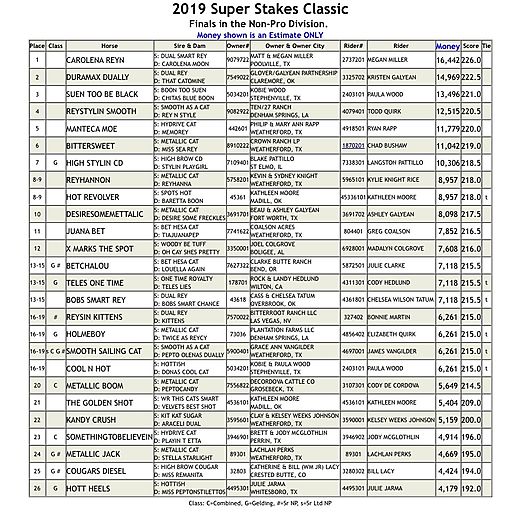 Derby Limited Non Pro
Next to go was the Derby Limited Non-Pro Finals where Alannah Chalmers also started the finals off marking a 221 riding Metallic Made (Metallic Cat x Medelena) taking home a $8,672 check for the Championship! She and "Bubbles" made sure to make an impact from the start making impressive cuts and controlling her cows in the middle of the pen. When Alannah has a chance to really show her horses she always does an exceptional job making it look easy! In this sport with so many variables, opportunities have to present themselves and it is up to us to take advantage of them when they do. She did just that last night allowing her to hold on to the lead throughout the class. This was her second win in the Will Rogers but we are sure there are many more left to come!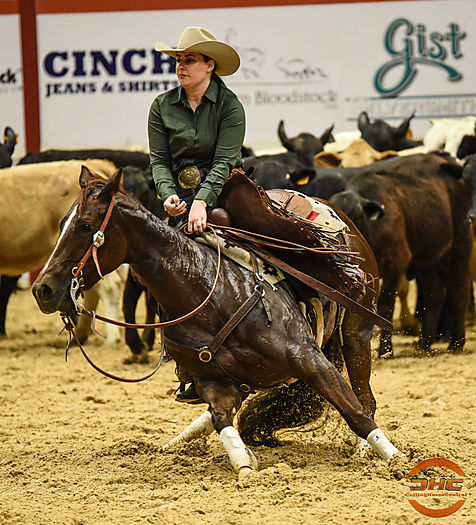 Alannah Chalmers and Metallic Made
Reserve Champion was Scott Chartier riding Pharrell (High Brow Cat x Ricochets Chick), marking a 218.5. Alannah is actually Scott's longtime girlfriend making for a pretty cool story for these two. Both he and Alannah have full time jobs making cutting a hobby, granted a serious hobby, but it is not what they work at every day. It is fun to see these two hard working people do well as they are very deserving. Scott took home an $8,160 check for the evening to go along with his title.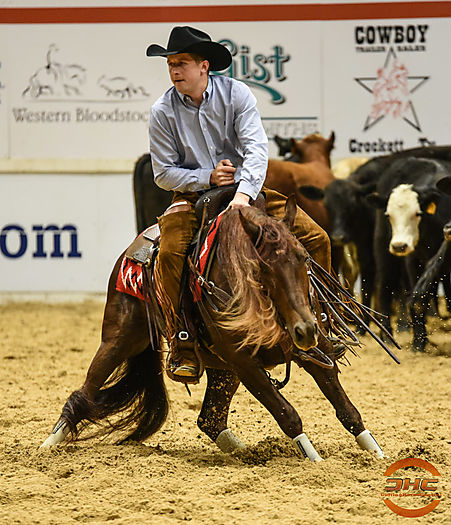 Scott Chartier and Pharrell
Third Place was a tied between Jennifer Foland who rode Hiss N Vinegar (Dual Smart Rey x Hissy Cat), and Jaylee Brown riding One Time Legend (One Time Pepto x HR Playin Legend) both marking a 218. They each received a $7,392 check!
Jennifer Foland and Hiss N Vinegar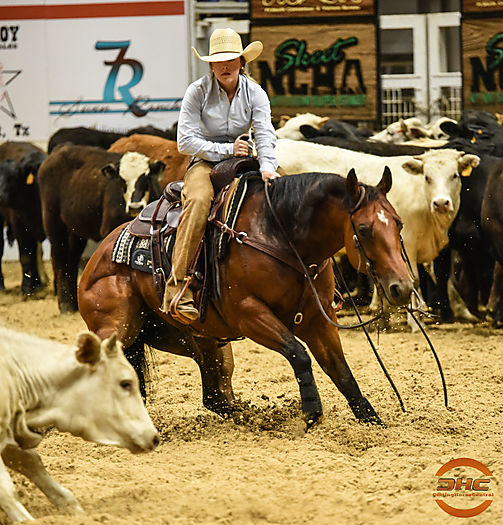 Jaylee Brown and One Time Legend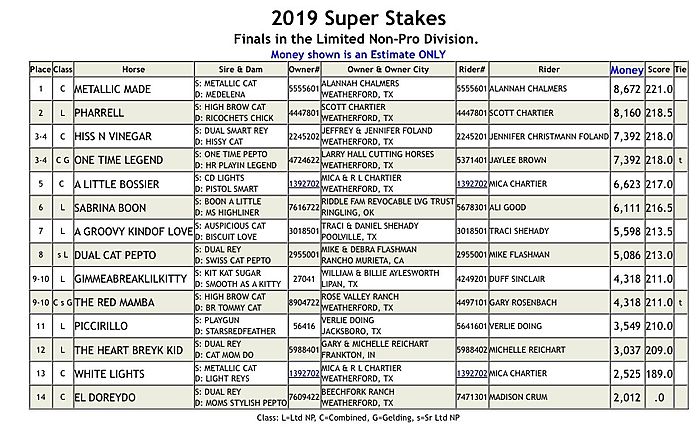 There is one more Non-Pro Finals left to go this evening then our Amateur riders will close out the show. Congratulations to all of the finalists and go luck to everyone throughout this next week!
.