Co-Champions Jaeggi and Bushaw Take the Derby Non Pro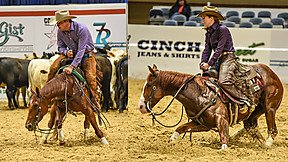 Last night rounded out the Non-Pro competition at the 2019 Kit Kat Sugar NCHA Super Stakes and it was another exciting evening! We ended up with Co-Champions once again this year for this class and the stallion Dual Smart Rey continued his "Reyn" over the Super Stakes!
Constance Jaeggi riding Sueper Trouper (Dual Smart Rey x Ichis My Choice), owned by J5 Horse Ranch Management, along with Chad Bushaw riding Rey Banz Gal (Auspicious Cat x Toodie Doc Rey), owned by the Crown Ranch, both marked a 222 to take home the Championship and checks amounting to $34,269! They were both late in their sets but stayed tough on the testy cows.
Chad was last in the first set on his stylish mare Rey Banz Gal which is always a little challenging in any arena. It was finals time though and you could tell Chad was in it to win it. It was a fast-paced run and even though he continued to get pushed back his mare never weakened, she gave it her all and it payed off to have that grittiness on their side. As most know, Chad has a well-established breeding program in Weatherford as well as being a very successful business man in other avenues. He takes great pride in all of his endeavors and this Co-Championship is something given back to him as he is always putting quite a bit into the industry. Chad was also Co-Champion last year in this class aboard Non-Pro Horse of the Year, Bittersweet (Metallic Cat x Miss Sea Rey), who he was also a finalist on in the Classic Non Pro just two days ago. It has been a great show for the Bushaw family with still the Amateur to go, you will be sure to see Chad helping his sons show throughout this next week!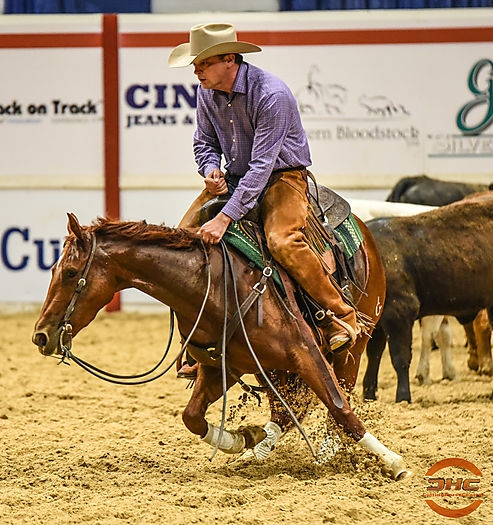 Chad Bushaw and Rey Banz Gal
Constance Jaeggi was our other Co-Champion riding a gelding that is out of her beloved mare Ichis My Choice (Cat Ichi x My Little Abra), past NCHA Horse of the Year. They were late in the second set of the finals and brought everyone to the edge of their seats! He is a very unique horse just like his mom, making for a pretty exciting ride each time for Constance. We could tell she was holding back a smile the whole third cow because he had it trapped and was able to really show off what he can do. It could not get much better than that but she held back her big smile until the buzzer rang! The young gelding was also an Open Finalist last week with trainer Grant Setnicka and took home both the Gelding Division Championship and Novice Division Championship in this class. Needless to say, this has been a fantastic show for Constance! This is another family that gives a lot back to this industry making it wonderful to see them have such success as well.
Constance Jaeggi and Sueper Trouper
As we mentioned, it has been an unbelievable show for Brazos Valley Stallion Station resident, Dual Smart Rey. He has sired four of the eight champions thus far at the Super Stakes! His babies have been taking center stage more and more and this show has made a huge statement for him. We wanted to send out a huge congratulations to all involved with this great stallion!
Tying for third place was Nadine Payne riding Blu Velvet (Once In A Blu Boon x Velvets Best Shot), yet another talented baby out of she and her husband Jame's mare, and Kristen Galyean riding The Dark Alley (Spots Hot x Lil Alley Cat), continuing her hot streak at the Super Stakes, both marking a 219! They each received a $27,867 check!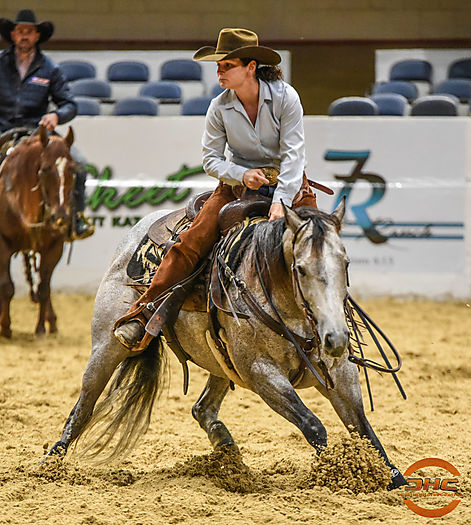 Nadine Payne and Blu Velvet
Kristen Galyean and The Dark Alley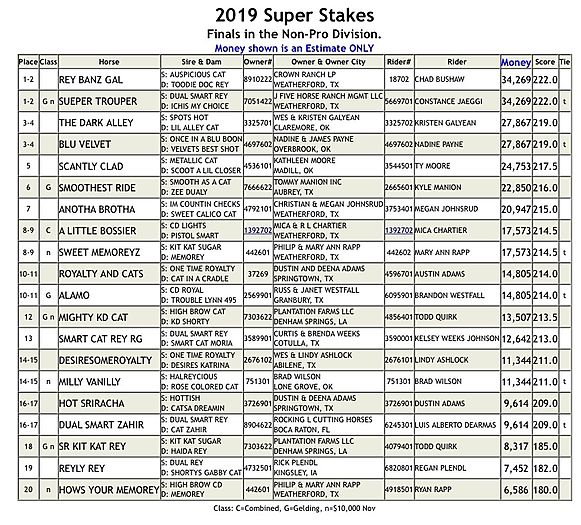 Congratulations to all of the finalists from all of us here at Cutting Horse Central and good luck to those left to show next week at the 2019 Kit Kat Sugar NCHA Super Stakes!
.