CHC Owner Spotlight – Frank & Bonnie Martin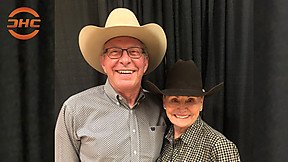 If you've spent any time at the cuttings, it's likely you've met Frank and Bonnie Martin, of Las Vegas, who have been around the sport for more than 50 years. If they aren't showing, they are probably in the stands cheering others on or offering someone encouraging words. Throughout the years, they have made a big impact on the cutting industry and brought some phenomenal horses to the show pen. CHC took some time with Frank and Bonnie to learn more about their background and where we should expect to see them next.
How did you two meet?
[Frank] We dated our Junior and Senior year of high school, and then we married a year after high school. We graduated together in 1965, and we also basically met on horseback. We both lived on the same side of town within two blocks of each other. I would see this wild woman riding across the desert on a really wild palomino horse, so one day I said I had to meet her. We have now been married almost 54 years.
How did you get hooked on cutting?
[Bonnie] As kids before we could afford anything, we liked gymkhana and the competitiveness of that, but then we evolved. I was always running barrels, and we had a friend that had a cutting horse. He invited Frank to come over to work some goats, and he fell in love with working those goats. So, he started going to the cuttings while I was going down the road running barrels. But I thought that wasn't going to be very healthy, so I went to a cutting and sat in the bleachers and thought, 'I could probably learn how to do this.' He loved it, so I got involved after that.
[Frank] Barrels is where she gets her competitive spirit.
[Bonnie] It was never fast enough for me and to this day, my guys are all telling me to slow down. That's one of my biggest things I always have to think about is to slow down and wait.
How long have you been involved?
[Frank] We got married in 1966, and I think we got involved sometime around then. I think around 1968 or 1969 we bought another cutter, and Bonnie showed him in the halter and on the rail. I would take him and go show him cutting sometimes. At first, we got really into the rodeos and would go and have her run barrels and then come back to the cuttings, and then we started just doing the cuttings. She got tired of sitting in the stands at the cuttings so we went one weekend and must have rode a dozen horses and finally found a mare for her.
What do you enjoy most about the cutting?
[Frank] Hands down the people. In barrels you are running against the clock and in team roping you are running against the clock, but there is a subjective part of cutting that brings in three or four different factors - the horses, the cows, your attitude and how you accept pressure. That makes the cutting a unique thing from that aspect. But really, it is the people who really make it special. It is never a given that you are going to win, because you have the variable of the cow.
[Bonnie] This is not a one man show, it definitely takes a team.
Frank & Metallic Spice
Do you have a favorite cutting?
[Bonnie] I think for me, it was when Frank bought me an awesome horse by the name of Kittens, and we were in Reno one year and thought it was a unique experience to win both go rounds and then the finals.
[Frank] She did that in Las Vegas and then turned around and did it the next weekend in Reno!
[Bonnie] That certainly builds your confidence for sure. I think one of the most memorable show was here in Fort Worth when we won the Summer Spectacular in 2010, because the competition here is on a whole different level than on the West Coast. Here you could take three or four days just to run the first go, and you have some top horses and riders here. Frank won the Super Stakes here in 1998 and then I won the Summer show on Rubys Royal CD in 2010. We know we can do it and the desire is there. Since we are still very competitive and we have already done it once, and we know we can do it again. Out here, it is a lifestyle, and we really enjoy that and the people.
Bonnie & Autumn Rey
What are some stand out horses you've had?
[Frank] She had Kittens and then Rubys Royal CD, both mares she won about a quarter of a million dollars on, and I had one horse Play Boys Little Toot that was great.
[Bonnie] Now we are getting babies from Rubys Royal CD, and that is really great.
[Frank] We also have Reysin Kittens who is a Dual Rey out of Kittens, that is as close to his mom as any of her babies we have had. He is just an awesome gelding. He is six, so this is his last year. But the way I feel about him is that he is a member of the family. Play Boys Little Toot found a place at the ranch forever as well as Rubys Royal CD. As far as I'm concerned Reysin Kittens has also found a place on the ranch because he is such a cool horse.
[Bonnie] They don't all come out like their mom, so it is really cool to have him. We were going to get out of the breeding business, but here we are right back in it.
[Frank] We have two 3-year-olds out of Kittens right now, they are looking really good. TJ Good has one and Grant Setnicka has the other one. We haven't set the stage to create a competition which one will be the best, but that's not a bad idea! One is by One Time Pepto and the other is by CD Royal.
Bonnie & Reysin Kittens • Photo by Dawn Baxstrom
What is your favorite thing to do outside of cutting?
[Bonnie] I think my favorite thing is getting away sometimes and going to our cabin in Utah. We enjoy watching our grandkids in all of their sports and what they are doing now and watching them graduate from colleges and beautician schools and going on with their life. The horses still encompass pretty much everything we do.
[Frank] At our cabin we have ATVs and snow mobiles and that kind of stuff, and that is all really really good but everything circulates around this.
[Bonnie] We have our show schedule for the year and then we see how we can fill in around that. Frank is supposed to be retired, but he is a workaholic and still goes into the office every day to manage what we have going on.
Frank & Starlight Prowler
What keeps you going?
[Frank] When I got out of high school, I went right to work 24 hours a day and 7 days a week building many really huge companies, and Bonnie allowed me to do that by taking care of the kids and house and me when I showed up at home. So now, I sold my company 4.5 years ago, and my proclamation at that point in time was that now it is my turn to go honor Bonnie and follow her around to these shows. Bonnie is the winner, clearly. Me, I go along and compete and I'm OK, but just OK. The real reason we go to these shows is a way of honoring her desires like she did mine to allow me to be very successful in business. I would often fall asleep at night at my plan table. When I say 24/7, it really was. She just trusted what was going on, and that is how we lived our life.
[Bonnie] When God gives us a passion to do something like he has the horses, then that's what we will go do. These horses are a passion God gave me, and He blessed be with a husband who understood and enjoys the sport too. One of the biggest joys we have is sharing our love for our Lord and Savior.
We feel lucky to have folks like Frank and Bonnie Martin in this industry. They have both made a name for themselves in the show pen, and Bonnie has amassed more than $1 million and earned herself a spot in the NCHA Non-Pro Hall of Fame. In addition, they were both inducted into the PCCHA Hall of Fame in 2010. Beyond their accomplishments in the show pen, they also continue to support the sport of cutting in any way they can, even if it's to offer a smile to an unfamiliar face.