The Chartiers - Three Generations - God First, Family Second, Cutting Third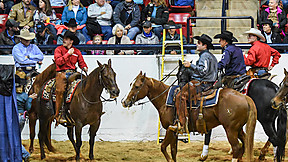 By Katie Miller
Have you ever been around someone and you just felt love or happiness? Well I had the opportunity to experience both on a larger scale. I sat around a large table in a restaurant with Randy, RL, Cullen, and Scott Chartier. The laughter and love that surrounded that table was good for my soul. If you don't these men, then you're missing out!
Randy Chartier is the son of Mel Chartier, a very successful horseman from Michigan. Many know Mel from his famed stallion, Dry Doc. Randy grew up showing in the youth and always knew he wanted to go into the business. In the early 1980's Mel sold Dry Doc and Randy and his wife Kelle moved to Texas. RL and Cullen were both born in Temple, TX. However, in 1986 life took the Chartiers back to Michigan. There, Scott was born, and the family spent 27 years. Randy and Kelle moved back to Texas in 2012. They have a cutting horse training facility in Millsap. He and Rob Foster started the RR Buffalo Boyz where they lease and sell buffalo to other trainers. Randy continues to be a successful cutting horse trainer and has added to that the best "Pop" ever to his two grandchildren.
The Chartiers are a close knit family inside and out of the cutting pen!
As Randy trained cutting horses and started his family, RL was the first son. RL knew early on that he wanted to grow up to be a cutting horse trainer. He showed in the youth and helped at the barn as much as possible. As a high school athlete, he played football, basketball, and baseball, yet he still found time for his horses. His mom, Kelle, continually told him, "No, you don't need to be a trainer." So, RL worked in the cabinet business for several years and showed as a non-pro. He never felt his passion and finally went to work for Randy and eventually gave up his non-pro card. RL eventually moved to Texas to continue his career. In 2007, RL moved to Texas and worked for GG for 5 days (funny story there). He then went to work for Clint Allen. In 2009, RL married Mica Motes and that same year Cullen moved to Texas to work for RL. RL established a successful training facility on Tin Top Road where he is still very successful. He and Mica have two precious children and are heavily involved in the cutting industry.
RL & A Little Bossy (2016 NCHA Open World Champions)
Meanwhile, Cullen was busting at the door with his sports. All he wanted to do was to be an athlete. He spent all of his time playing some kind of sport and excelling in whatever he did. Cullen went for six years and only stepped foot in the barn on Sundays when it was mandatory for the boys to clean stalls. HE was determined to have a career in the sports field whether in front of the camera, or behind it. In 2008, when Cullen watched RL made the Futurity Finals, it hit Cullen that he could compete in a different sport – the sport of cutting. Cullen worked for RL and then went to work for Paul Hansma where he spent 5 years and credits much of his success to his time with Paul at Bar H along with growing up with Randy and RL. Cullen and Kelle told of the time at the Eastern Nationals when Kelle was holding herd for Cullen. He got so frustrated that he fired Kelle. The entire table erupted in laughter. It's tough when you fire mom!!! Cullen has a successful cutting horse operation in the Weatherford area.
Cullen & Cattalou (2017 NCHA Open World Finalists)
Now Scott never loved cutting, but he liked it alright. He would go to the barn and ride High Time Doc, the boys would argue over who got to ride him. That was the extent of Scott's interest in riding horses. When he was nine or ten, the family was at a cutting in Bloomington, IN and they needed to fill the youth class. Scott was so mad that he had to show and didn't want to do it again. Scott also stayed away from the barn except on Sundays to clean stalls. He did not ride at all in high school. Scott started show helping for Randy in 2009 while he was in college, and then he moved to Texas in 2013 to lope for Paul Hansma. June McGee talked to Kelle about working at the Insurance Agency, and Kelle said she couldn't but Scott might be interested. He took the job and today is the Vice President of Justin Insurance in Weatherford, TX.
Scott & Pharrell (2019 NCHA Super Stakes Limited Non Pro Derby Reserve Champion)
The boys told of some of their favorite memories. At the Michigan State show, Cullen took bets from people as to whether or not he could beat RL and you know, he never did say if he did or not. In 1997, Scott showed Blu Lavender and marked a 76. It was the first time he had ever beaten both brothers. As mentioned earlier, the boys had to clean stalls every Sunday because the stall cleaner got Sundays off. They told of the fights and playing that took place on those stall cleaning days. Many great memories were made on those fateful days and discipline and hard work were instilled.
Randy & Cat Black I (2016 NCHA Open World Finalists)
Then we discussed their most memorable show. RL's was of course when he made the 2008 NCHA Futurity Open finals for the first time and made it on both horses he showed; Haymaker and Pretty Katz. He said that he has a multitude of memories, but that one stands out as the best. Cullen's was the 1st time he won the limited at the Derby on a Lil Spoonful gelding. He was still working for Paul and really felt like all of his hard work and long hours was beginning to pay off. Scott's was his first time showing at a Limited Aged Event. He showed a 4-year-old at the Southern to try it our for his mom. I bet if you asked him today, it might be his recent trip to the winner's circle as Reserve Champion in the Limited Non-Pro at the NCHA Super Stakes. He marked a 218.5 on Pharrell trained by non-other than his brother, Cullen. In 2015 Randy, RL and Cullen made the World Finals.