Bet Yer Blue Boons 1990 – 2019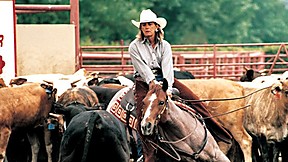 NCHA Press Release
Bet Yer Blue Boons, NCHA Open World Champion, the first horse ever to score 233 points in an NCHA finals event, and an all-time leading producer of earners of $1.8 million, died on Wednesday May 1, following colic surgery.
"Up until Sunday night, when she colicked, she was the picture of health," said Lindy Burch, who trained and showed Bet Yer Blue Boons for Oxbow Ranch. During her show career, Bet Yer Blue Boons earned $332,960. In addition to the 2000 NCHA Open World Championship, she placed in the Top Ten Open standings for four consecutive years, including in 1998, when she earned 233 points to win the third go-round of the NCHA World Finals.
Sired by Freckles Playboy and bred by Larry Hall out of Royal Blue Boon, Bet Yer Blue Boons was purchased by Burch as a 2-year-old, in 1992. When she bought her, Burch had been doing well in competition with the roan mare's 5-year-old half-sister, Royal Red Boon, at the time, one of just three performers out of Royal Blue Boon. Larry Hall was also doing well in non-pro limited age event competition with Peppys From Heaven, while Kobie Wood had shown Red White And Boon as reserve champion of the 1992 NCHA Derby...
To continue reading full article, click here!
.