Gary Gonsalves CHC Trainer Spotlight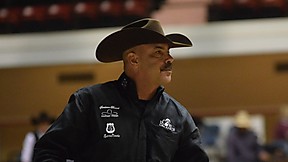 Gary Gonsalves is an NCHA Hall of Fame Trainer and has earned in excess of $4 Million in the show pen. He has claimed multiple titles in the Will Rogers along with countless others in aged events across the country.
Originally from California, Gary continues to be a staple in the industry, always bringing talented horses to the big stage from year to year. Here are a few things you might not know about this now Texas-based trainer:
When did you see your first cutting horse?
When I was in school in Elk Grove, California, Dave McGregor introduced me to cutters.
What made you decide you wanted to be a horse trainer?
When I was a senior in High School I knew I wanted to be a horse trainer. I grew up around show horses and while I was in school I worked for Felix Guitron who rode a wide range of show horses for Willie Mendinhall. After High School I went on to work for Bobby Ingersoll. All of these mentors and experiences pushed me towards being a cutting horse trainer.
What moment has meant the most to you in your career so far?
Probably winning the 2015 NCHA Summer Spectacular riding Reyzin the Cash, it means so much to win a title in Fort Worth on such a special horse. Also, making the 2000 NCHA Futurity Open Finals aboard Spookys Cash, Reyzin the Cash's mother. We ended up fourth and it was my first Futurity finals in the historic Will Rogers arena.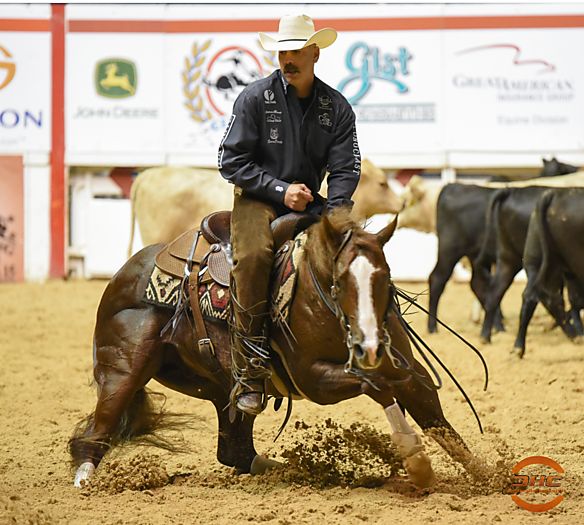 Gary and Reyzin The Cash
What horse has meant the most to you through the years?
Spookys Cash was one that meant a great deal to me because she was the first one who really made me believe I could win.
What horse has taught you the most so far in your career?
There have been a few that have taught me a lot such as Spookys Cash again, Rey Down Sally, and Reyzin The Cash. They all taught me many important things and made me feel confident when I rode to the herd on them.
What is an aspect of this sport that you love?
The people that you meet and the friendships that you gain. Also, the competitiveness of it, you are constantly reinventing yourself. You have to keep an open mind because things are always changing… the horses, the cattle etc.
Where do you see yourself in ten years?
Probably a little grayer and probably still working horses. I still enjoy getting up each day to go work horses. I imagine I might slow down a little by then, but I don't see myself doing anything else because I still love what I do.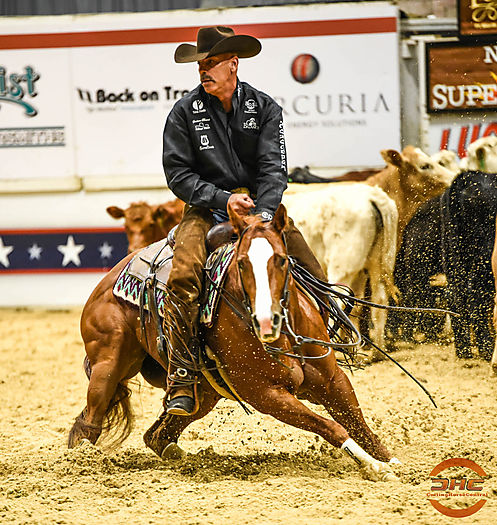 Gary and Wood Ya
What is something that people might not know about you?
I am a twin! Ron, Gary's brother, is also a cutting horse trainer and they have worked together off and on over the years. That is another fun thing about cutting, you can be involved in it alongside your family and that is pretty special!
What is some advice you can give young trainers trying to make a name for themselves in the business?
Put the time in and work for it. So many want to have it all right now and that is just not how this business works, to do a good job you have to put the time in and learn as much as you can. Young trainers also need to be sure that they stay honest no matter what. Also, take the time to go learn from the greats that have been training horses for many years.
We enjoyed getting to chat with Gary and look forward to the next set of three year olds he will bring to the show pen. Undoubtedly, they will be solid and beautiful movers, things we have grown accustomed to seeing each year from Gary's program. To learn more about Double G Cutting Horses check out his CHC Trainer profile!
.