John Sanislow Wows in 5/6-Year-Old Open Work Off at BI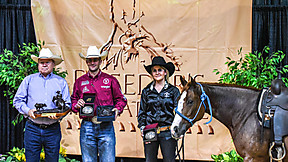 The Breeder's Invitational (BI) is a popular event each year with $500,000 added, and it attracts a big group of competitors eager to get back on a big stage following the NCHA Super Stakes. The 5/6-Year-Old Open kicked off the finals in Tulsa, Oklahoma, and the draw included some of the industry's current top teams.
Lloyd Cox was the first to go on Julie Jarma's gelding, Hott Heels (Hottish x Miss Peptonstilettos), and since Lloyd has had so much success from the first hole this year, it's no surprise he laid down a big 225 to set the stage for the rest of the finals.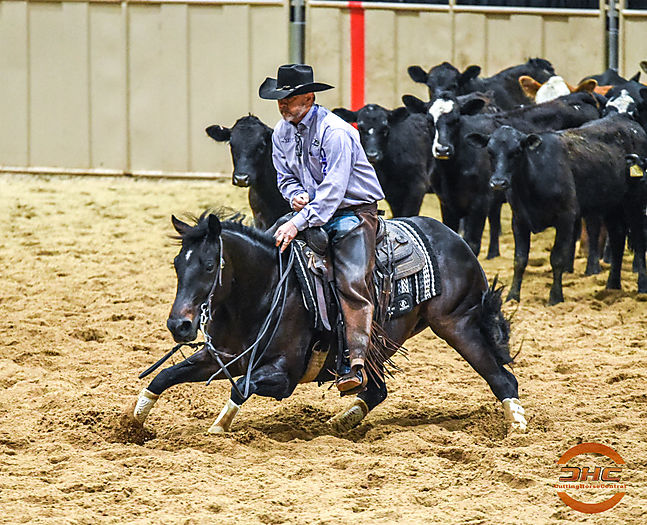 Lloyd Cox & Hott Heels set the pace early with a 225
John Sanislow knew he would have to give it everything he had on Im Quintan Checks (Im Countin Checks x Quintan Blue), owned by Circle Y Ranch, as the fourth draw to come close to Lloyd's big marks. He was able to do just that, and everything came together to earn another 225!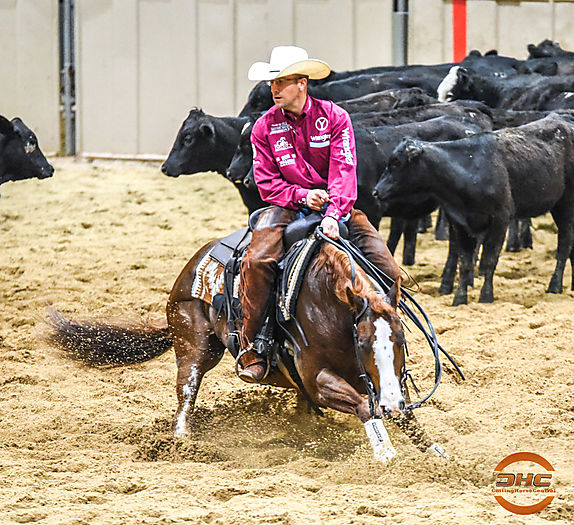 John Sanislow & Im Quintan Checks matched Lloyd's score to force a work off
During the work off, Lloyd had his lucky spot as the first out again and put together a solid 216. John kept his composure and kept his momentum going from his previous score and lit up the scoreboard with a 222 to take home the well-deserved Championship as well as the Gelding title!
See John Sanislow's 225 Point run below - Video by: Clearman Video
As we all know, nothing comes easy in cutting industry, and inevitably, there are some major ups and downs. John had been having some tough luck prior to the BI that had been keeping him out of finals leading up to Tulsa, but with the help of his friends, John was able to come back strong! John wanted to thank his help, Jesse Lennox & RL Chartier who helped to keep track of the fresh and Sean Flynn & Matt Miller who turned back.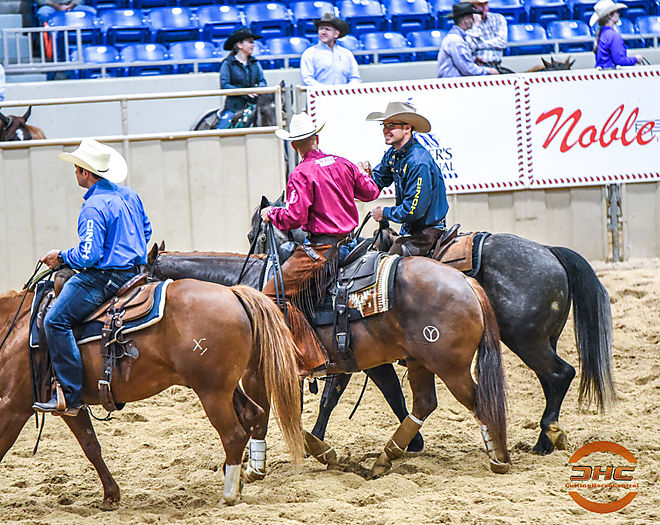 John and his cowpicking crew, RL Chartier (left) and Jesse Lennox (Right) were all smiles after the winning run
"This is the first time in my career that I hadn't made a finals all year," John said. "I had to do something different. I had to call a very good friend of mine, Beau Galyean. Last Tuesday, I went and worked with him, and he gave it to me. He told me exactly what he thought I was doing wrong. It wasn't real positive, but it was exactly what I needed. Today happened because of Beau and everything he helped me with. We all know that's a great horse, and I have just been struggling to get to the finals on him.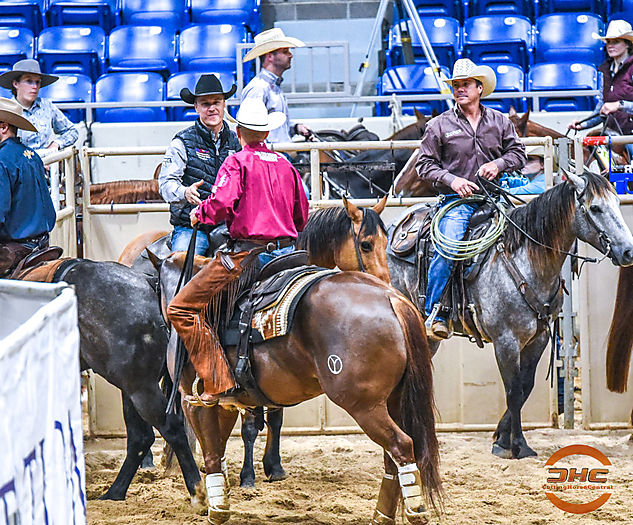 John was quick to thank his friend Beau Galyean afterwards for helping him get back on the right track!
"Today it just worked out. I told Penny and Nancy (Owners of the Circle Y Ranch) that I was just happy to be tied with Loyd in the first place. Just to be in the mix with him was awesome. To do the work off, I was just going to try to go down there and have a good clean run. That horse has been good all week, and the judges seem to like him. We just went down there and had a good clean run."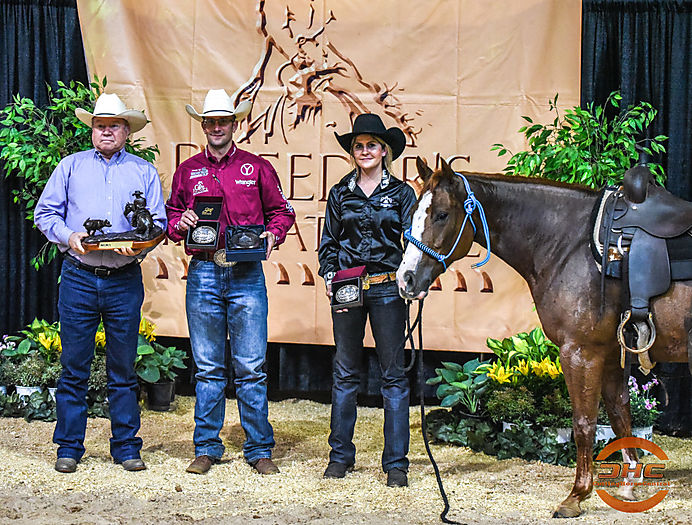 John is pictured with Breeders Invitational Show Producer Bob O'Bannon (left) and Im Quintan Checks loper Chloe Johns (right)
John and Im Quintan Checks collected $21,337 for the Open Finals win along with an extra $2,622.50 for the Gelding Championship. Lloyd Cox & Hott Heels earned $17,646.40 for the Reserve Championship along with an additional $2,098 for the Reserve Gelding Championship.
RL Chartier and Carol Ward's gelding, Crafty With Cows (High Brow CD x Miss Haulin Hickory) also had an impressive outing at the BI, marking a 224 in the finals to clinch third-place honors in the main division and the gelding. They garnered $13,954.93 in the Open and $1,573.50 in the Gelding division.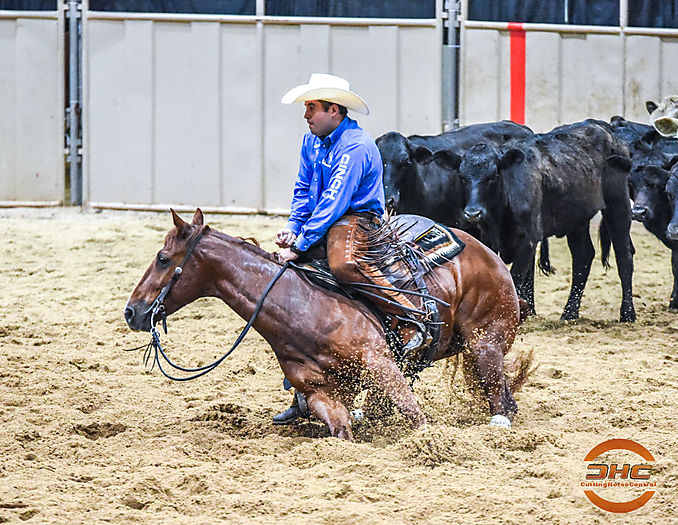 RL Chartier & Crafty With Cows owned by Carol Ward scored a 224 which was good enough for 3rd place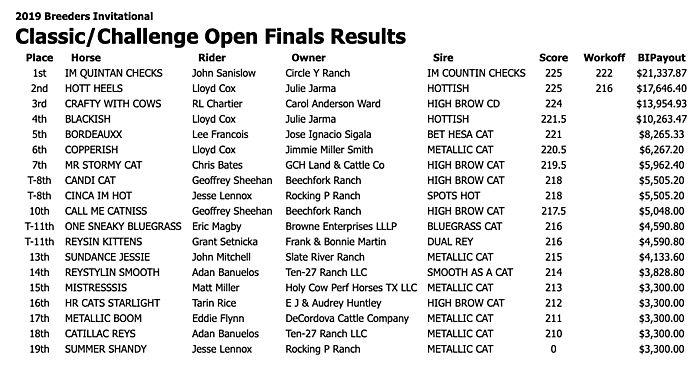 Rodrigo Taboga and Metallic Royal Mate (Metallic Cat x Royal Red Rinpoche), owned by J H Nail Ranch, picked up the 5/6-Year-Old Limited Open Championship earning a check for $2,632 along with the Champions saddle sponsored by CR Gotcha Covered & Joel Colgrove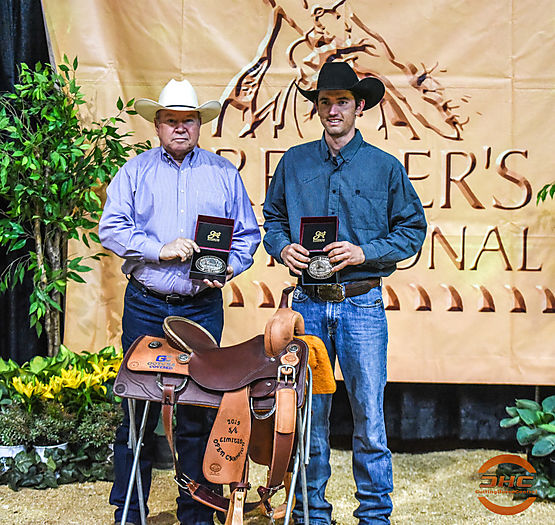 Rodrigo Taboga won the Limited Open 5/6YO Championship

Congrats to all of the finalists, and thanks to Moore Cutting Horses for helping us get everyone these updates from the BI! We wouldn't be able to do what we do without the support of folks like them. Be sure to click here to learn more about their ranch and see some of their impressive horses for sale.
.