Trey Hunt Scholarship Cutting Leaves Lasting Impression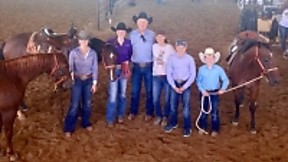 Taken from Gonzales TX Cuttings Facebook page:

To each of you who donated, contributed, or volunteered for the Trey Hunt Cutting, THANK YOU. The $25,000 goal for this special Cutting was fulfilled in approximately four months.

Here is a little recap...
December 2017...a silent auction is held where our Youth kids donate their loping services and a team Bridleless Cutting is auctioned off
January 2018...a food sale is offered. Two special people match the proceeds.
February 2018.... 🐓 💩 Bingo. Christina Huntley walks around and sells squares.

Chelsa Crouch designs Trey Hunt T-shirts and sells them online, Houston and Jackson, and then at our shows.
We host a bake sale in Brenham

April 2018... first Gonzales Show... Coins for our Cause scratch offs...Wes Bushaw takes his scratch offs to the Super Stakes and steps our fundraising up a notch by PERSONALLY raising over $2240
Second Gonzales Show...Youth kids host the silent auction Saturday. They offer something they have made or could provide a service for...beaded dog collars, dog sitting services, handmade knife, baked goods, paintings, handmade wreaths, and unique horseshoe candle holders.




This show is where the Youth leading church all began in South TX... it has continued at every show since 🙏🙏🙏

May 2018....Cookbooks arrive. We ship to people who order on FB and sell at Cuttings
July 2018...A very special print of Trey is auctioned off at the Derby which Tyler Merrill Performance Horses purchases.
August 2018..A contribution from Mr. and Mrs. Larry J Bell is donated in memory of their daughter Amy.
October 2018... The first weekend of the Trey Hunt Cutting kicks off in Gonzales October 11-14. The requirements are that one must show once in Gonzales and once in Brenham to be eligible.

Yesterday, October 28th...The culmination of a year of fundraising and awarding these special awards comes to a close.
21 Youth Riders receive $20,000 in scholarships.



21 Youth Riders receive $20,000 in scholarships.

Gavin Jordan is the recipient of the $2000 cash for the Open Rider. He drives 22 hours from a UT cutting in an attempt to regain his lead. He wins the Open and heads straight to the Waco Cutting.



Gavin Jordan is the recipient of the $2000

Billy Collier is our high money Non Pro Rider. He receives an awesome South Texas Tack saddle with Trey Hunt's brand on it.
Kelsey Jordan conquers the Amateur to receive the Amateur saddle.



Billy Collier is our high money Non Pro Rider



Kelsey Jordan conquers the Amateur

The high money winner of the 35 NP, 15 AM, and 2 LR is Spencer Lippincott. He received the Trey Hunt buckle which was some coveted hardware!



Spencer Lippincott wins the prestigious Trey Hunt Buckle

Thank you to Tracy Williams Farris for the cookbook idea, Amy Fortenberry Lippincott and Shannon Robert Collier for running ALL silent auctions, Heather Gentry for all the awesome FB advertisements, Mark Michels for always sharing our posts, the anonymous donors, the buyers in the auctions, the individuals always running errands for me, Teddi Harllee, and the list can continue forever.

I sincerely appreciate each and every one of you who made this truly possible.
If no one has ever been to a South Texas Cutting, I recommend that it be on your bucketlist. No one will be let down.
I still can not grasp the support from ALL for this special endeavor.
"We're all working together; that's the secret-" Sam Walton
Thank you all,
Marcy
.