Arlis Justice 1934 - 2019
Article by: Katie Miller
Arlis Oliver Justice, 84, of Camden, went home to be with the Lord on Friday, May 10, 2019, at his home after a brief illness. Arlis was born August 5, 1934, in Sparkman, Arkansas, the son of the late Robert "Bob" and Bessie Russell Justice. (Taken from the Obituary)
The NCHA lost a great supporter and tremendous friend when Arlis Justice passed away on May 10, 2019. Mr. Justice was from Bearden, Arkansas where he was a cattle "order-buyer". People would call him from all over the country and tell him what they wanted, he would get a load together and ship them.
Geoffrey "Spud" Sheehan said he got to work fresh cattle every day during the nine years he worked for Arlis. "Every Thursday night Spud said Cal Sanders and Roy Spears would come over and practice. Then they would pull out the good whiskey and tell stories."
See below a post from Spud Sheehan Performance Horses:
"Arlis Justice was a very special man who we had the opportunity to share wonderful memories with. We are saddened to hear of his passing and would like to give our deepest condolences to the Justice family. Bec and I would not be where we are today if it was not for the opportunity, encouragement, and guidance we were given for the 9 years we worked for Arlis. He took us under his wing and treated us like family. - May he Rest In Peace and sell horses and cattle again!"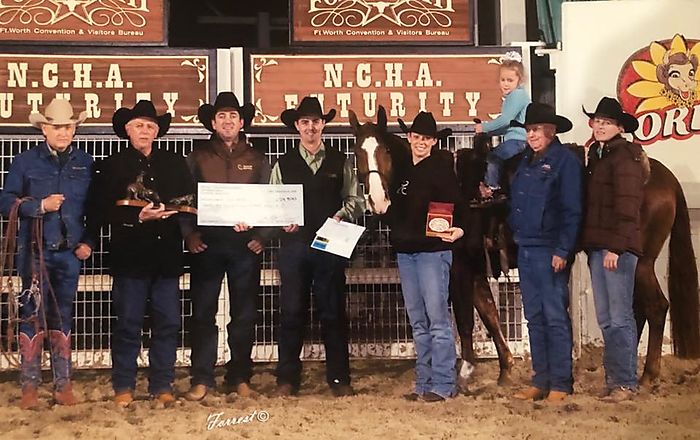 Photo provided by "Spud Sheehan"
Mr. Justice knew everyone and everyone knew him, and there's always a story to be told about Arlis Justice. Arlis had a memory like a steal trap; he'd remember names and phone numbers and every detail about them all. He would buy cattle for people for 40 years and never meet them. He loved people almost as much as he enjoyed buying and selling horses and cattle. His business office was at the cutting, he'd take orders for cattle, schedule shipments, and sell horses. Spud said that they'd take a four-horse trailer to a show and come home with just the turn back horse. The only reason he got to come home was because nobody made Arlis an offer for him! He'd say that was the best cutting ever.
Arlis loved to go to the cuttings, and enjoyed showing, but his favorite was to watch his daughter Hope. Arlis could walk out before the buzzer, but if Hope had a good run then it had been a great day. He would take Hope to the weekend shows and Batesville as much as possible. Hope is now the wife of John Mitchell. He and Pat Earnhardt were great friends and he supplied the cattle for any cuttings that Pat put on.
John Mitchell told us,"I was fortunate to become so close to Arlis. He was an old school man with a love for horses and cattle. The support and guidance he gave me was incredible. I loved him and his ways. He was such a fair man."
Arlis is pictured here with his grandson Jack Mitchell and son in law John Mitchell who sent us this photo.
Several great trainers have worked for Justice Farm during their careers including:
- Geoffrey "Spud" Sheehan,
- Chris Hanson
- Roger Wagner
- Graham "Mouse" Amos
- Greg Jolly
Arlis and his wife of 45 years, Bobbi, raised 6 children and had 13 grandchildren and 12 great grandchildren. Everyone who knew Arlis Justice loved him and can tell you a story with a smile on his face. Our Condolences go out to his family and friends. He will be missed by many…..
.