Elizabeth Quirk Aces in BI Classic NP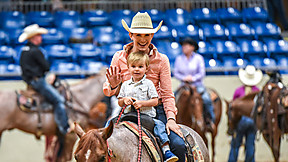 Cover: Elizabeth Quirk and her son Tayson were all smiles as they headed to get their awards
The 5/6-Year-Old Non-Pro finals at the Breeder's Invitational (BI) was an exciting one with a challenging bunch of cows, and everyone gave it everything they had to end up on top. The stars aligned for Elizabeth Quirk and the talented young red roan gelding Catillac Reys (Metallic Cat x Tootsie Rey), owned by Ten 27 Ranch, and they marked a solid 222 as the fourth draw.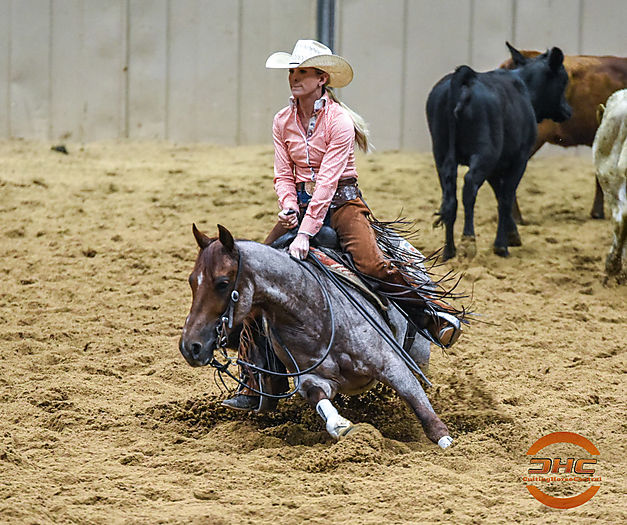 Elizabeth & Catillac Reys posted a 222 working 4th in the finals that eventually held on for the win
Those marks held the lead through the end, and the pair came out with both the 5/6-Year-Old Non-Pro Championship and the Gelding title to bank total checks worth $18,770.60
"I just wanted to show smart, because the cows looked like they might be a little bit tough," Elizabeth said. "They were really tough. I just wanted to get through it. I kind of went back to 2018 hauling where I had to use a lot off of feel on my cuts. My second cow was totally from feel - I didn't even know the cow. I almost felt like I had a safety net, because I have seen cows a lot worse. I knew he could handle it. 99% of the time when I don't do good, it is my fault."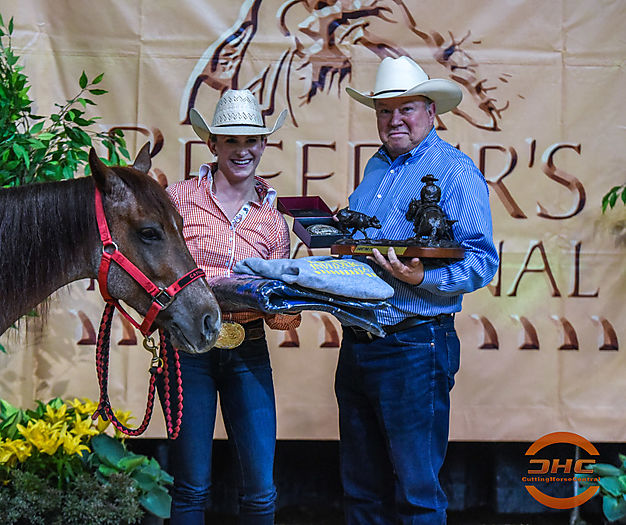 Elizabeth received the Champions awards from Breeder's Invitational Show Producer Bob O'Bannon
Catillac Reys is such an impressive gelding that is fun to watch, and we all remember the excitement that came when Adan Banuelos won the inaugural 2018 Metallic Cat Incentive Championship at the NCHA Summer Spectacular with him, along with the Derby Open Reserve title. It would be tough to describe the energy during that run unless you were there, and Elizabeth says it is Catillac Reys' heart that really makes those special runs come together.
"My favorite thing about this horse is his heart, and he reads a cow so well. Maybe because he is below eye level. His integrity is great. Adan has won on him, and he takes care of me every time. What you can't see on him is his heart, and it is huge."
Reserve Champion:
Jessica Pounds and her gelding Etch N Sketch (Kit Kat Sugar x Reychell Rey) put together a 219 to pick up the Reserve Championship and Reserve Gelding title giving them combined total earnings of $15,539.84 for their efforts.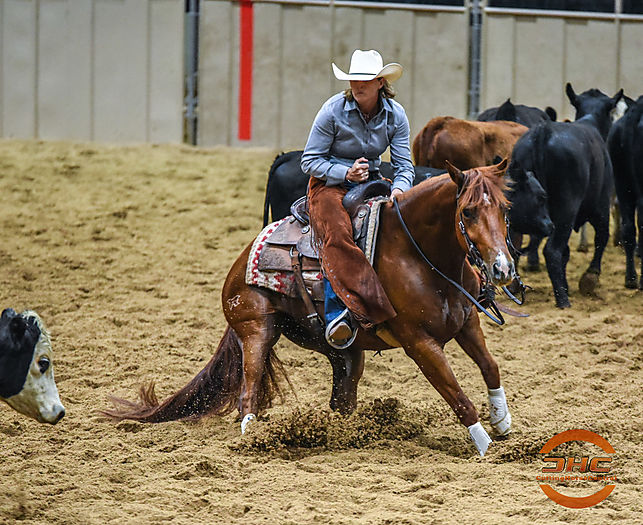 Jessica Pounds & Etch N Sketch navigated some tricky cattle to finish 2nd
Jessica worked from the next to last draw in the 15 horse finals and gave the judges plenty of credit earning moves to earn the second place finish.
3rd Place:
Greg Coalson & Juana Bet (Bet Hesa Cat x Tiajuanapep) owned by Coalson Acres scored a 218 which was good enough for a third place finish. They collected $10,57747 for their efforts here.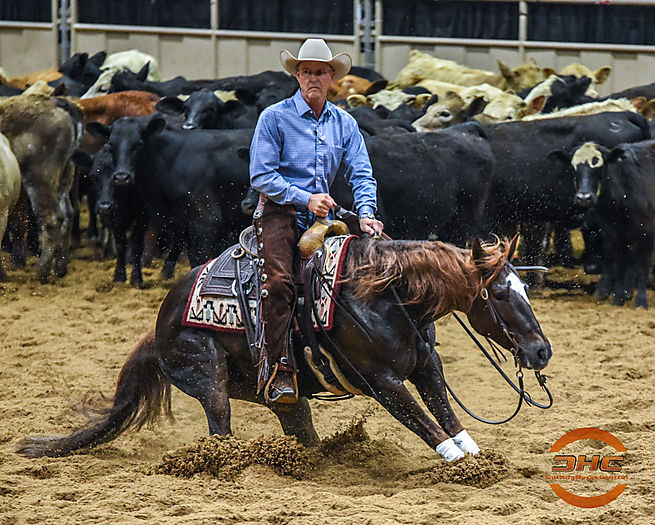 3rd place finishers Greg Coalson & Juana Bet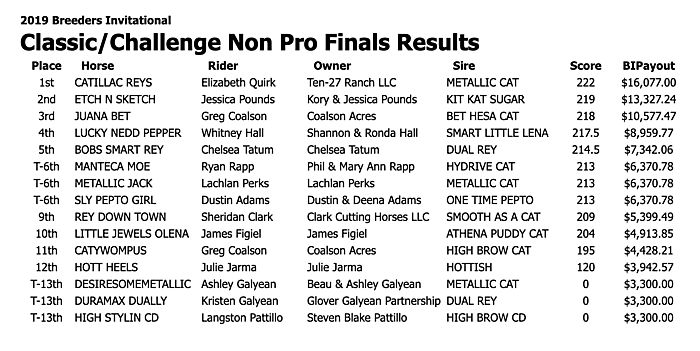 Senior Champion:
Lach Perks and Metallic Jack (Metallic Cat x Stella Starlight) earned the senior Championship and also scored a 213 good enough to split 6-9th in the finals to take home a total of $8,01578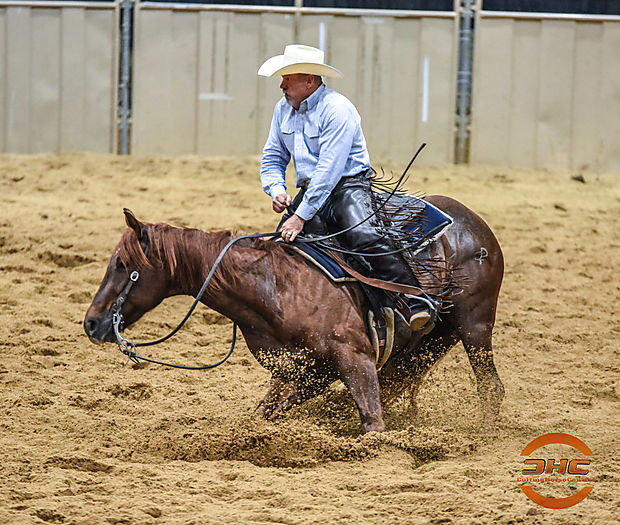 Limited Non Pro:
The Limited Non Pro Classic Champion was decided in a pencil finals after completion of the 2nd go and ended up requiring a triple tie breaker to determine the eventual champion. Chelsea Tatum aboard Bobs Smart Rey were the eventual winners after the judges decision to break the tie with with Gentry Gonsalves & Georgia Bootlegger. Both teams had a combined 439 combined total after the 2nd Go.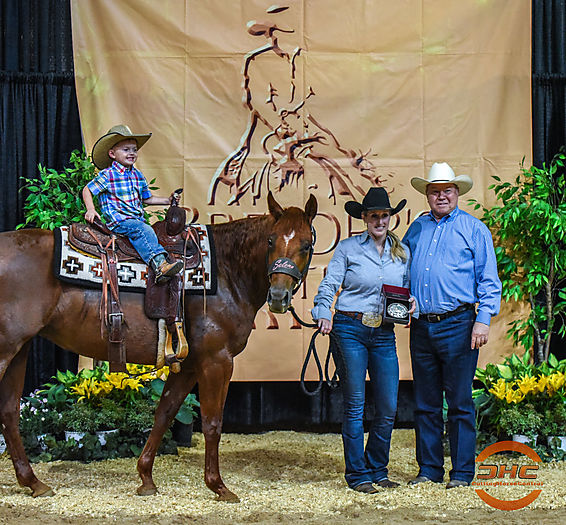 Chelsea and her son Rhett collected the Limited Non Pro Champion's buckle from Bob O'Bannon after the finals
Chelsea & Bobs Smart Chance took home the $7,188 Limited Non Pro Champions check while Gentry ended up with the $5,691 Reserve Champions check.
Chelsea also finished 5th in the Non Pro Finals collecting an additional $7,342.02 to add to kitty.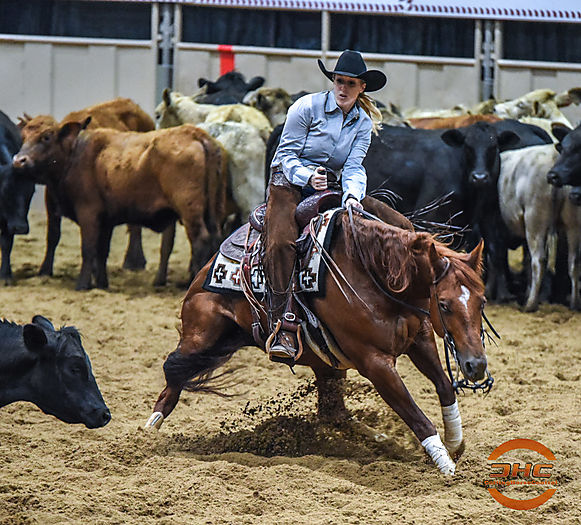 Chelsea Tatum & Bobs Smart Rey pictured here in the Non Pro Finals where they finished 5th

Congrats to all of the finalists, and thanks to Catty Hawk for helping us get everyone these updates from the BI! We wouldn't be able to do what we do without the support of folks like them. The Amateurs will get their turn on Saturday as they compete in all the Derby & Classic Challenge Amateur & Unlimited Amateur Finals. The Open Derby 1st Go will start on Sunday with the first 7 of 14 total sets and 193 total entries in this division.
.