Amateur Payday at the Breeder's Invitational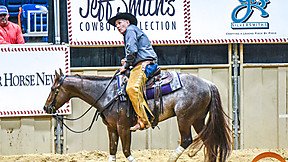 It was "Payday" for the Amateurs at the 2019 Breeder's Invitational in Tulsa, Oklahoma yesterday and things heated up quickly as the first finals of the day got underway.
4YO Amateur Derby Results:
The 4YO Amateur Finals were the first to go today and John Rockey & Sweet Toothe (Kit Kat Sugar x One Sweet Miss) made it pretty easy for the judges laying down a gritty run with lots of excitement and degree of difficulty which gave the judges plenty to like. After the 220 score came up it gave John a chance to breathe and realize he now had a 7-point lead over the previous high score (213) with just one horse left to go.
When the final buzzer sounded after the last horse, John wound up not only winning the Amateur Championship but also clinched the Gelding and Senior Divisions which gave him total earnings of $10,597.42! This is yet another major win for this duo who have made quite a mark in their short year together thus far. They started out their careers as the NCHA Futurity Unlimited Amateur Champions and most recently finished as Co-Reserve Champion of the Derby Unlimited Amateur at the NCHA Super Stakes. We have to tally up the current horse of the year points but this should have them sitting pretty high up for Amateur Horse of the year for this fantastic gelding.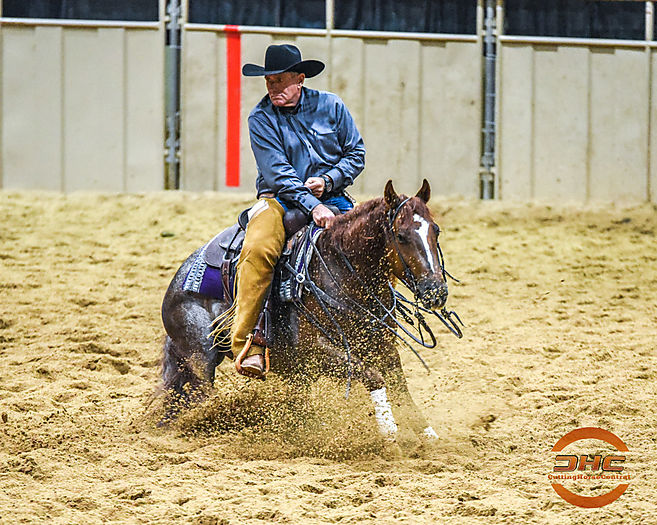 John Rockey & Sweet Toothe swept all three divisions in the 4YO Amateur Derby Finals
Reserve Champion was Trey Fricke aboard Maderas Mettle (Metallic Cat x Maderas Choice) scoring a 213 working right before John in the 7th slot and briefly holding the lead. Trey also shared the top score of 216.5 in the 1st Go to qualify for the finals. This team collected the second place check for $5,109.05 along with the Reserve Champion's check in the Gelding Division which paid an additional $1,314.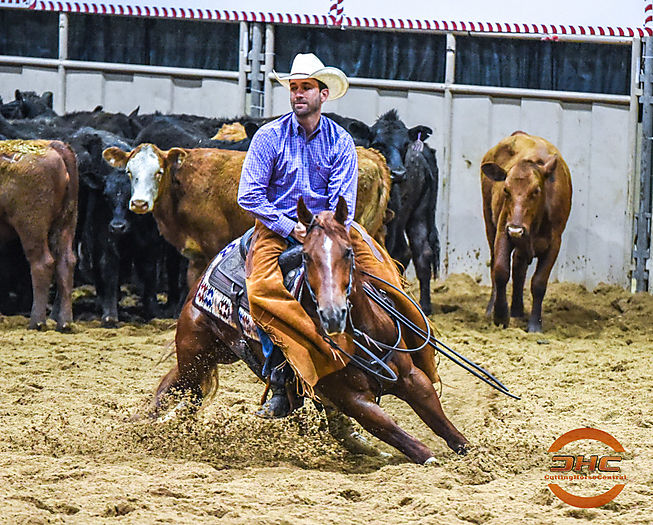 Trey Fricke & Maderas Mettle scored a 213 which was good enough for 2nd place

5/6YO Amateur Finals:
In the 5/6YO Amateur Taylor Worley and Blitzkat (Metallic Cat x Suggie Badger) narrowly squeaked out the win with a 219 to claim the 5/6YO Amateur Championship as well as the Gelding Division honors pocketing a check for $11,124.72 total. Taylor has been in the finals time and time again on this great gelding but this was her first LAE Championship at a Major Event which made this day even sweeter. Her trainer, Tommy Marvin, and his family are always so supportive of each and every one of their team always cheering them on during successful days like yesterday and being their with a positive attitude when it does not go their way. It is a fun dynamic to witness from the outside looking in and it is something to always be admired!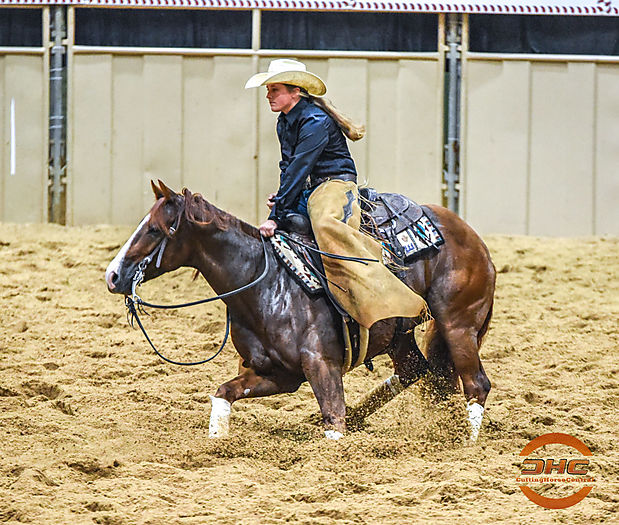 Taylor Worley clinched her first Major LAE Championship winning the 5/6YO Amateur Finals
The Reserve Championship was split by two teams both scoring 218's. Tina Lattanzio aboard Smooth Moves (Im Countin Checks x Smooth) worked from the sixth slot in the fourteen horse finals to briefly held the lead until Taylor worked. Tina earned an estimated $6,604.66 for the Co-Reserve Championship and also collected the Senior Champion check adding $3,060 to her earnings.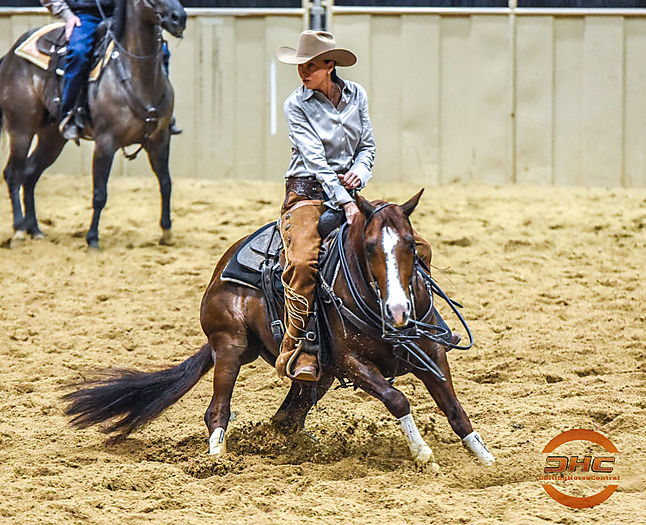 Tina Lattanzio briefly held the lead aboard Smooth Movez before eventually tying for 2nd/3rd
Jack Kelly riding Sugar Wrush (Goldwrush x Ragtime CD) worked from the twelfth hole in the finals and matched Tina's score to tie for second place. They also collected a check for an estimated $6,604.66.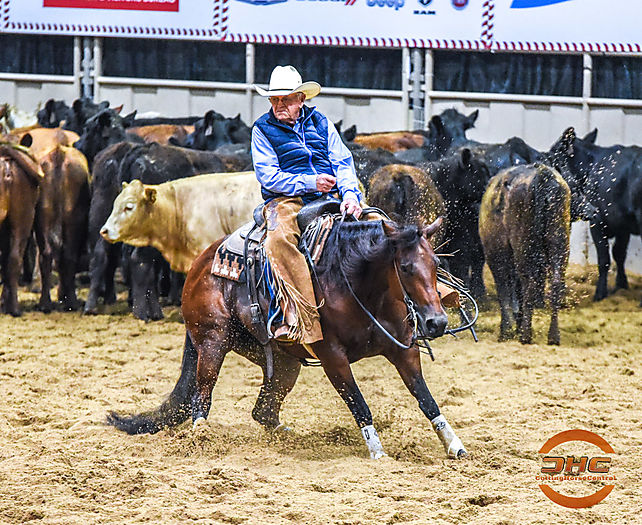 Jack & Sugar Wrush also scored a 218 to split 2nd/3rd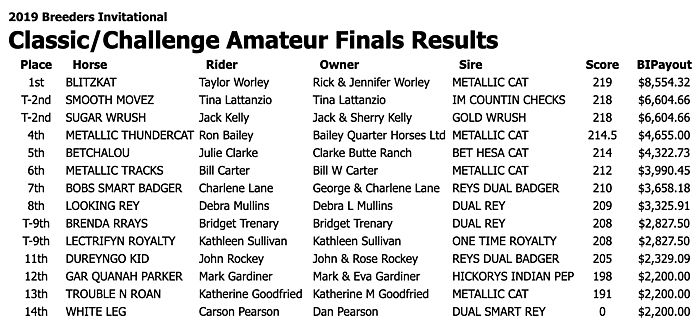 4YO Unlimited Amateur:
Julie Beasley set the bar early in the 4YO Unlimited Amateur Finals posting a 217 aboard CR Dualin Out Tuff (Woody Be Tuff x ARC Catty Dual) and would eventually prove good enough for the win in a very tough set of cattle. Julie took home the Champions' check for $6,450.92 along with the other awards here at the BI. Julie and "Jenna" have been on fire this year as well with this being their third championship so far! The talented mare also carried Julie to her very first Non Pro NCHA Futurity Finals back in December! Needless to say Jenna has made a huge impact on Julie since purchasing her right before the 2018 Futurity began. Julie does not take any of these experiences for granted, always being grateful to all that have helped her. It is a heartwarming story to see unfold, they are certainly having a record year.
Julie Beasley & CR Dualin Out Tuff clinched victory with a 217
Reserve Champion was Regan Plendl aboard Queen Of All Cats (NRR Cat King Cole x Short Stop Sis) scoring a solid 213 to take home the second place check for $5,511.50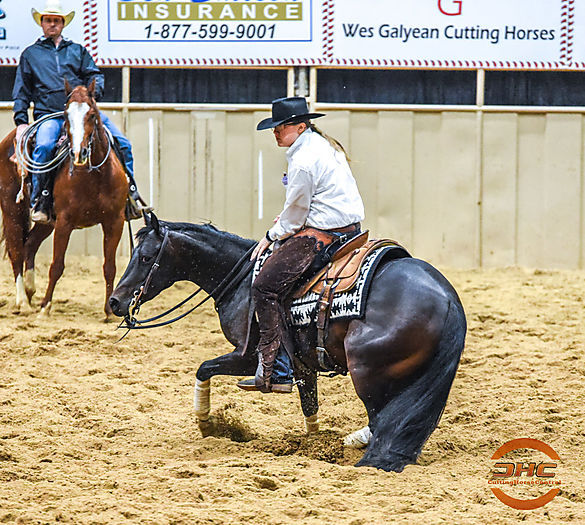 Regan Plendl & Queen of All Cats collected $5,511.50 for their 2nd place finish
Third place went to RB Garza & Countin The Lights (Im Countin Checks x Cat Lights) with a 212 which was also good enough to clinch the Gelding and Senior Championships. RB and his new gelding were the last to work in the fourteen horse finals and made the most of it. Their total earnings in this class were right at $9,041.91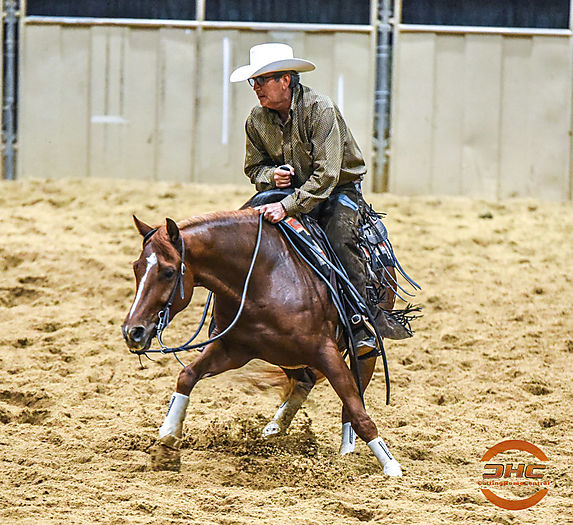 RB Garza & Countin The Lights made the most of their last hole draw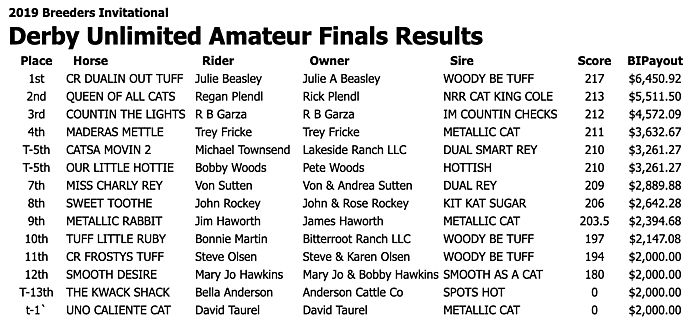 5/6YO Unlimited Amateur:
The last finals of the day was the 5/6YO Unlimited Amateur Finals and once again there were some familiar names that ended up on top. Langston Pattillo rode his outstanding little gelding High Stylin CD (High Brow CD x Stylin Playgirl) to a magnificent 225 in the first set of the finals to claim victory once again. They collected a check for $11,684 in total earnings which included their Gelding winnings.
These two have been a formidable force for the last couple years and his mount "Jones" has racked up over $184,000 in earnings already so far. He was also the 2018 NCHA Amateur Horse of the Year while Langston was the 2018 Amateur Rider of the Year. They have dabbled in the Non Pro as well as the Amateur this year making the finals in the majority of the events so far. They show no signs of slowing down as they have been in the top several scores if not the top score of each round at this show, in both the Non Pro and the Amateur. It is hard not to root for this great rider he is both very talented and an all around wonderful kid. He and Jones fit like a glove making it look easy and something tells us that we will see many more standout runs from these two!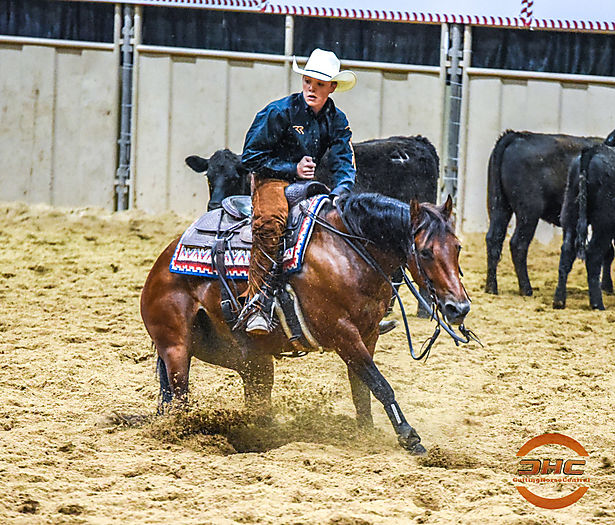 Langston and his little bay gelding once again proved unbeatable
The Reserve Champion and Senior Champion was Stacie McDavid who piloted Dmac Piccollo Pete (WR This Cats Smart x Cherry Chex Dually) to an impressive 219.5 late in the second set. Stacie also scored 216.5 on her other mount Pharoah And James (Hickorys Indian Pep x Wise Little Miss) which gave her a fifth place finish along with the Senior Reserve Championship also. They took home total earnings of right at $20,964.15 for her efforts.
Stacie and both her horses were on point today making for a good little payday in Tulsa
Third place was Reyly Plendl riding Mr Metallic Rey (Metallic Cat x Rey Of Oak) who had to survive a judges review that boosted her score to a 219 which ended up third in the finals and second in the Gelding bringing her total earnings for the finals to $9,098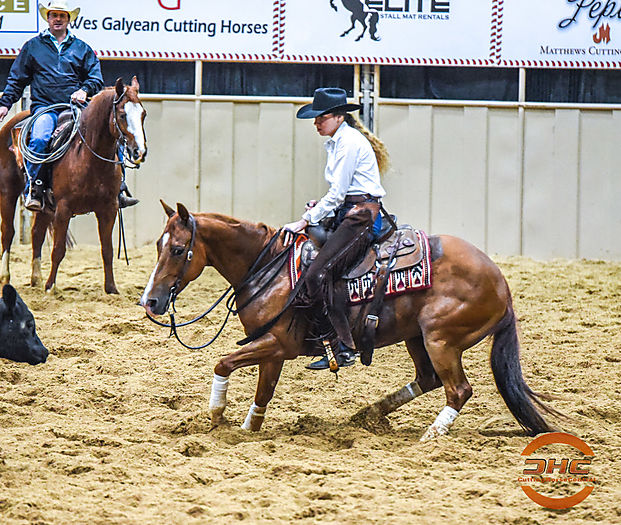 Reyly had to sweat the judges review during the cattle change and earned a few points back that paid off big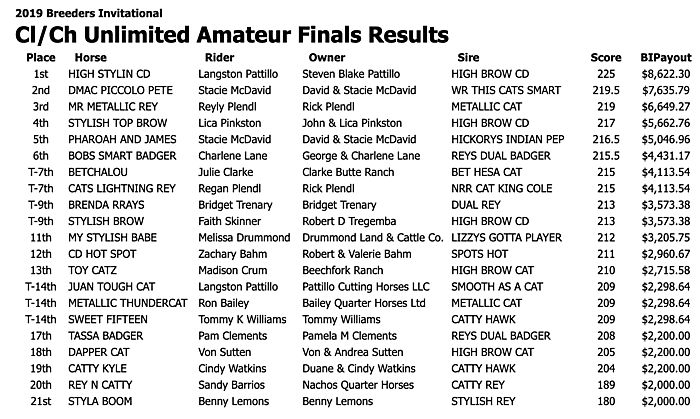 Once again a big thanks to Bill & Michelle Cowan and Catty Hawk for sponsoring all our Amateur results today. We really appreciate their support that allow us to bring you all these updates and results.
The Open 4YO Derby 1st Go is up next with with seven sets on Sunday and the remaining seven sets on Monday. It's sure to be action packed week which will feature most of the top Horse and Rider teams in the country. Stay tuned to CHC Livescoring for all the live action and latest updates- https://www.chclivescoring.com/
.