2019 Breeders Invitational Finishes with Second Work-off
The 2019 Breeders Invitational was a huge success these past two weeks in Tulsa, Ok! Despite some scary weather, it was another one for the record books with not one but TWO Open work-offs. There was more than that though, there were memories made by all with it being one of the only shows of the year that everyone has to stay at and cannot travel back and forth. The days are not incredibly long so there is time to hangout and even explore a little bit of Tulsa.
Derby Non-Pro
There were three finals held on the last day of the show starting with the Derby Non-Pro finals. Cade Shepard continued his winning ways riding his Non-Pro Futurity Champion, Chexy Louella (Im Countin Checks x Louella Again), owned by Austin and Stacy Shepard. They marked a 220 for the win and the $23,512.77 champion's check! He was also third riding his gelding Barney Ross (Bamacat x Haidansmoke) marking a 217.5 receiving another $16,961.25.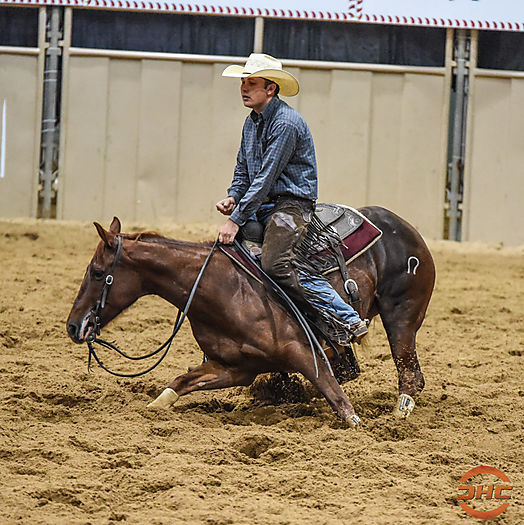 Cade Shepard and Chexy Louella
Cade has quite the record at the Breeder's Invitational over the years and he has another set of nice horses to make 2019 a memorable one for the Shepard family. He not only had two in the finals but is dad Austin had three in the Open Derby finals as well. Cade is quickly showing us he will follow in Austin's footsteps looking confident as ever with Austin's style of showing as well. It is a family affair as it is for many of the cutting families in this sport. It is a very unique aspect of this sport which makes us love it that much more!
Cade Shepard and Barney Ross
Reserve Champion was Dustin Adams riding Hot Sriracha (Hottish x Catsa Dreamin), marking a 218! They collected a hefty $20,110.79 check to go along with their title. These titles are always special for this family but to do it aboard babies by their great stallion, Hottish, makes it that much better! He has certainly made his mark on the industry and continues to do so from show to show.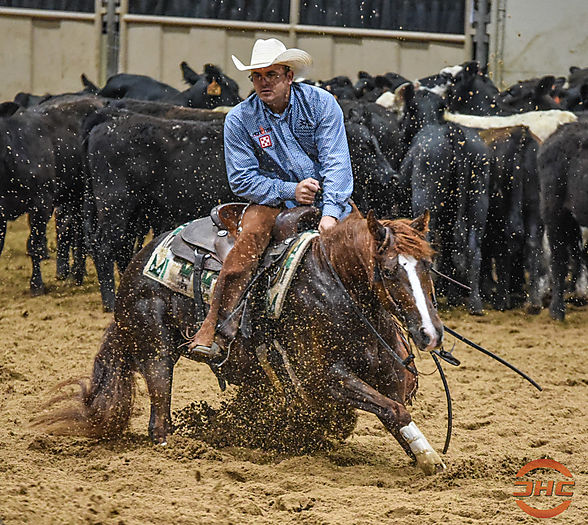 Dustin Adams and Hot Sriracha
The Gelding Division Champion was Smoothest Ride (Smooth As A Cat x Zee Dually), ridden by Kyle Manion and owned by Tommy Manion.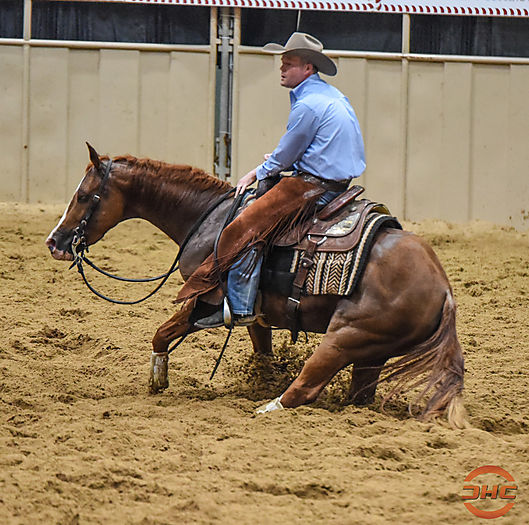 Kyle Manion and Smoothest Ride
The Limited Derby Non-Pro Champion was Ali Good riding Sabrina Boon (Boon A Little x Miss Highliner), owned by the Riddle Family Revocable Living Trust. The received an impressive champion's check exceeding $8,900!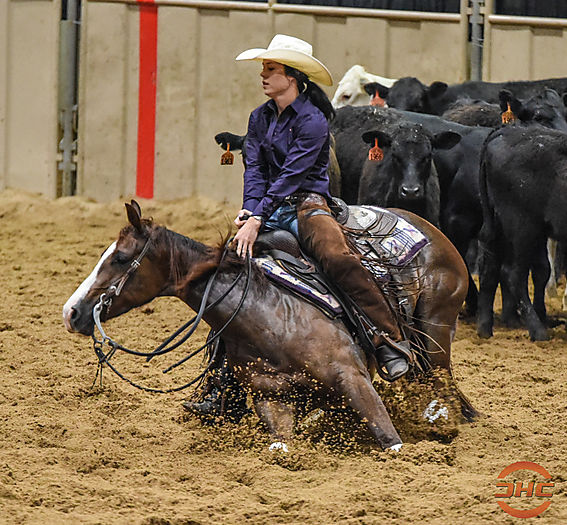 Ali Good and Sabrina Boon

The BI Sale Incentive Champion in the Derby Non-Pro was The Dark Alley (Spots Hot x Lil Alley Cat), ridden by Kristen Galyean and owned by she and her husband Wesley. The duo received a check exceeding $15,000 to go along with their finalist check.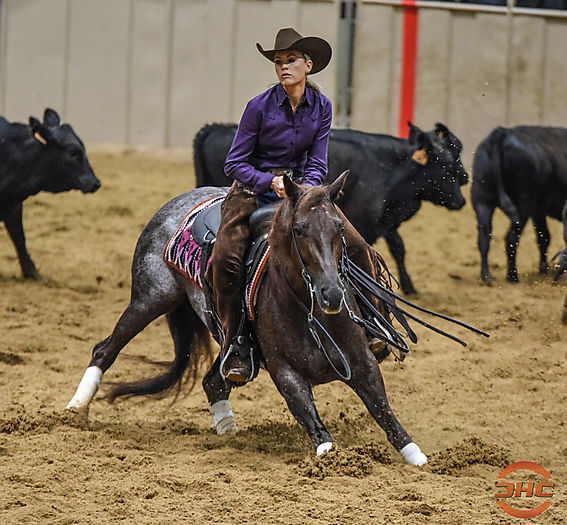 Kristen Galyean and The Dark Alley
The Senior Division Champion was Bonnie Martin riding Tuff Little Ruby (Woody Be Tuff x Rubys Royal CD), owned by the Bitterroot Ranch.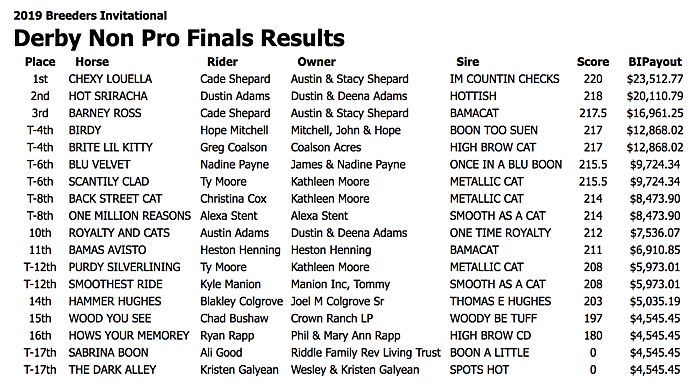 Derby Novice Non-Pro
The Derby Non-Pro Novice Champion was Greg Coalson riding Brite Lil Kitty (High Brow Cat x Starlight Starbrite), owned by Coalson Acres, marking a 221! They added another $12,434.43 to this mare's stellar week. She was not only in these finals but also in the Derby Non-Pro Finals, the Derby Open Novice Finals, and the Derby Open Finals. She was on fire this week with both Greg and trainer Russ Westfall tripling her lifetime earnings in just one show.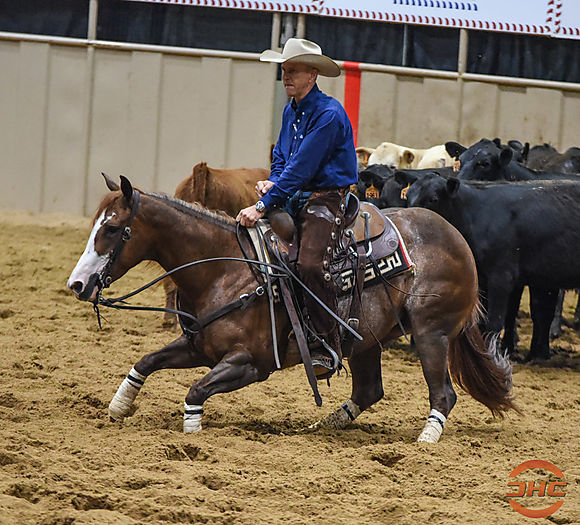 Greg Coalson and Brite Lil Kitty
Reserve Champion was Luis deArmas riding CR Turbo Tuff (Woody Be Tuff x CR Cats Meow), marking a 217.5. They received a $9,352.50 check for their tough run deep in the set of finals!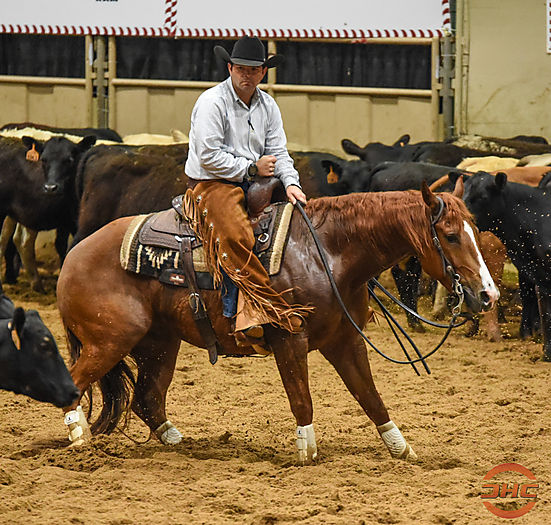 Luis deArmas and CR Turbo Tuff
Third Place was Hope Mitchell marking a 217 aboard Birdy (Boon Too Suen x Miss Early Bird). They took home a $6,270.57 check along with a fourth-place finish in the Derby Non-Pro Finals as well.
Hope Mitchell and Birdy
Derby Open
Last to go was the Derby Open Finals which was set up to be a pretty exciting finals from the start! This year's four year olds are some of the best we have seen and the best riders in the industry were going for the gusto to get the biggest chunk of the substantial purse as they could.
The second work- off of the show determined the winner of the class with Lloyd Cox riding Slooow Ride (Metallic Cat x Sweet Shorty Lena), owned by Pat and Lisa Taylor, and Tatum Rice riding Crey Zee (Dual Rey x Eazee E), owned by Kevin and Sydney Knight, both marking a 224 to tie for the lead in the finals. They went head to head following the second set with Tatum riding first in the work-off. He and the 2018 NCHA Futurity Champion marked an impressive 222 making Lloyd have to go for it if he wanted to prevail. He and the young stallion took their turn and marked a 225 to clinch the Championship!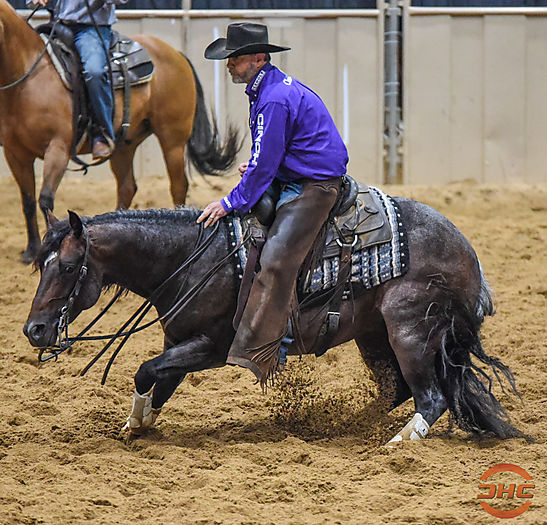 Lloyd Cox and Slooow Ride
Both horses and riders gave it their all it just often comes down to the cattle and circumstances on who will finish on top. It was that way for the entire group of finalists because it could have been anyone's victory yesterday. Lloyd received a $53,309.26 check for the win and Tatum a $27,977.52 for the Reserve Championship! It was a great day for all involved!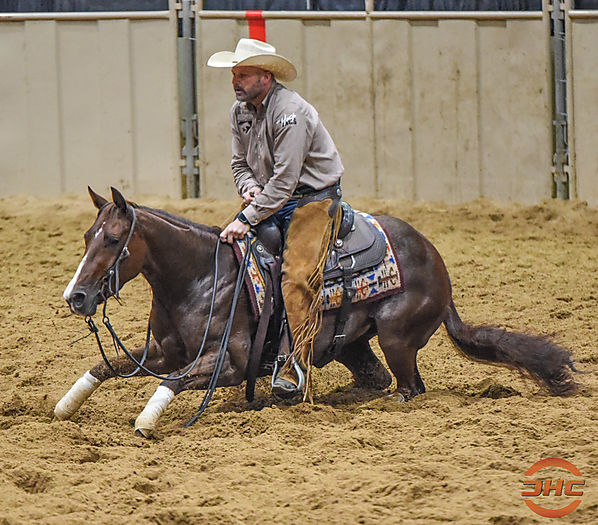 Tatum Rice and Crey Zee
Third Place was none other than Matt Gaines and Sugrspiznevrthingniz (Kit Kat Sugar x Jewels Gotta Lizzy), owned by James Vangilder, marking a 222. They received a $21,097.33 check.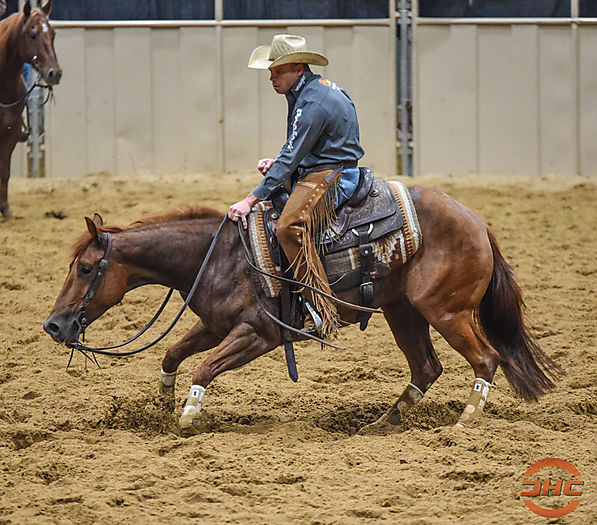 Matt Gaines and Sugrspiznevrthingniz
The Gelding Division Champion was Metallic Curveball (Metallic Cat x Cinca De Maya), ridden by Jesse Lennox and owned by the Rockin P Ranch. They collected a $3,423.64 check to go along with their finalist check.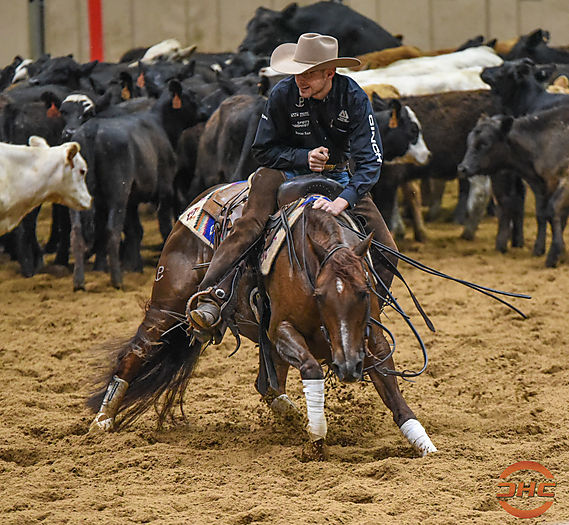 Jesse Lennox and Metallic Curveball
The Derby Open Limited Champion was Jake Hanson riding Metallic M4 (Metallic Cat x Peppermints) owned by the Hanson Revocable Trust, receiving a $4,509.09 check.

The BI Sales Incentive Champion was Walk The Moon (Dual Rey x Caralena Moon), ridden by Jonathan Rogers and owned by John Mancuso.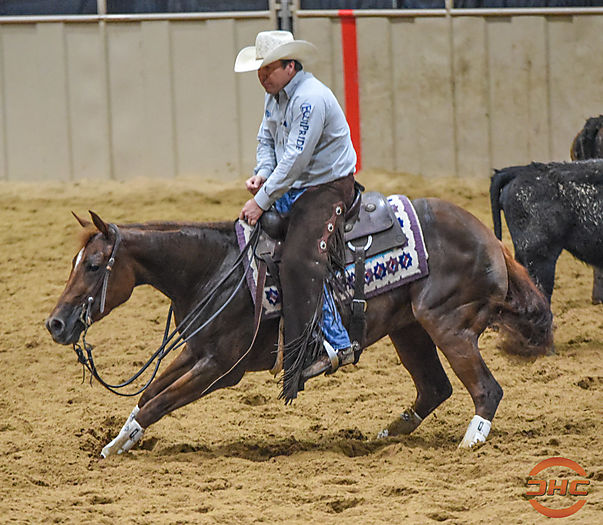 Jonathan Rogers and Walk The Moon
With the 2019 Breeders Invitational in the books we want to commend the show staff on what a great job they do putting on the show as they do every year. It is one we all look forward to and will be for years to come. Congratulations to all of the Champions and Finalists from throughout the show and we look forward to seeing you all down the road!
.