Huge Scores Marked in First Vegas Finals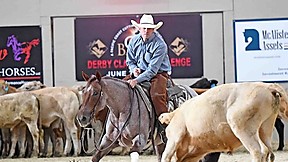 The PCCHA Derby is a popular event every year with its great payouts and fun atmosphere, and this year has been no different. It has truly been an impressive show so far, with huge scores marked and everyone bringing their absolute best to the table.
It took an incredible 442.5 to advance to the Classic Open finals, and the great scores that created that high bubble only continued into the finals! Several riders marked above a 220, but Casey Green marked an incredible 230 on Taliate (Metallic Cat x Reytaliate) to top the round by a 3-point margin!
Casey Green & Taliate • Photo by Scootemnshootem Photography
It is always amazing to watch a pair break the 230 barrier – and their performance is not one anyone will forget.
Casey and Taliate, owned by Shannon Lamb, earned $11,000 for their success, and beyond the paycheck they will certainly be taking home a great story to tell!
Open Classic Champion Casey Green & Taliate owned by Shannon Lamb
Russ Westfall also had a solid performance on Reyning Cats (Dual Rey x Xy Zee), owned by Jerry and Suzanne Rava, when they marked a 227 to claim the Reserve Championship and $9,750.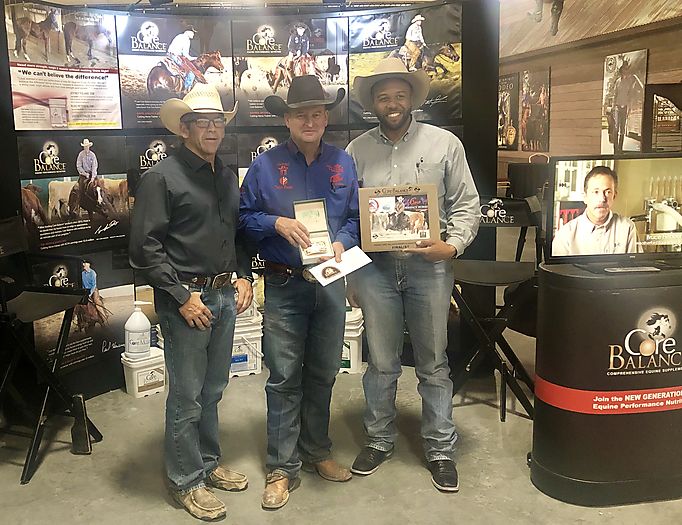 Open Classic Reserve Champion Russ Westfall & Reyning Cats
Grant Setnicka and Ricky Tricky Cat (High Brow Cat x Ricochets Chick), owned by J Five Horse Management, took home the Gelding and Novice Championships after marking a big 223.5.
Classic Intermediate Finals
Impressive scores have been a theme throughout this event and that stayed true for the Intermediate Division as it took a 220 to advance to the final round!
Cookie Banuelos & Queso Cat • Photo by Scootemnshootem Photography
Almost half of the folks in the finals marked a 220 or higher and a big 226 marked by Cookie Banuelos and Queso Cat (High Brow Cat x Rey Ja Vu), owned by Kate Banuelos, took home the Championship!
They garnered $7,000 for their well-earned title!
Cullen Chartier and Hott Nu Cowboy (Hottish x Special Nu Kitty), owned by Circle R Cutting Horses, picked up the Reserve Championship, worth $6,000.
Derby Limited Open
Zeb Corvin made a big impression in the Derby Limited Open division, taking home the top two spots!
Zeb marked a 219 on SJR Kit Kat Ruby (Kit Kat Sugar x Smart Ruby Rey), owned by Stella Swanson, to claim the Championship and $4,332.
He continued the success on Suenperstitious Cat (Boon Too Suen x Cats Pretty Lady), also owned by Stella, when they scored a 218.5 to also take home the Reserve Championship and an additional $2,708!
The Derby Limited Novice Championship went to Tosten Peterson and Luckie All The Time (One Time Pepto x Smart Uni Brow), owned by Elizabeth Ransom, after marking a 217. They earned $941 for the title.
Classic Limited Open
Zeb was on fire throughout the event and swept both Limited Divisions! In the Classic Limited Open, he put together a big 220.5 on Justa Scootin Pepto (Scootin Boon x Justapepto), who he owns with Stella Swanson, and earned that title as well!
The win was worth $4,166 which only added to his already impressive pay roll for the event so far!
Brandis Langston marked a 219 aboard Moondog (Cats Moonshine x Smart Little Janie), owned by Janelle Oakham, to take home the Co-Reserve Championship and $2,604.
Jacob Hadden and Debra Mullins' Looking Rey (Dual Rey x Fancy Lookin Cat) also marked a 219 to share Co-Reserve honors, worth $2,604.
.