Clint Allen & DMAC Doggfather Ace in Vegas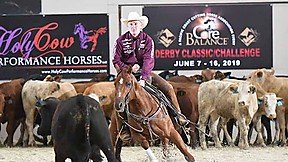 They say the best is saved for last, but in the PCCHA Open Derby finals, Clint Allen proved that old adage wrong when he marked a big 226 on DMAC Doggfather (Kit Kat Sugar x Graciela Dual), owned by David and Stacie McDavid.
Those impressive marks set the bar high for the rest of the finals, and the 226 held the lead through the very end.
Clint Allen & DMAC Doggfather • Photo by Scootemnshootem Photography
Ultimately the pair topped the class by 3.5 points and went home with the Derby Open Championship, worth a hefty $18,000. They also picked up an additional $3,430 for the Gelding title!
As draw 14, Monty Buntin and Dual Cat Pepto (Dual Rey x Swiss Cat Pepto) owned by Michael and Debra Flashman, marked a solid 222.5, and those marks were matched by Morgan Cromer and Clarke Butte Ranch's Bayou Creedence Cat (High Brow Cat x Creedence Clearwater). The teams shared Co-Reserve honors, and each took home a $14,000 check.
Morgan Cromer and Bayou Creedence Cat also clinched the Novice Championship to add an additional $3,606 to their earnings.
Derby Intermediate Open
Hot off his win in the Classic Intermediate Open, Cookie Banuelos kept the momentum going in the Derby Intermediate Open. Deep in the finals, he put together a 223 on Metallistic (Metallic Cat x Jaebars Angel), owned by Kate Banuelos.
That score topped the round by a 4-point margin and earned Cookie another Intermediate Open title and $7,500. They also earned the Novice title and another $1,882.
Cookie Banuelos & Metallistic • Photo by Scootemnshootem Photography
It's a huge accomplishment to top any finals at an event like the PCCHA Derby, so for Cookie to take home more than one this week is impressive. Congrats on such a great show!
Cookie on his wins and the new leveling system.
The Reserve title was split three ways after three pairs marked a 219! Tosten Peterson on Cowan Ranch's Turnin Up The Heat (Hottish x Smart N Special), Eric Wisehart riding Brehr Rabbit (Metallic Cat x Proof Im Stylin), owned by Sharon Waggoner, and Cullen Chartier on Belle Terre Ranch's Fancy Sugar Britches (Mandaley Rey x Sheza Fancy Cat) all earned a Co-Reserve Championship.
Each team took home $5,000. Tosten Peterson on Turnin Up The Heat also took home the Gelding Championship, worth $1,842.
.