PCCHA Derby $10k Open, NP & $5k Am Recap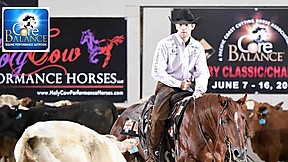 The $10,000 Added Open brought a competitive group at the PCCHA Core Balance Derby, and it was an exciting event to watch.
Adan Banuelos put together a smoking 229 on Pedel To The Metall (Metallic Cat x Twice As Reycy), who is owned by Faith Mountain Ranch, to claim the Championship! They earned $3,574 for the win.
Adan Banuelos & Pedel To The Metall • Photo by Scootemnshootem
Call Me Catniss (High Brow Cat x SDP Finely Tuned), owned by Beechfork Ranch, carried TJ Good to a 226 to pick up the Reserve Championship and $3,181.
$10,000 Added Non-Pro
Steve Anderson and Littlemak (Starlights Gypsy x Justa Swinging Gal) have been a solid pair together, and Vegas was no different. They marked a 225 to claim the Championship and banked $5,730 for the title.
Steve Anderson & Littlemak • Photo by Scootemnshootem
Jill Roth and Bea Pure Cat (High Brow Cat x Mae Bea Marie) also had a solid outing when they marked a 224 for the Reserve Championship, worth $4,619.
$5,000 Added $50k Amateur
Capn Call (One Time Pepto x Hissy Cat) came out strong in the Amateur to put together a 220 with Tracey Rolofson to clinch the title and $2,986.