The Overcomers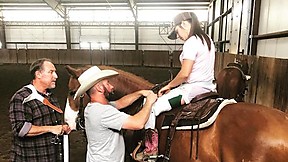 By Alex Taft
It is easy to get caught up in busy schedules, stressful moments and daily obstacles, and sometimes we all need a bit of inspiration to keep going. Many of us look far and wide for that motivation, but often times that example of true determination and perseverance is closer than we think.
Scott Amos is a cutting trainer we all know and admire for his talent in the show pen, but his journey to where he is now is what really makes him a true role model we could all learn from. Scott grew up on a ranch with his family and spent much of his time riding and tending to the cattle and crops on their property. During that time, he was in a bad farming accident, causing him to lose a leg.
He was in the hospital for several months, and although an accident that devastating might easily defeat someone, Scott kept moving forward with the support of his family.
"I got through it, because it didn't kill me that day," Scott said.
Scott Amos
Although Scott was not dealt an easy hand, he made adjustments to his life that allowed him not to be limited. He was fitted for a prosthetic leg and at first hated it, but it was only a matter of time before Scott was thriving again, even playing football in high school.
His new leg allowed him to do much of what he did before the accident, but the design made it painful to ride, which was something Scott never lost the desire to do. Since prosthetics were set up for walking, the angle needed to ride was significantly different and Scott knew if he wanted to be comfortable in the saddle, he would have to create something himself with the help of his good friend and prosthetic guy, Brian Karsten.
"I toyed around with four or five different legs and designed a strap system that comes around your waist to hold your angle right," Scott said. "Before, the way the prosthetic leg fit on was either air suction or a pin, so there would be a sleeve over the amputated leg and the pin goes across the socket and locks in. As soon as you sweat, it gets all loose in there and isn't tight anymore.
Scott and Hershay Kiss at the NCHA Futurity
"There are not many people saying, 'I need to ride 20 head of horses a day with one leg – so you need to fix this.' The only person who was going to fix it is me, so I did this strap system. I took one side of the strap and shortened it and then put two rivets in the side of the prosthetic leg, so it pulls it and holds it in place, and I can snug it pretty tight."
His leg adjustments made such a big difference that Scott went on to ride bareback horses during his younger years and has since developed into the cutting horse trainer he is today! Scott has been a Multiple NCHA Aged Events Finalist as well as a Limited & Intermediate Open Champion. He was also NCHA Super Stakes Limited Open Derby Finalist this year riding Such A Dual. He is quickly approaching NCHA Hall of Fame status with almost $1 Million in earnings, which has been a longtime goal for Scott! He knows he wouldn't be where he is without a great support system, and he has paid that forward to others who need it, as well.
When Scott heard of 20-year-old Jessica Wilson's ATV accident late last year that caused her to lose her leg, he knew he wanted to do something, especially since she had also spent much of her life riding horses! Scott reached out while she was in the hospital to offer some words of encouragement knowing exactly what she was feeling and told her he and Brian also wanted to get her fitted for a riding leg when she was healed up.
Scott & Jessica
"I told her to come out to my place, and we got her fixed up," Scott said. "She stayed there for two weeks at the house. She was more an inspiration to me than anything. I didn't want to tell anybody, but she is a lot tougher than I am!"
For Jessica, who had not only been in a life-changing accident but also lost her 22-year-old sister to cancer, Scott's lending hand was a saving grace.
Jessica getting fitted for her riding leg with Scott and Brian
"Getting to meet Scott Amos has definitely changed my life, and I am so thankful that I have been able to have someone that has been through something similar and rides at the level I strive to be at one day," Jessica said. "He knew exactly what I was looking for in a riding leg and having someone that knows what I am wanting to feel in the saddle is such a blessing. To ride in a leg that feels more natural in the saddle is just amazing. My horses still move off my leg pressure, just as they would before."
Jessica has a passion for running barrels and said nothing beats the rush of running down the alley to the first barrel, but riding cutters with Scott definitely piqued her interest in the sport. She is already considering the idea of having one barrel horse and one cutter in the future! Scott and Jessica's determination is an inspiration, and they each offered some additional words of encouragement to anyone who might be facing a hardship.
Jessica's riding leg features Scott's logo!
"The biggest thing is if you set your mind to doing something, you can do it," Scott said. "It is your mind that tells you. Don't listen to any one. Convince yourself you can do it, and that is the only thing you need to listen to. People sometimes are great supporters and there are some that aren't. You just need to tell yourself, and don't baby yourself. You are going to go through trials and pain, and you have to push through it."
"If you are stuck in a rut, or at a down point in your life, whatever you do DON'T GIVE UP," Jessica said. "Keep pushing forward no matter how hard it gets. You will soon get to see the light at the end of the tunnel. Everyone has bad days, but how you choose to handle those days is what matters. Find a way to do what you want, I promise if you just take that step to try and pursue what you really want, God will help you! That's what he has done for me blessing me with Scott Amos, it wasn't just luck that he was brought into my life. He knew that I needed his help to get back on my path with my horses and life. All you have to do is take that step and try. What do you have to loose?"
Jessica took a minute to thank her family, friends and others who have helped her in the past year.
The perseverance Scott and Jessica have should remind us to always believe in ourselves and all that we are, because there is something inside of all of us that is greater than any obstacle.
.