Sasha Schwind Shines in USA/Euro NP Challenge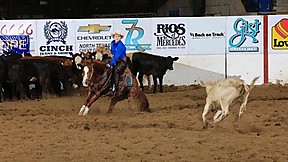 The Australian/USA Non-Pro Challenge is an event that folks look forward to every year at Carol Ward's El Rancho Futurity, and this year the NCHA Western Nationals added a fun international event of their own.
Photo by Ted Petit
The USA/European Non-Pro Challenge featured nine countries including, France, Switzerland, Ireland, Germany, Italy, Czech Republic, Belgium and Slovakia – and of course the USA. The event consisted of three rounds, and one young talent from Germany shined from start to finish!
USA/European Non-Pro Challenge Grand Entry • Photo by Ted Petit
At just 15 years old, Sasha Schwind, of Germany, topped all three rounds. In Round 1, she marked a 219 on Whizzy Harpers' Smart Looking Reyna, and Sasha stayed strong in Round 2 with a 218 on Miss Ketty Ballon. She rounded out her performances with a 218 on Smart Looking Reyna.
Sasha Schwind & Smart Looking Reyna
With all of her success at the event, she received the high point buckle for the European team, coached by NCHA Europe Director, Denis Pini. Nicole Pietrafesso received the high point buckle for the USA team, coached by Scott Amos.
Denis Pini
The event, headed by Jack Enright, was a big hit as it brought several countries together in one place all from the love of the sport of cutting.
Each competitor received a buckle and were made to feel right at home in Denver, Colorado. They were even presented as the "Guests of Honor" at the Greely Stampede Rodeo.
Sasha Schwind with her European Team High Point Buckle
We just wanted to take a moment to let everyone know about this inaugural event and highlight the great talent of some of the international cutters like Sasha Schwind.
.