Epic Evening for Three Brothers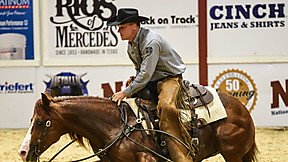 By: Lauren Middleton
It was another epic evening at the 2019 NCHA Metallic Cat Summer Spectacular last night for the Classic Open Finals with many high scores marked and some of our favorite six-year old's gracing the Will Rogers for the last time. It was a five-year-old however, that stole the show!
Beau Galyean rode Rollz Royce (Dual Smart Rey x Show Biz Kitty), owned by Thomas Guinn, to another electrifying 229 to take home the Championship and the $16,865 check! This duo has been putting together memorable runs show after show and as said before this young stallion draws you in with his unique style. Beau also shows him perfectly finding the best cows to show off what "Royce" can do! He sneaks into the herd and even if the cows start fast they end up slowing down maybe because they are mesmerized by what is going on in front of them as well, but probably it is more because the runs are always so well executed and controlled. These horse and rider teams are amazing to watch once they reach the finals, always going for the gusto especially on the biggest stage of them all in this industry. Many in the stands were on the edge of their seats with goosebumps forming throughout their run and in many of the runs in this stacked finals. Beau is often doing this for many of us at each show, with horses such as Metallic Rebel, then Stevie Rey Von, and now Rollz Royce. When Beau has a great horse, which seems to be all the time these days, the cutting is never over until he goes! This win put Royce over $250,000 in earnings with many more shows left to go in his career. He also just wrapped up an impressive first breeding season. There are many more exciting things in store in the future for this special stallion!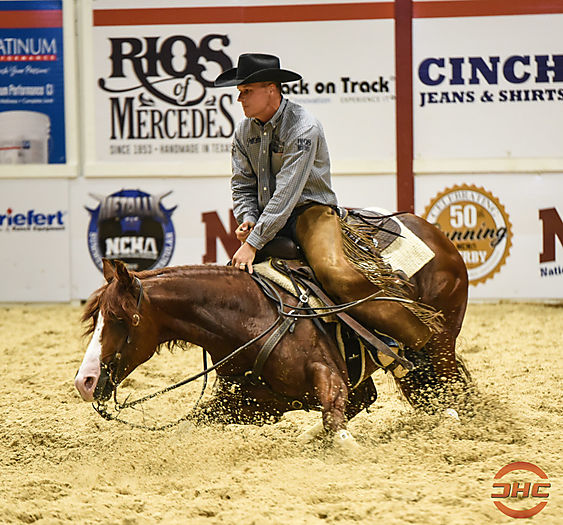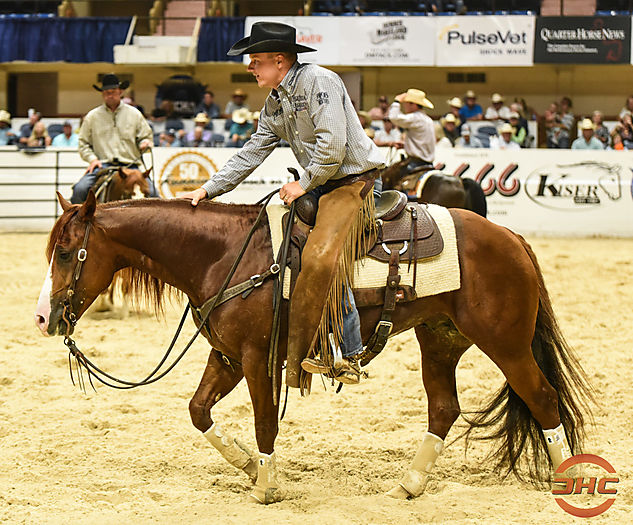 Beau Galyean and Rollz Royce
Reserve Champion was Beau's brother Wesley Galyean riding Duramax Dually (Dual Rey x That Catomine), owned by the Glover/Galyean Partnership, marking a 222.5! This is another team that is always fun to watch. "Dually" is so fast that one second, he is on one side of the cow and the next he is stopping it on the other. If you know that horse at all it is funny because outside of the show pen he is always conserving his energy walking as slow as possible! When it is time to show Wes knows that he can call on him, and he is ready to give it his all. It was a tough, high speed run that would challenge most horses, but they made it look easy collecting a $15,430 check when it was all said and done. Dually was bred and raised by the Glover/Galyean family, making it another special accomplishment for their exceptional breeding program!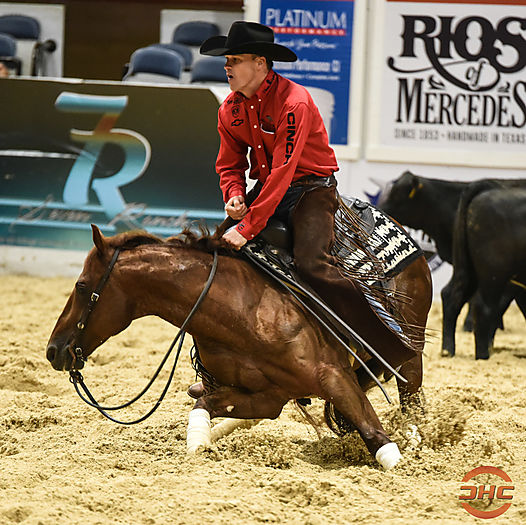 Wesley Galyean and Duramax Dually
Third Place was none other than Lloyd Cox making a 222 aboard Hott Heels (Hottish x Miss Peptonstelletos), owned by Julie Jarma. Lloyd was towards the end of the second set and was coming for his two brother-in-law's with the stylish brown gelding! It was a cool night for this family as Lloyd is married to Christina Cox, Beau and Wesley's sister. They were keeping it all in the family, and no doubt as Lloyd's run built they were thinking "Here comes Lloyd again!". The third-place finish added another $13,995 to "Luke's" earnings along with the Gelding Division Championship!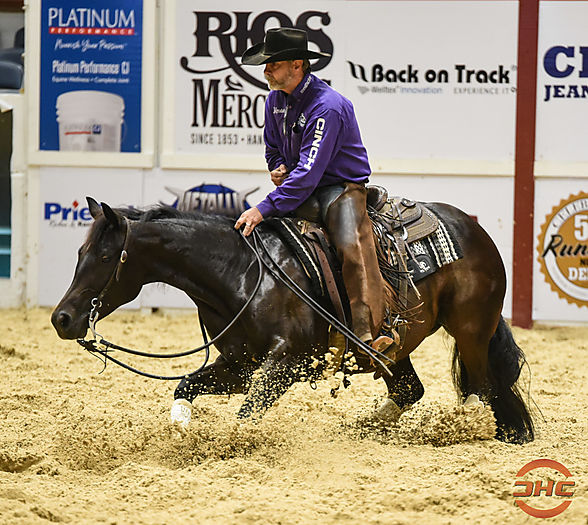 Lloyd Cox and Hott Heels
Metallic Cat Incentive
It was also an exciting evening for those eligible for the first Metallic Cat Incentive in the Classic Open with three horses eligible for the formidable purse! John Mitchell and Sundance Jessie (Metallic Cat x Jessies Starlight MS), owned by the Slate River Ranch, marking a nice 219.5 to claim the huge $40,000 check given by the owner of Metallic Cat, Bobby Patton. This is the largest check offered in the Classic Open for the year making it a huge accomplishment for John, Slate River Ranch, and everyone involved with this gelding!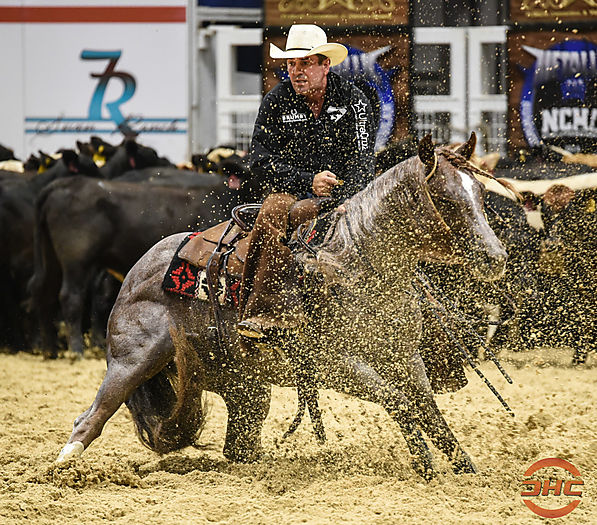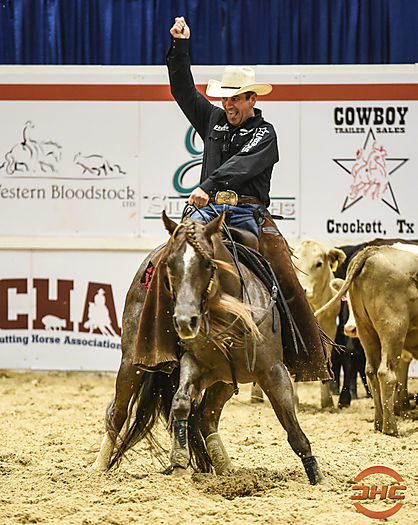 John Mitchell and Sundance Jessie
Second Place in the Metallic Cat Incentive was Grant Setnicka marking a 217.5 riding Ruby Rita (Metallic Cat x Pats Little Senorita), owned by Robert Thigpen. They collected a $20,000 check making it a great night for this team as well!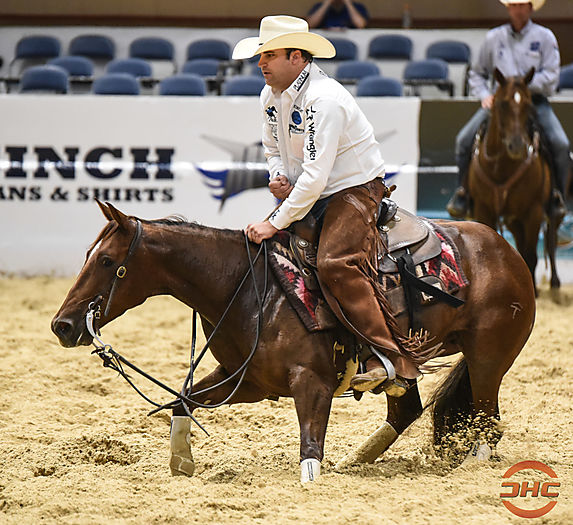 Grant Setnicka and Ruby Rita
Thank you once again to Bobby Patton for generously providing the opportunity for these horses and riders. It is a huge gesture that does not go unappreciated. Metallic Cat has made an incredible impact on the industry from the start, and innovative ideas such as this incentive are not only amazing to receive but it insures the continued influence these fantastic horses have on the sport. We are all beyond grateful for his generosity!
With this finals coming to a close it marks the end of an era as many of these horses have finished their careers in the Will Rogers. We wanted to highlight the six-year olds that were in the finals, but keep in mind that so many greats did not for whatever reason make it. Cutting is full of variables, and we all want to see that storybook ending, but sometimes that is not the case. There are many others that are incredible, these are just the ones that we got to witness last night. We are looking forward to watching all of the six-year olds finish out their aged event careers in the full slate of shows in the fall!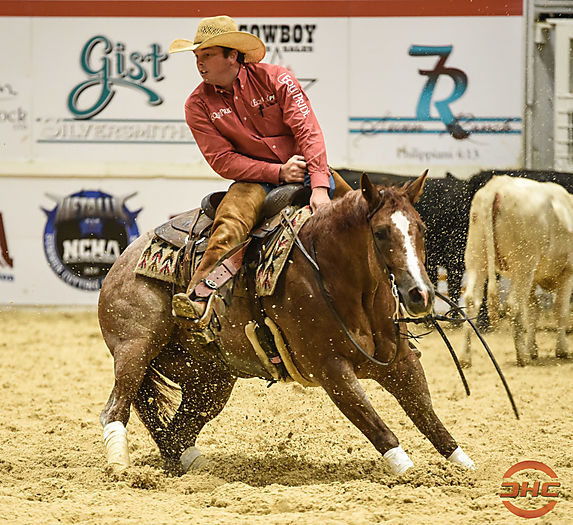 One Sneaky Bluegrass and Eric Magby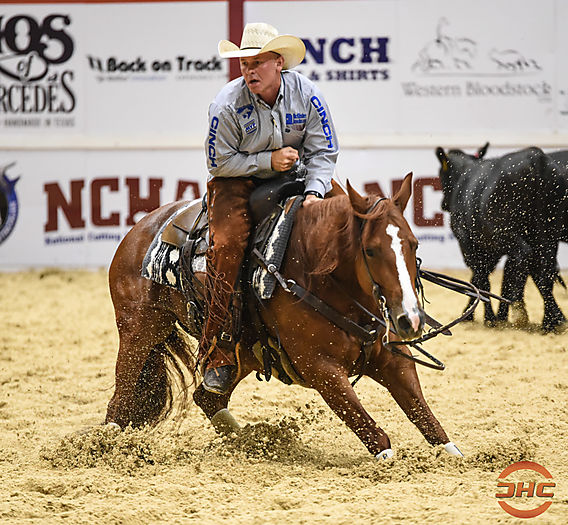 Cattys Hope and Michael Cooper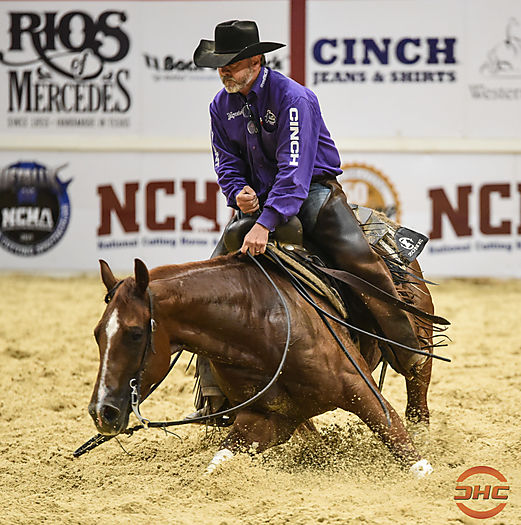 Second Spot and Lloyd Cox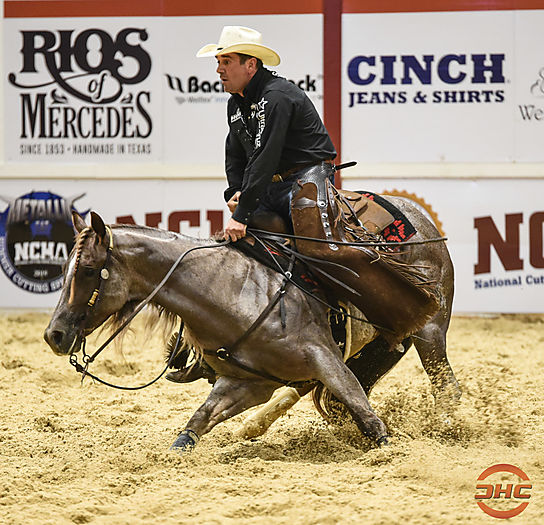 Sundance Jessie and John Mitchell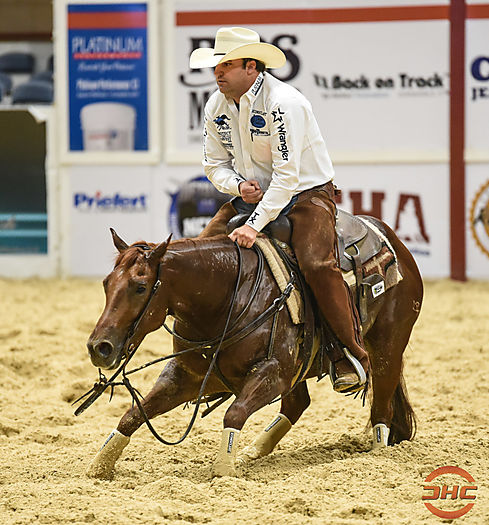 Reysin Kittens and Grant Setnicka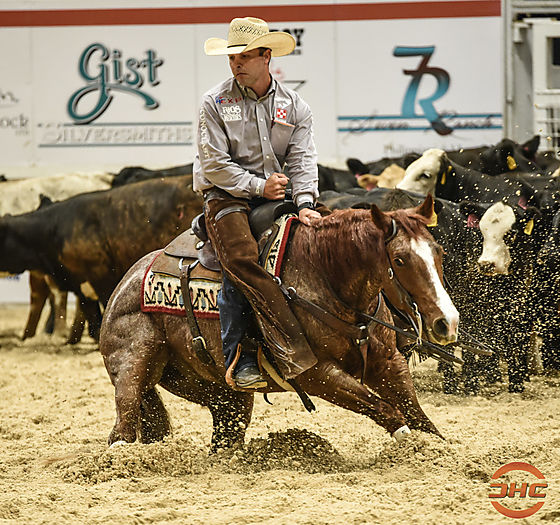 Metallic Smart Cat and Matt Miller
Cinca Im Hot and Jesse Lennox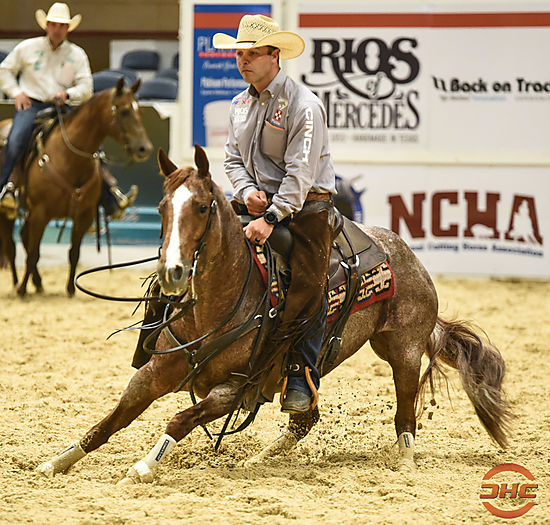 Mistresssis and Matt Miller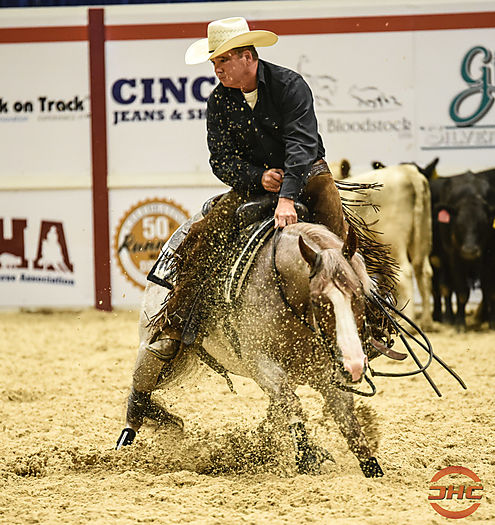 Metallic Cash Flo and Brett Davis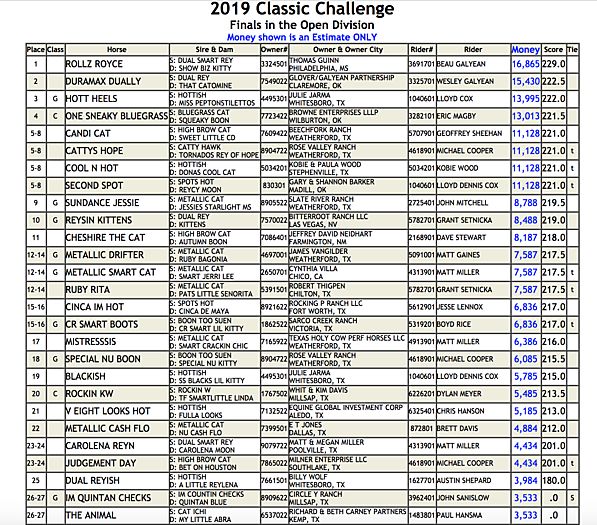 There is still a lot of cutting to go at the 2019 NCHA Metallic Cat Summer Spectacular! The Classic Non Pro finals are this evening followed by the Western Bloodstock Mid Year Sale tomorrow. Next week will begin the youth activities as well! Be sure to stay tuned into CHC's Live Scoring to keep up with the action and congratulations once again to all of the Open Finalists!
.