Lightning Strikes Once Again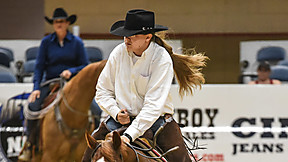 By: Lauren Middleton
Regan Plendl and Cats Lightning Rey (NRR Cat King Cole x Rey Of Oak) continued their winning streak last night taking home the Classic Non-Pro Championship marking a 220 which held up until the end in a tough group of horses and riders! Regan and this special gelding have been winning cutting after cutting lately, most recently at the Non-Pro Plus the Open and the Western Nationals. They are a force to be reckoned with and everyone would agree it could not happen to a nicer person who is eaten up with the sport! Regan is always looking to get better and excel at each show she competes in, which is very evident in her recent record. She is also very humble, and in this sport with countless variables, that is pretty important. One minute you are on top and the next you have challenges. When waiting for her awards she was very thankful and in awe of the fact that in this group of excellent Non-Pros it was her night. This win added another $16,909 to their career's together and another thing to be thankful for!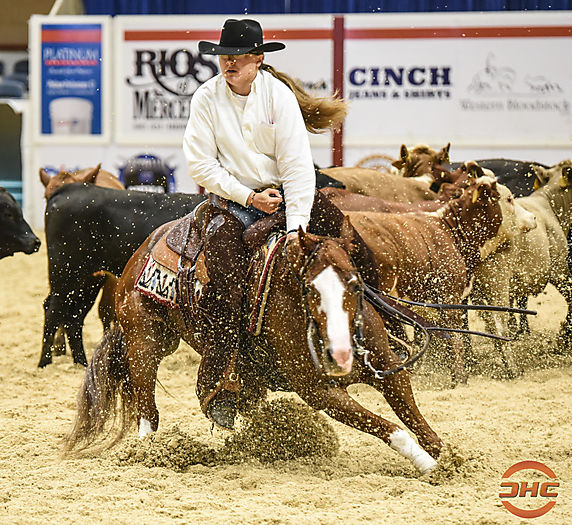 Regan Plendl and Cats Lightning Rey
Reserve Champion was Megan Miller and Carolena Reyn (Dual Smart Rey x Carolena Moon), another duo we are very familiar with marking a 219! They came off of a Classic Non-Pro win at the NCHA Super Stakes both this year and last year a Derby Non-Pro Co-Championship. This title is one of many for this highly decorated mare and added $15,277 to her earnings. She was also in the Classic Open finals the night before with Megan's husband Matt. When talking to Megan she cannot say enough about how much of a blessing this mare is for their family.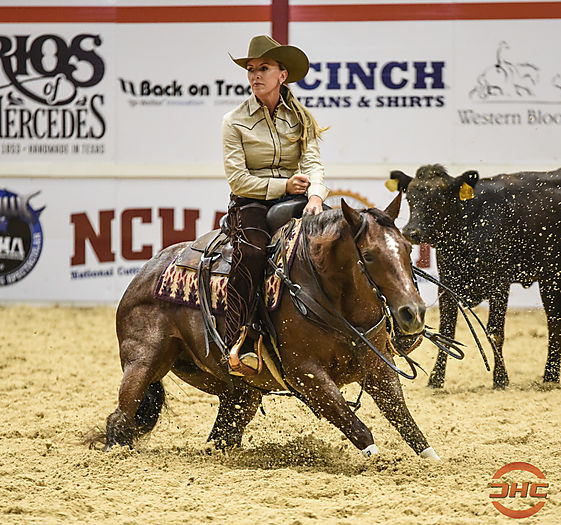 Megan Miller and Carolena Reyn
Third Place was split between Julie Jarma riding Hott Heels (Hottish x Miss Peptonstelettos) and Langston Pattillo riding High Stylin CD (High Brow CD x Stylin Playgirl) both marking a 217.5. The each took home a $13,082 check as well as splitting the Gelding Division Championship.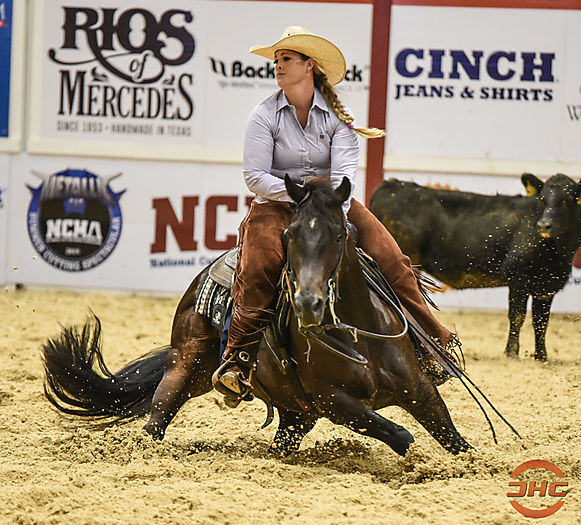 Julie Jarma and Hott Heels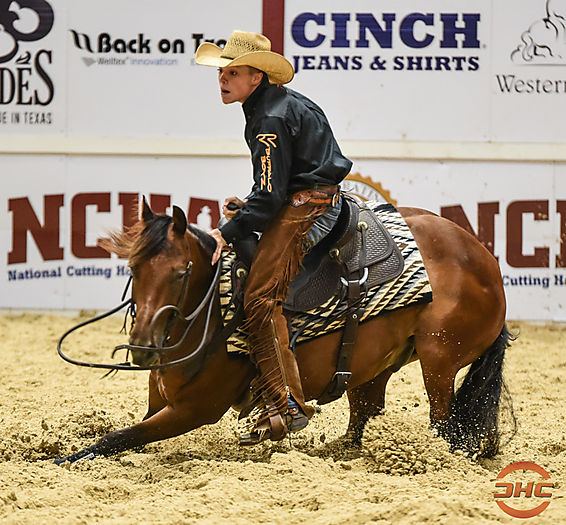 Langston Pattillo and High Stylin CD
The Senior Division Champion was Bonnie Martin riding Reysin Kittens (Dual Rey x Kittens) marking a 217. They also split 5th and 6th in the finals.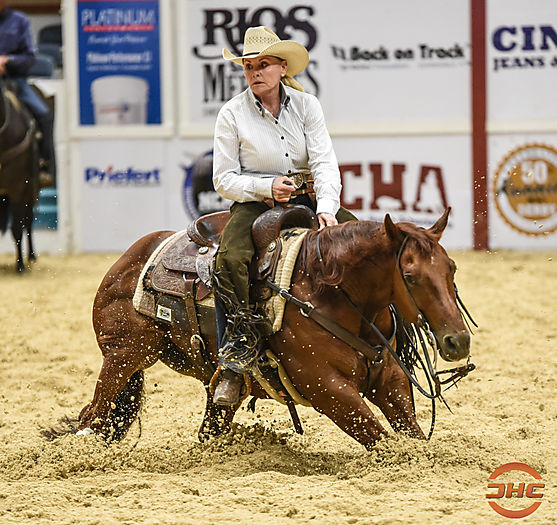 Bonnie Martin and Reysin Kittens
In the Metallic Cat Incentive, it was the "Little Engine" that could, Catillac Reys (Metallic Cat x Tootsie Rey) ridden by Elizabeth Quirk that came through once again to win the incentive. They collected a very generous $20,000 check from owner of Metallic Cat, Bobby Patton. This tiny gelding also won the first ever incentive purse last year in the Derby Open which amounted to $100,000!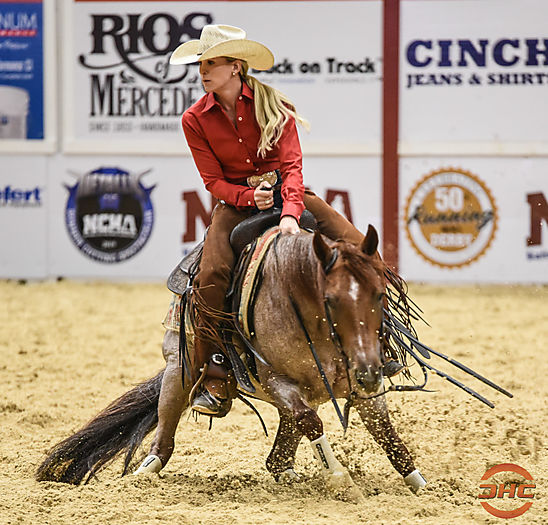 Elizabeth Quirk and Cattilac Reys
Second Place in the Incentive was Metallic Boom (Metallic Cat x Pepto Candy) ridden by Cody DeCordova. They received an impressive $10,000 check in addition to the check in the finals.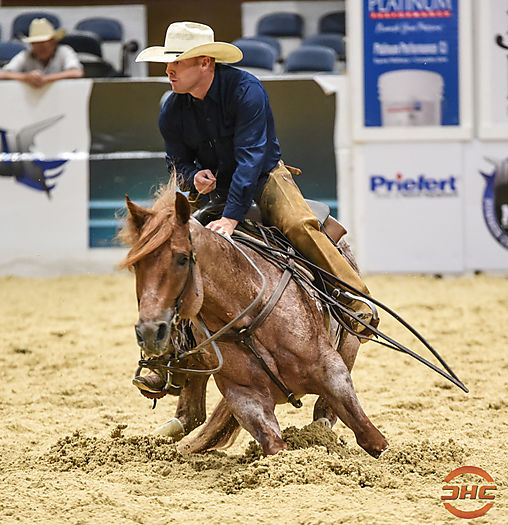 Cody DeCordova and Metallic Boom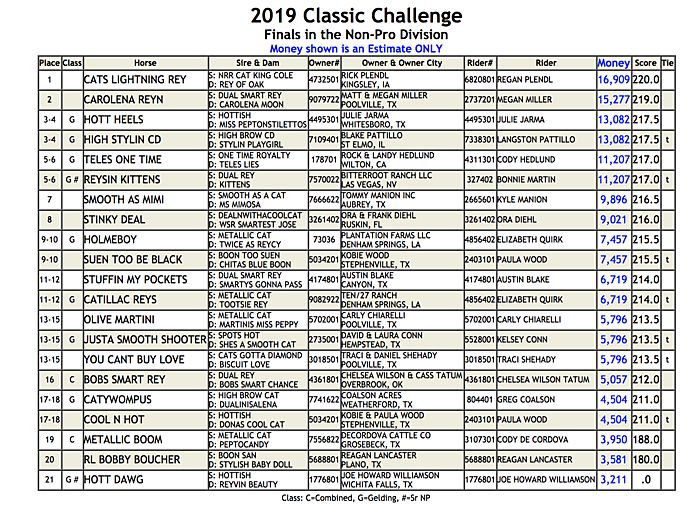 We once again want to thank Bobby Patton for his generosity and mention what an amazing sire Metallic Cat has truly been for the industry. It is an exciting time in the sport to have this opportunity to show such wonderful horses!
Congratulations to all of the finalists and good luck to those left to show at the 2019 NCHA Metallic Cat Summer Spectacular!
.