First NCHA Derby Amateur Champions Crowned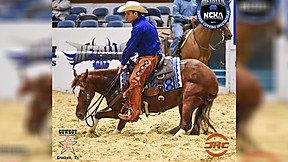 The NCHA Metallic Cat Summer Spectacular has been packed with action so far and today, the first Amateur finals kicked off with the 4-Year-Old Amateur.
Grant Martin, who was riding CD Stylish Catt (Sophisticated Catt x CD Top Girl), put together a solid 217 to clinch the Championship. The pair collected $6,396 for the win.
Grant Martin & CD Stylish Catt
The first time Grant showed in the "Big Pen" was at the NCHA Futurity in 2018 with the mare, and they finished 6th in the Amateur finals. This mare means a lot to Grant, because he purchased her as a 2-year-old from his trainer Ryan Moore and started her and has put most of the training on her himself.
He sent CD Stylish Catt to Ryan in August of her 3-year-old year when he went off to Arkansas State.
"I have made the finals in every class I have entered her in, and she is just really special," Grant said. "She is very sweet and just wants to be up in your face like a dog."
Congrats from all of us at CHC on Grant's first Championship in Fort Worth!
The Reserve and Senior Championships went to James Hooper and Princess Metallic (Metallic Cat x Spots A Playin) who marked a 215.5. They took home $6,133 for the Reserve title.
James Hooper & Princess Metallic
A 215 earned Ty Decordova and CR Maximum Tufness (Woody Be Tuff x Stylish To The Max) the Gelding Championship.
Ty Decordova & CR Maximum Tufness