Youth Cutting to Remember!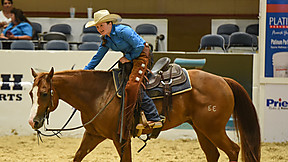 By: Lauren Middleton
We all look forward to each triple crown event held at the Will Rogers each year but the Summer Spectacular has an extra special aspect with the NYCHA putting on both a Scholarship show as well as holding the World Finals for the Junior and Senior Divisions.
There is so much to talk about with all of the wonderful kids we have in our industry, and bringing them all together for one fantastic Youth Week warms everyone's hearts. We are often times so stressed and serious, when in the midst of these big events. Having the youth come in without a care in the world other than to go for it in every single run, gives Fort Worth a whole new atmosphere. We find ourselves rooting for each of them, celebrating their victories, and getting a little emotional in their defeats. This is the time that they are creating memories and learning huge lessons that will impact them for the rest of their lives. It all gives whole new meaning to the way cutting already makes anyone who truly loves the sport feels.
NCHA Foundation Youth Scholarship Cutting
The event that has been around the longest for the youth is the Scholarship cutting, which is now the NYCHA Foundation Scholarship Cutting. It is always a fun one because you never know who will show up with what horse and it is the biggest stage for these kid throughout the year!
Junior Youth
This time around was no different, they all went for it in the Watt Arena trying to get their chance to show in the "Big Pen"! Once in the finals, these kids once again went for the win and as cutting often is, all of the variables have to fall into place. On Friday it was Will Bushaw's day in the Junior Youth marking a 224 riding his gelding Velvets Revolver (WR This Cats Smart x Velvets Best Shot). "Millhouse" is no stranger to success in Fort Worth having made countless finals with previous owners James and Nadine Payne. This is not even his first Championship in the Will Rogers but it is Will's first championship riding the great gelding! The duo went all out with a tough in your face run, the kind that this horse loves. It is obvious that Millhouse means a lot to Will and he is very grateful to get the chance to show him. He could not thank his help and especially his dad for allowing him to show such an exceptional horse.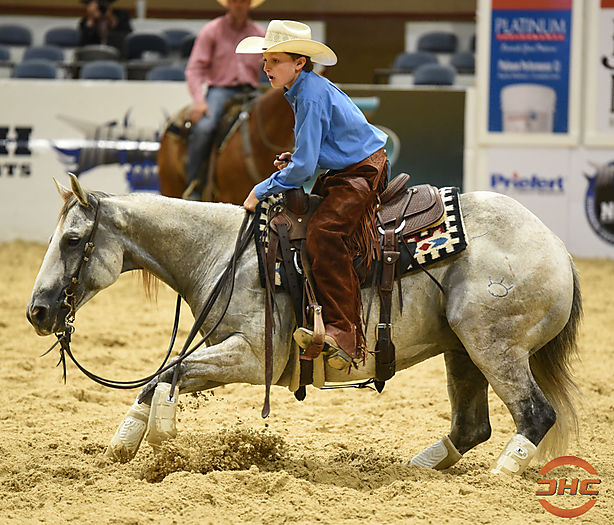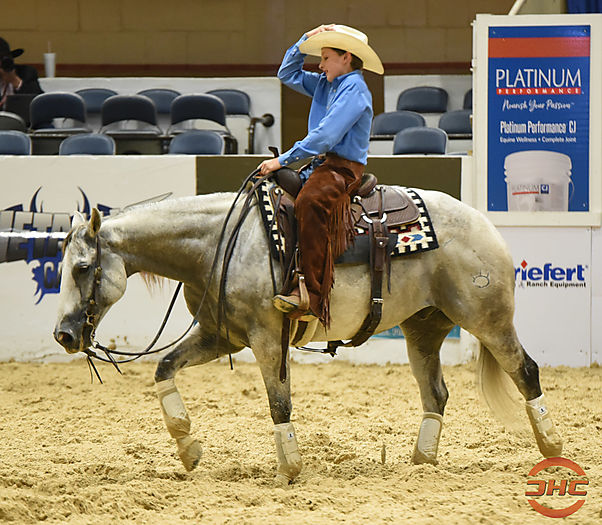 Will Bushaw and Velvets Revolver
Reserve Champion was Cody Gann riding Hevvy Metal (Metallic Cat x Dual Nurse), owned by Jerry and Patti Gann, marking a 218! Cody and "Scrap Iron" have had quite the week and were extremely consistent in both the scholarship cutting as well as the NYCHA World Finals. They are a force to be reckoned with and seemed cool calm and collected throughout the whole event!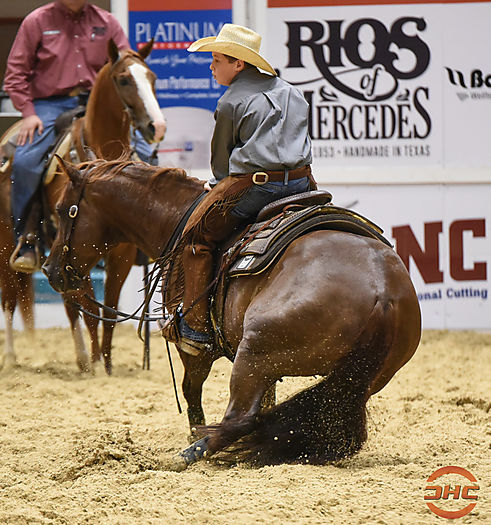 Cody Gann and Hevvy Metal
Third Place was Brody Magby marking a 217.5 aboard One Sneaky Bluegrass (Bluegrass Cat x Squeaky Boon), owned by Browne Enterprises. This gelding has done so much for this family and for Brody to get to show him as well was icing on the cake!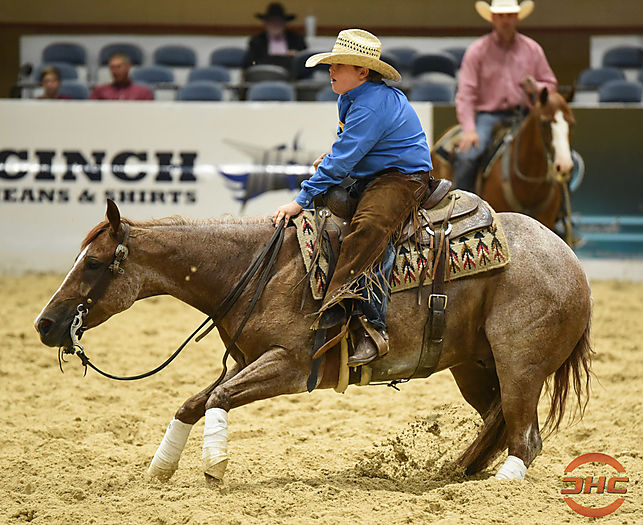 Brody Magby and One Sneaky Bluegrass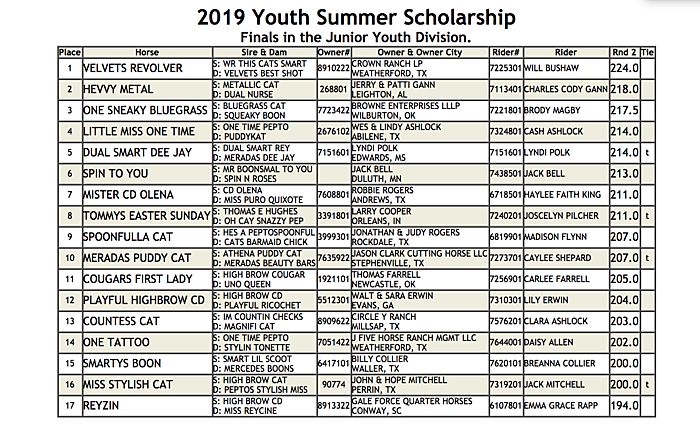 Senior Youth
In the Senior Youth the competition was just as stiff with some big names coming in to make the cutting pretty exciting! It was Lance Cooper who claimed his third scholarship win with his Championship aboard Special Nu Boon (Boon Too Suen x Special Nu Kitty), owned by the Rose Valley Ranch, marking a 225! They could have probably marked this run whatever they wanted honestly, it was nearly as perfect as it was difficult. Lance and "Special" held their third cow for almost thirty seconds, looking confident all the while.
This is Lance's last year to compete in the Scholarship event and he wanted to make it count. The win also meant a little something extra to him to do it on a horse trained by his dad, Michael Cooper, and owned by the ranch they train out of, Rose Valley Ranch. We have to look into it a little further, but certainly three times winning in this event has to be a record, or tying for the record. Talk about another Youth rider being pretty consistent!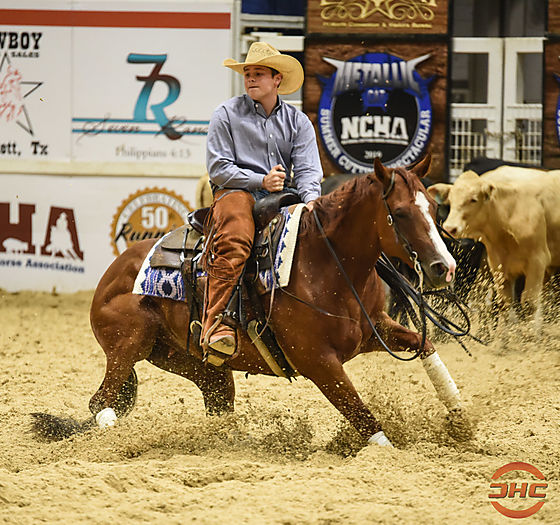 Lance Cooper and Special Nu Boon
Reserve Champion was Colt Moore riding Catscratch Sister (WR This Cats Smart x Jenny ODual) marking a 220. Colt has had an exceptional few months on "Sister" winning the Senior Youth at both the Eastern Nationals and the Western Nationals. He was definitely going for the third win, nearly claiming this show as well. Colt has one more year in the Youth and we are thinking he will be making it count!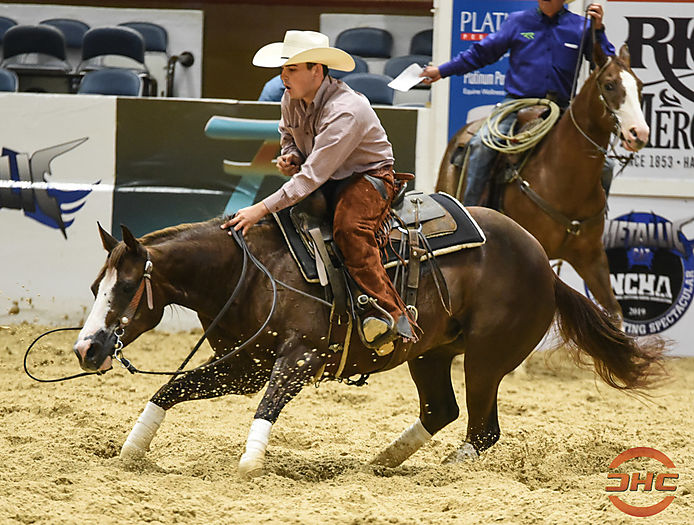 Colt Moore and Catscratch Sister
Third Place was split between Blakely Colgrove and Cat Man Blue (High Brow Cat x Quintan Blue), Clay Dukes and One Time Player (One Time Pepto x My Jewels Missin) and Faith Farris and Big Shoes To Phil (High Brow Cat x Tapt Twice) all marking a 218!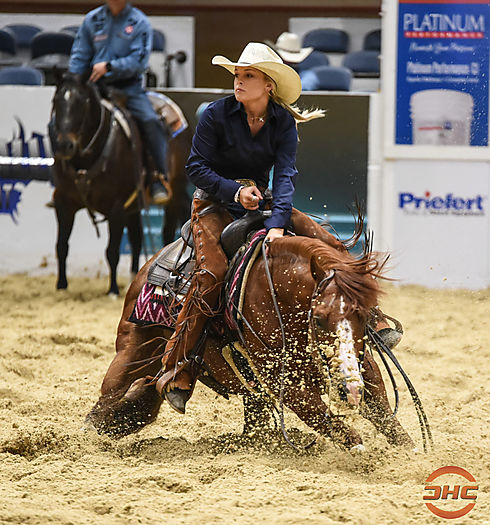 Blakely Colgrove and Cat Man Blue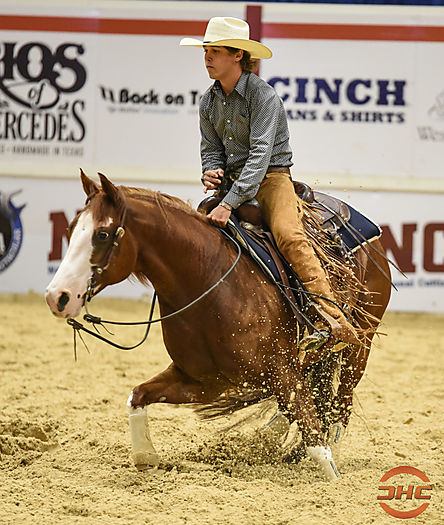 Clay Dukes and One Time Player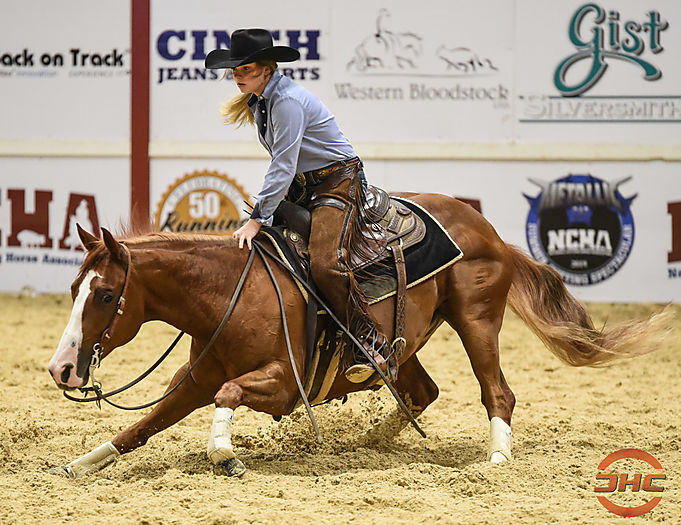 Faith Farris and Big Shoes To Phil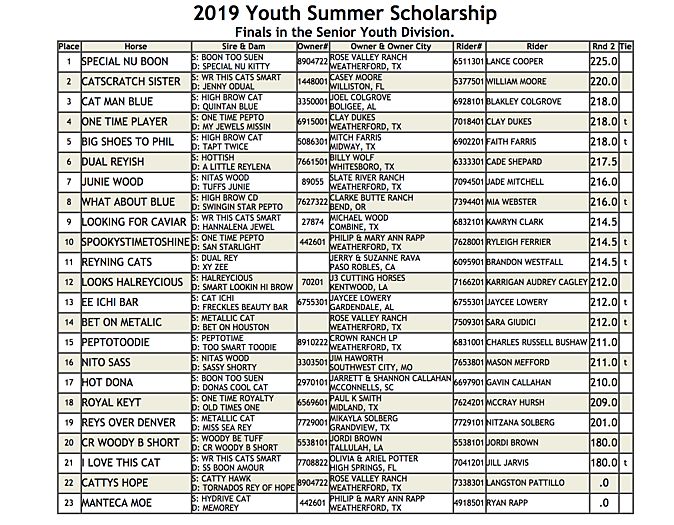 World Finals
Next, we have to talk to about the NYCHA Holy Cow Performance Horses World Finals and our World Champions! There were three rounds of the finals made up of some of the best youth competitors showing. It was cool to see them all rooting for each other and enjoying what they worked so hard for throughout the point year.
Guest Commentators for the Finals, Lindy Burch and Chubby Turner
Junior Youth
The Junior Youth World Champion was Cody Gann riding Hevvy Metal (Metallic Cat x Dual Nurse)! The Junior Youth World Championship race was one of the closest we have ever seen and between two of the best of friends. The parents and people involved with these two kids have raised them well, to be humble and gracious in both wins and losses. They were truly happy for one another as the lead flip flopped through the rounds. In the end Cody prevailed winning two of the rounds as well as the average for the Show Championship with all of his family there watching him. You can be sure though, as soon as it was all said and done he was the first one to be there for his best friend. "It would have been perfect if they could have tied", is what many were saying in the stands. It is this experience that will stand out to them, and how they reacted to it, for years to come! Cody, like many others in this amazing group of kids, was quick to thank everyone involved in getting him to this point.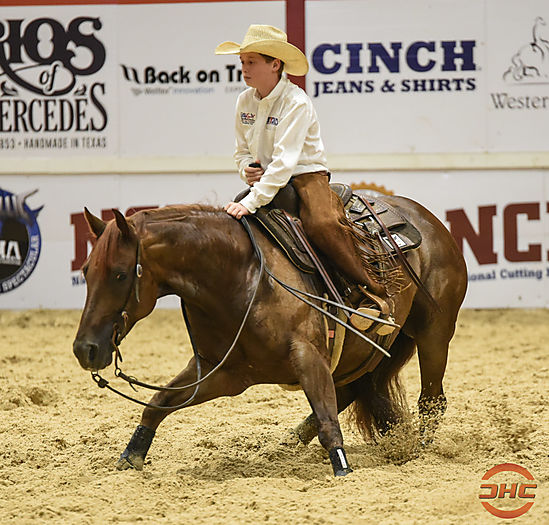 Cody Gann and Hevvy Metal
Reserve World Champion in the Junior Youth was Lyndi Polk riding Dual Smart Dee Jay (Dual Smart Rey x Meradas Dee Jay). Lyndi went into the finals one point behind Cody, then won the first round, putting her ahead of him by one point. They were both up high in the average until the last round where Lyndi had a little tough luck, making Cody the World Champion. Lyndi, despite the outcome of the one run was all smiles as she and "Dee Jay" walked out of the arena. A year of wonderful memories all culminating in one final evening. Everyone in the stands cheered her on as they did Cody, knowing how important these last runs were for them but her reaction left us all a little teary eyed, mostly with pride, even if we did not know her and just knew the circumstances.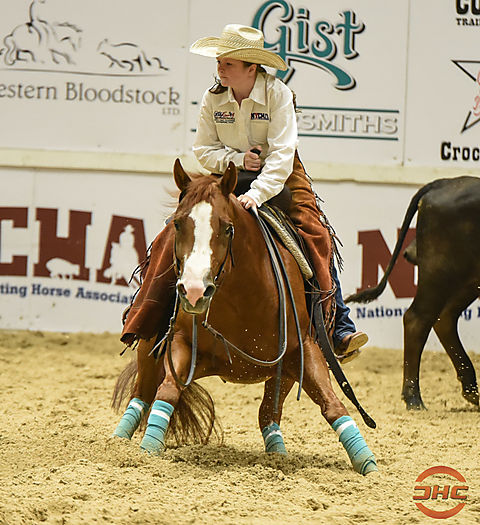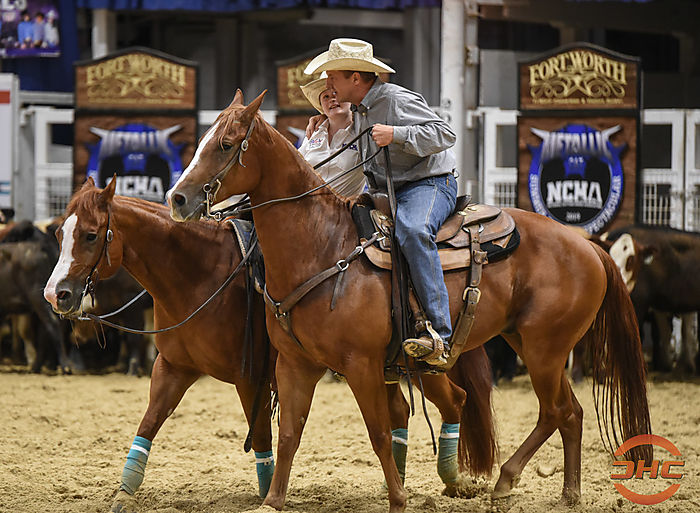 Lyndi Polk and Dual Smart Dee Jay
When talking to Cody and Lyndi after the round was over, they agreed that one of their favorite weekends was in Jackson, MS, where they would go back a forth, one would win one day, and the other second, then the next day the other would win, and the other would be second. It was just a great weekend for the two of them and that one stood out as one of the best memories. Once again, these two and their attitudes are a true testament to their parents, what wonderful people we are gaining in this sport!

Senior Youth
In the Senior Youth the World Championship race was not quite as close, but exciting non the less. Christina Huntley and Ripping Ichi (Cat Ichi x Kodoboomba) finished their youth career with a bang having a great World Finals to top off their year.
Christina actually did not show "Tad" much until recently because he is technically supposed to be her dad's horse. As dad's often do when she needed a horse to finish out the year, he was ready and willing to share this very special gelding. Tad is another horse that has accomplished so much already in the Will Rogers, having had an awesome aged event career. He seemed to just keep getting better with age, and was smart and flashy throughout the finals. Christina helped the situation by executing her runs nearly perfectly, which is not surprising for this young cutter. She has had a great deal of success herself in the show pen but also, she strives for excellence outside of the arena as well. She just finished her first year of college at Texas A&M where she continued her impressive streak of straight A's. This was mentioned several times through the week but it is one of those things that just has to be celebrated. Again, people like Christina growing up in this industry makes us confident that the future of cutting is very bright!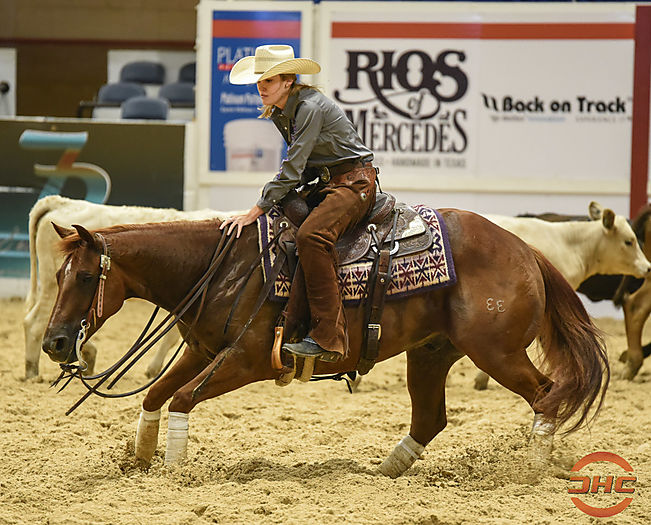 Christina Huntley and Ripping Ichi
Reserve Senior Youth World Champion was Chaser Crouch and GS Zans Cat (Smooth As A Cat x Zans Red Gold). Chaser and "Zaney" are no strangers to the hauling scene, having already claimed a Senior Youth World Championship. This mare has been unbelievable for this family having carried Chaser's dad Casey to an Open World Finals and accumulating nearly $200,000 in earnings over her lifetime. Something truly impressive though, is that she has over 680 youth points to her name! It takes a very long time to achieve something like that winning at most 6 points at a time. The week prior to this event they also claimed the Boys Cutting High School Rodeo Championship! Then made their way back to Texas to be part of the World Finals. Chaser is another very deserving individual, always putting the work in to achieve his goals, and is a pretty stand up person along the way!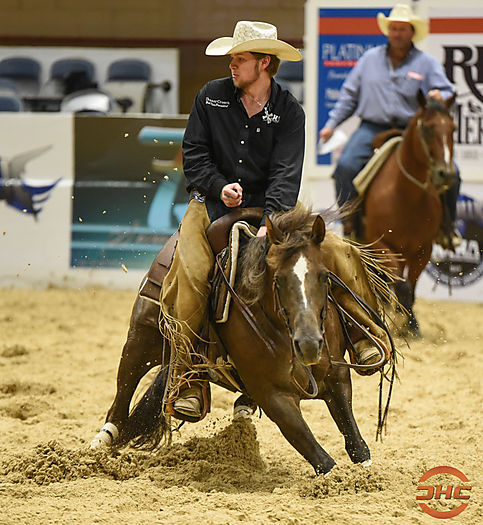 Chaser Crouch and GS Zans Cat
The Senior Youth World Finals Show Champion was Makayla Cowan riding Brinking Lights (CD Lights x Scootin Brinks). They claimed the Championship in the first round then were consistently in the money the next two rounds. She seemed to be on fire all week and very confident riding "Macho", originally trained by Hall of Famer, Winston Hansma. They were both so smart while also putting together gusty runs in very tough situations. Sometimes when you are on, you are on, and these two had it figured out!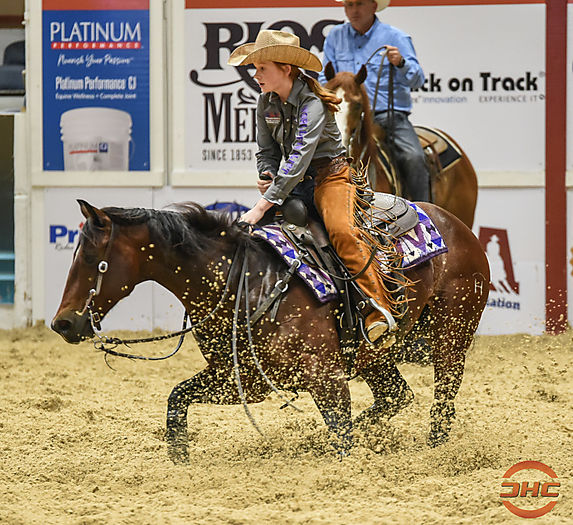 Makayla Cowan and Brinking Lights

We also want to highlight the round winners from each night: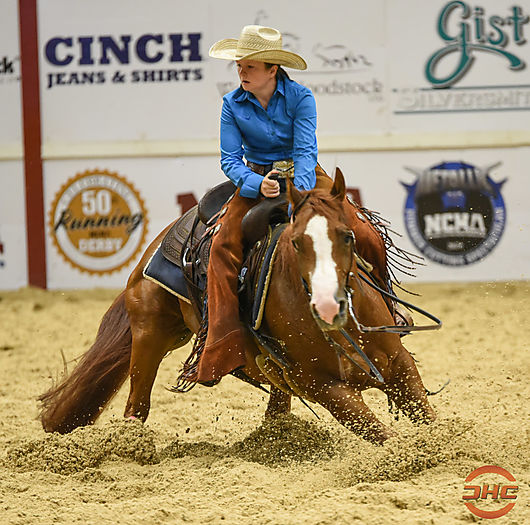 Lyndi Polk and Dual Smart Dee Jay Junior Youth Round One Champions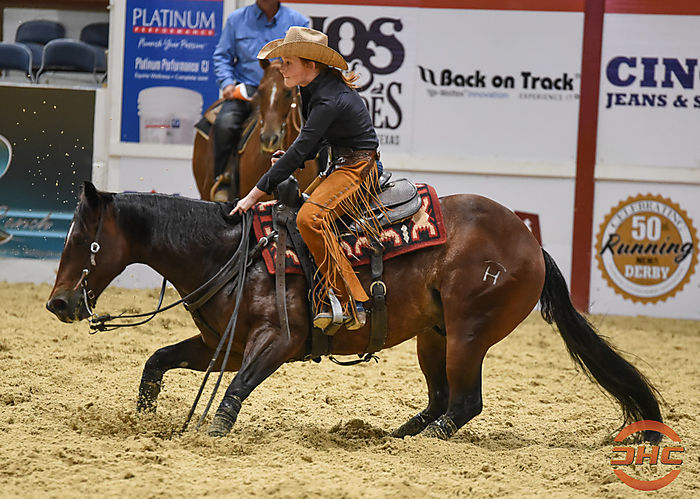 Makayla Cowan and Brinking Lights Senior Youth Round One Champions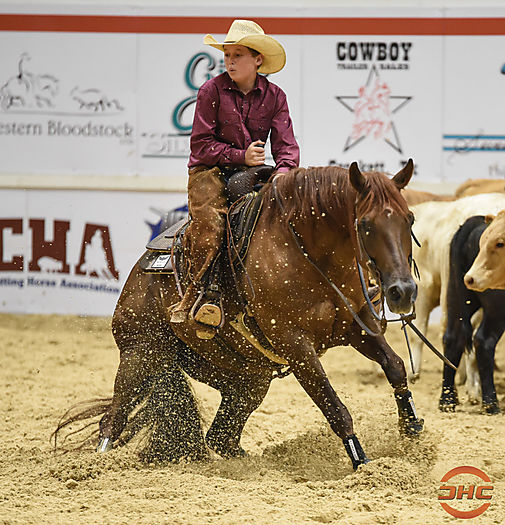 Cody Gann and Hevvy Metal Junior Youth Round Two Champions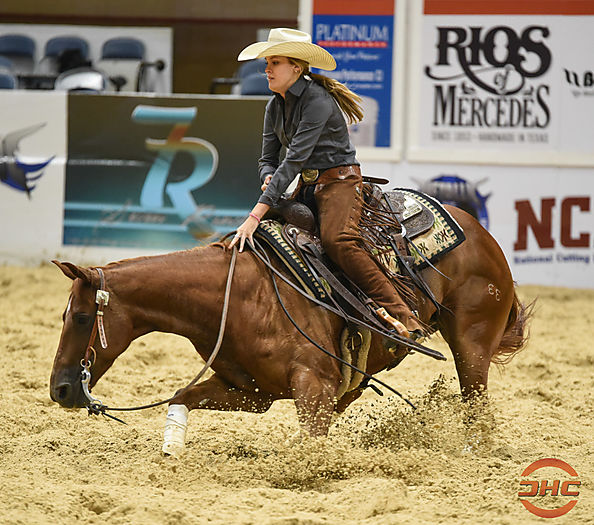 Christina Huntley and Ripping Ichi Senior Youth Round Two Champions
Cody Gann and Hevvy Metal Junior Youth Round Three Champions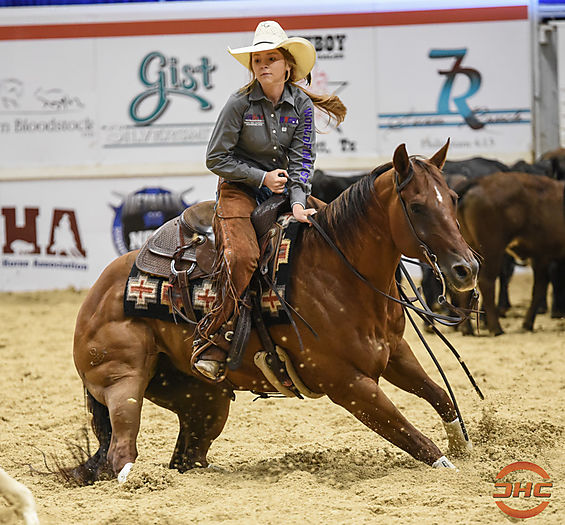 Ryann Packard and Sir Stylish Lizzy Senior Youth Round Three Champions
Thank you again to all of those involved in making this Youth Week so memorable for the future of our sport, such as Holy Cow Performance Horses and the NCHA Foundation. Without so many generous sponsors we would not be able to provide this experience for these kids. It would be a sad day to not have these events anymore but luckily it is looking like we will get to be moved and inspired by our youth for years to come!
.