Pedro Ornelas and The Kwack Shack Take Derby Limited Championship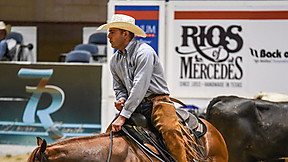 Pedro Ornelas and The Kwack Shack (Spots Hot x Kwackin Cat), owned by the Anderson Cattle Company, made their presence known last night in the Derby Limited Open Finals marking a 222 second out in the set! It was a very controlled, pretty run that remained unmatched until the end.
This is not Pedro's first win in the Will Rogers, having already won a limited championship a couple years back aboard another horse owned by the Anderson's. This particular horse though, meant a lot to him in that he picked him out as a yearling then trained him from the start. When you have put that much work into one then they turn into a champion, it is that much more special! "Kwack Shack" has been a great horse for both Pedro and Bella Anderson, making numerous finals with many accolades to his name at this point. This win added another $4,183 to the list of accomplishments!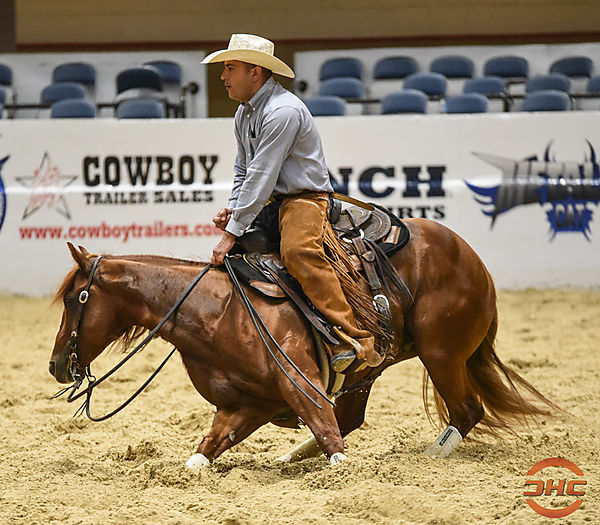 Pedro Ornelas and The Kwack Shack
Reserve Champion was Rodrigo Taboga riding The Dewd (Metallic Cat x Sweet Abra), owned by Beau and Ashley Galyean. They marked a nice 220.5 towards the end of the set making it look easy. Rodrego has taken the scene by storm making a number of finals over the past several months and claiming several championships. He seems to fit into Beau Galyean's exceptional program very well as he also made the Derby Open Semifinals with some of the highest scores in the rounds. He and "Dewd" received a $3,807 check to go along with their title. The duo also took home the Gelding Division Championship!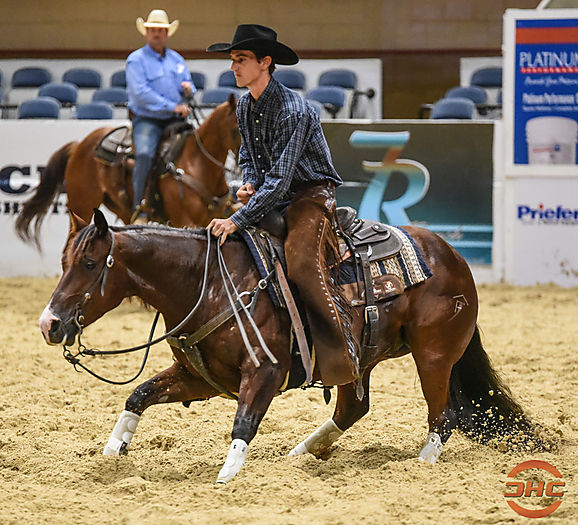 Rodrigo Taboga and The Dewd
Third place was also Rodrigo Taboga this time aboard Rocky Mountain Blues (Smooth As A Cat x Diva In Denim), owned by Selena Barbosa, marking a 218. Rodrego and "Rocky" collected a $3,430 check making it a great night for all involved.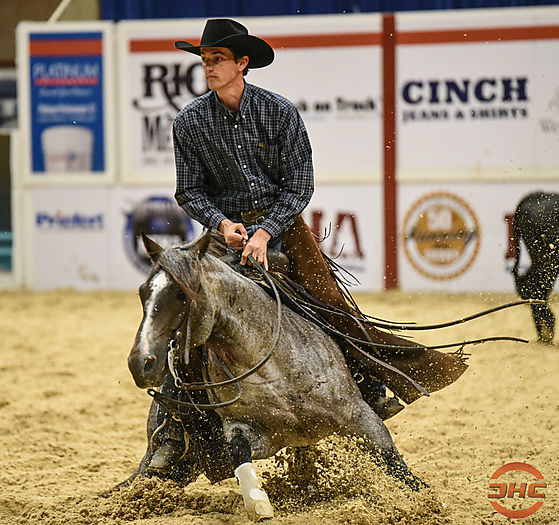 Rodrigo Taboga and Rocky Mountain Blues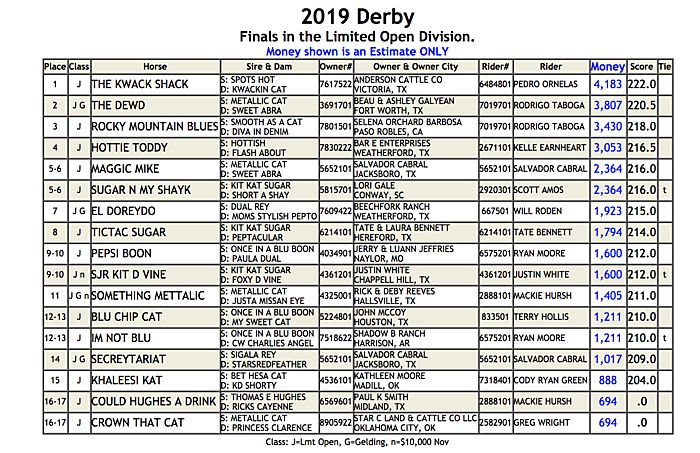 The 2019 Metallic Cat NCHA Summer Spectacular is winding down with only a few days of competition left to go. It will be an exciting end to the show as these shows in Fort Worth always are, so be sure to tune into CHC's Live Scoring to keep up with the action!
.