First Annual CHC Justin Insurance Charity Team Penning Wrap Up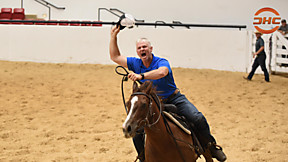 The 2019 NCHA Metallic Cat Summer Spectacular has been a busy event with clinics, World Finals and a full schedule of limited age classes – but we were able to break up the hectic schedule with the First Annual CHC Justin Insurance Charity Team Penning.
We had a good turnout with a total of 66 teams competin and it was a fun-filled event that we won't forget any time soon. The best thing about the evening was that the proceeds went to the Horsemen for Christ Caring Cutters Fund, which will help us lend a hand to fellow cutters in need.
It is always nice to put together an event to benefit a great cause, and we wouldn't have been able to do it without the support of our sponsors. We wanted to take another minute to recognize those who donated funds, prizes or cattle that allowed us to put everything together.
Adan Banuelos was a strong contender throughout the entire night!
A big thank you goes out to Justin Insurance, NCHA, Whitlock Cattle Co., Classic Equine, Equibrand, Iconoclast, CR Ranch Wear, Brumby Goods, Hay-Rite, Don Orrell Stirrups, ABC Halters, Mamma Monica's, Zenos on the Square, Banuelos Family, Dennis Moreland Tack and Kenny Kern Saddlery as well as the National Cutting Horse Association (NCHA) for allowing us to host this event during their Premiere Events at Will Rogers.
We have come to know the talent of our industry members in the show pen, but this event proved that the skill of the participants went well beyond the cutting pen! Some folks really impressed us with their runs in the Team Penning, so we wanted to highlight some of the overall leaders!
The overall Final Round CHC Championship Trophies and $3,000 in prize money went to Michael Cooper, Lane Cooper and R.L. Chartier, who stayed consistent throughout the whole night. They were also the second round leaders taking home Iconoclast Boots and the Fastest time on 9 head after all three rounds which earned them a Free pallet of Hay-Rite premium alfalfa cubes!
Michael Cooper, Lane Cooper, R.L. Chartier & Mark Michels
Michael Cooper & R.L. Chartier after their great run!
R.L. also helped Hayden Upton and Fons Debarbanson take home the Reserve Champions Title which paid out $2,000 along with the custom CHC Don Orrell stirrups.
R.L., Hayden Upton, Fons Debarbanson & Mark Michels
Third Place and $1,000 check went to Hayden Upton, Blakley Colgrove and Brandon Westfall who also picked up the Classic Equine Neoprene Cinches from Equibrand!
Hayden Upton, Blakley Colgrove & Brandon Westfall
Fourth Place was Davide Facincani, Jatona Sucamele & Adan Banuelos collecting $500 along with the custom CHC Water Bottle Holders from ABC Halters
Rounding out the Top 5 was German Lugo, David Marques & Gabe Carnagen who also collected $500 and the Mamma Monica Gift Certificates.
German Lugo, David Marques & Gabe Carnagen
6-10th place getters all received custom split ear headstalls proudly sponsored by Dennis Moreland Tack.
There were many other prizes through the rounds along with give aways and FREE PIZZA making this a fun night for all and we're sure will be the start off more CHC Team Penning's.