CHC Featured Trainer Spotlight: Brett McGlothlin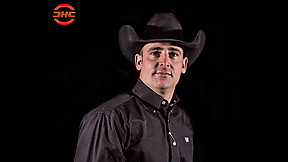 Brett McGlothlin has spent his life dedicated to the horse industry and he has built up his family-run cutting horse operation, Brett McGlothlin Cutting Horses in Weatherford, TX. Brett caters to and accepts all ages of horses and enjoys working with all levels of clients. He specializes in aged event horses and he and his wife, Jody, have had some incredible success on their mare Somethingtobelievin. At the 2019 NCHA Summer Spectacular this past month, Brett made the Classic Open finals on "Kate", and Jody won the Classic Limited Non-Pro Championship on the mare during her last performance in the "Big Pen." While Brett's show schedule typically revolves around all of the limited age horses, he made the decision to haul both Kate and Cattalou this year, too. We took the time to catch up with Brett to discuss his background, the new venture and future plans!
Brett McGlothlin
How did you get involved in the sport, and what made you want to become a trainer?
My dad and brother started riding cutters when I was about 10 years old. A couple years later I decided to give it a try. I showed turnback horses for a while, and then I started showing an older gelding my brother learned to cut on as well. When I was 16 years old, a friend of ours had a gelding (Peponita Olena) and they were having some problems with him, and he was running off. I always liked him, though, and I begged my dad to buy him. I told him I could fix him. Well he finally gave in, and I was determined to get him to where I could show him. It took me a while but, I started to get with him and started winning. That feeling of accomplishment was all it took. That's when I decided to become a horse trainer
Who are the people who have influenced you the most?

I would have to say Sean Flynn has been the most influential in my training. I came to Texas in 2006 to work for Sean, and I thought I knew a little bit about horse training, but I didn't. He really helped me become a better horseman and trainer. I learned a lot from him.
I have been blessed by so many people throughout my career that have helped me that I need to thank, however, I would really like to thank Phil and Mary Ann Rapp. They have become like family to us over the years and have opened up their place to us the last few years as we have been leasing stalls from them. We can't thank them enough for their support.
Brett & Redhead From Denver
Recently, you have had the amazing mare, Somethingbelievein. What does she mean to you, and what has she taught you?
I cannot begin to express how much she means to me and my family. We have put everything we have into that little mare. She has taught me a lot, but most of all she has taught me sometimes less is more in the show pen. She has a very unique look on a cow and has a way to break a cow down and draw it to her when I let her and don't ask so much out of her. We all want to win so bad, but most of the time you have to let it happen and not force it.
You decided to haul in the Open this year. What played into that decision?

I originally decided to haul Kate this year mainly because I really thought it would help my showing, and I feel like it has. Then Mr. Billy Morris and Shane Plummer had asked me if I would take Cattlou and try to win about $3,000 on him to get him over $300,000 in lifetime earnings. I took him to Augusta Futurity at beginning of the year, and we got that done in first show. So, he asked if I would take him and try to qualify for open World Finals to help promote him as a stallion.
What are some goals you have set for your business in the future?
My main goals are to try to make this sport grow and stay strong so my kids can grow up in this cutting family and do it if they choose. I of course want to win the Futurity, and a World Championship - like most every other horse trainer.
Brett & "Kate"
Your wife, Jody, heads up a home-schooling program. How does that impact your everyday life and business?

Yes, my wife Jody does it all! She runs a private school called "Grace Christian Academy" that we pretty much started for cutter kids so they could go to shows together as a family. It has now grown to fully accredited private school, and it's a steady growing business. It is not easy by any means running one business - but 2 businesses…let's just say we never get bored!
Jody & Somethingbelievein
You seem to have a close family. What are some things that you like to do outside of the horses with Jody and your girls?
I feel like we do have a close family, but unfortunately, we really haven't had time to do much other than work. Both our girls are starting to really like the horses, so they really enjoy being at the barn and riding.
Brett, Jody & their girls
What do you love the most about the sport of cutting?
Probably the thing I love the most about the sport of cutting is that it's always a challenge. No matter what happens, you can always learn from run to run whether it's a good or bad. I also like that your competition is your help and your friends. I cannot think of any other sport that you go do the very best you can do and then turn around and help someone else trying to beat you. There is nothing better to me than seeing everyone trying as hard as they can to help each other win!
To see a list of Brett's recent accomplishments and for more information about his program, visit his CHC Trainer Profile here!
.