Langston Pattillo 2018 NCHA Amateur Rider of the Year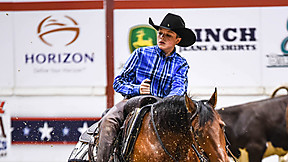 Langston Pattillo has been on fire this year winning a number of Championships and making countless finals! He has become quite the showman in a few short years and happened upon some very special horses. Winning takes more than a good horse to match the rider. It takes the right attitude and drive. Langston definitely gained his achievements with integrity and remained humble through the success.



Langston and High Stylin CD

From the start of his cutting career, Langston has been a pleasure to be around at the horse shows, but, little did his family know, he would excel so quickly and become the NCHA Amateur Rider of the Year for 2018! He amassed over $130,000 in this year's show season at the age of 16! He was quick to tell us though, he will be 17 very shortly just to make sure we knew.



Langston and Jones

This year was special to the Pattillo family because not only has Langston clinched the NCHA Amateur Rider of the Year title but also their gelding High Stylin CD (High Brow CD x Stylin Playgirl) has earned enough points to claim the NCHA Amateur Horse of the Year! "Jones" has been a blessing to the family from the start. The Pattillo's purchased him from Kenny Platt later in his four-year-old year and sent him to their trainer Cullen Chartier, what a great decision that turned out to be. Langston and Jones fit like a glove and are so much fun to watch. When someone clicks with a horse that well the results are captivating. He and Jones stood out at every cutting they went to even if the ending was not one for the story books. Good horses often help form us into better showmen if we give them the chance to, and Jones did just that for Langston.



Langston and Jones

Midway through the year Langston's father, Blake, bought another gelding out of Kenny's barn this time a Smooth As A Cat gelding named Dual Smooth Legacy who they refer to as T.O. or "Tricked Out." He quickly became another unstoppable force with Langston as his pilot. T.O. contributed a good bit of the earnings that led to this prestigious title for Langston. Their stylish four-year-old mare Miss Lacey (Kit Kat Sugar x Miss Gemolena) also won a few checks along the way, but most of the earnings were acquired riding these two exceptional geldings.



Langston and T.O.

True Champions give credit where credit is due. Langston wants to thank everyone involved in his success from his help in the pen, the team around him, and especially his family who have supported and encouraged him! He believes the most important lesson this year has taught him is to stay humble no matter what. This sport can build you up like no other can. You feel on top of the world, which is what hooks us, but it can also take you to the lowest points at a rapid pace. As soon as you think you have it figured out, you have runs that make you wonder how on earth you will be on the winning side of things again. That is what keeps us going though. It is a challenge, and you learn the most at the bottom.



Langston and T.O.

Langston has made not only his family proud of how far he has come but also anyone who has been associated with this standout, soon to be 17-year-old young man. As for the future, he will be making his NCHA Futurity debut in a couple of weeks. He then plans to continue showing in the Unlimited Amateur next year along with the Limited Non-Pro. Langston will no doubt be in the winner's circle again because hard work pays off. He is lucky to have the chance to put in the time to learn and excel and to be surrounded by people who are in his corner 100%. Congratulations again, Langston, from all of us here at Cutting Horse Central! We are proud of you and all that you have accomplished this year!


.