A Huge Night in Idaho!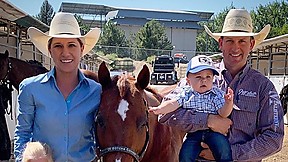 By: Lauren Middleton
The Idaho Futurity always makes sure to highlight their finals, making them as special as they can for those that advance! It is a big deal to make it to any finals, and they highlight the accomplishment!

Yesterday evening started out with a Calcutta of the teams formed with an Amateur rider, Non-Pro rider, and Open rider. Sixty percent of the money raised was donated to Wishes 4 Warriors amounting to over $12,000! The rest of the money went back into the Calcutta making for a wonderful evening of giving along with some extra incentive to cheer for these teams! The winning team received over $7,500!
$50,000 Amateur

The $50,000 Amateur started out the Way-Out West finals where Kimberly Irons marked a 224 to win riding Bet N On Billi Jo (Bet Hesa Cat x Miss Hickory Hill). They were the last team out in the finals, but it did not slow them down at all. It has been an exceptional week for this mare and Kimberly alike. "Billi Jo" was the Classic Open Champion with trainer Monty Buntin as well as a multiple finalist with those finals left to go. She is considered the barn unicorn at this point because she has been pretty unstoppable all year. She loves her job and even though Kimberly has not really been showing that long in the grand scheme of things, they have accomplished things like that the most experienced riders. They collected a $5,930 check for the win!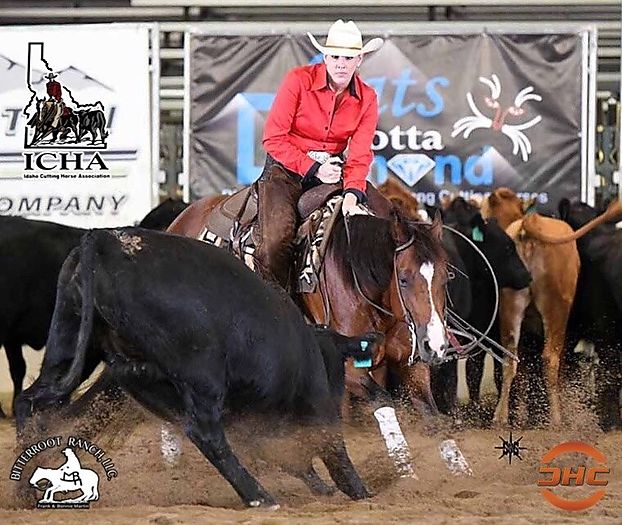 Kimberly Irons and Bet N On Billi Jo Photo by Scootem N Scootem Photography

Reserve Champion was Michelle Kaufmann marking a 218 aboard Juan Catty Chica collecting a $4,670 check! This duo is also part of the Buntin Barn, making it an extra special evening for this group.

Third Place was Kathleen Burr making a 216 riding Metallic Baby Doll (Metallic Cat) receiving a $3,500 check.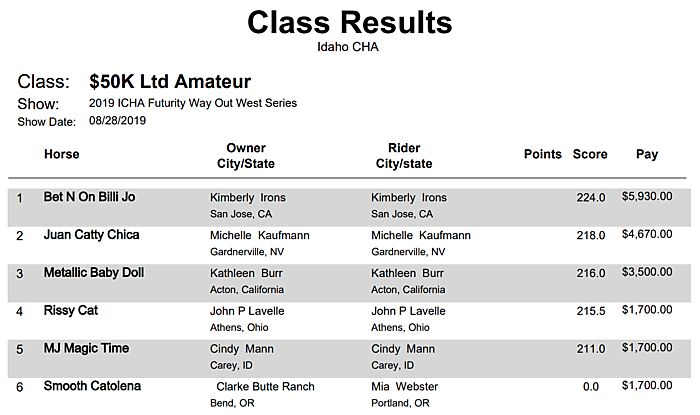 Non-Pro

(By: Mark Michels)
The Non-Pro was next to go where Lauren Middleton and Sweet Reyvenge (Reys Dual Badger x Sweet Camille) won the large crowd over right from the start laying down a huge 229 winning $4,178.40. Lauren had a good run going, and when she threw her hand down on the third cow with 31 seconds left, she showed the judges she was there to win! Lauren and Sammy make a great team, and it was fun to watch these two perform again on a big stage. This win in Idaho bumped Sammy's NCHA Lifetime earnings over $200K, and he is the highest money earning son of Reys Dual Badger.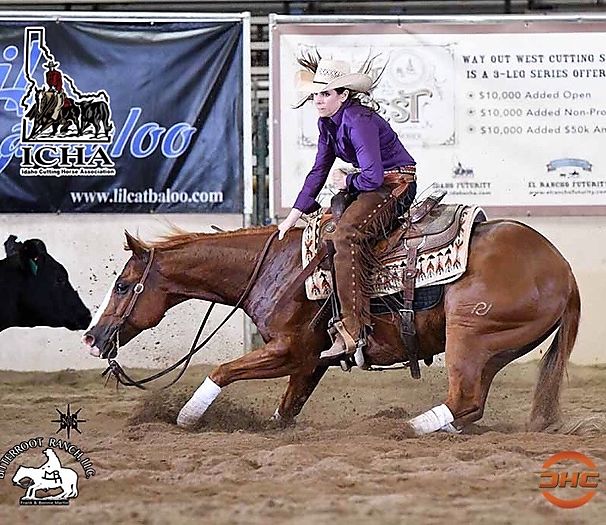 Lauren Middleton and Sweet Reyvenge Photo by Scootem N Scootem Photography
Reserve Champion was Bill Lacy riding Cougars Diesel (High Brow Cougar x Miss Remanita) marking a 224! Bill was convinced to enter with his flashy gelding at the last minute, and we think he is happy that he did. They collected a $3,558.80 check pushing his horse to nearly $90,000 in earnings!

Third Place was Katie Fonsen Young marking a 218 aboard For Instance (SR Instant Choice) receiving a $2,629.40 check.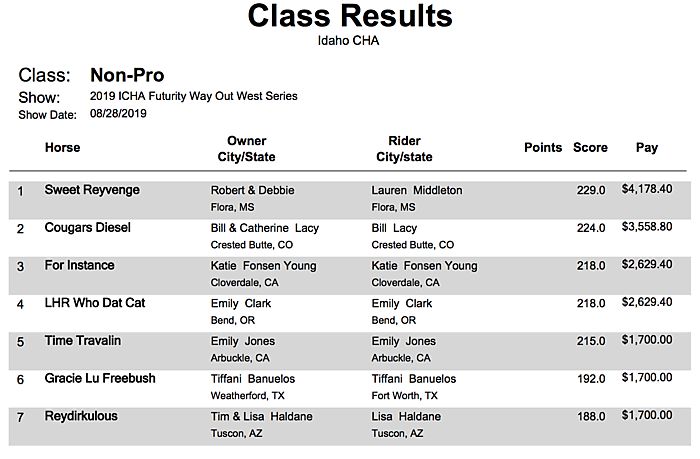 Open

Tarin Rice and CR Gotcha Covered (Dualin Boon x The Catattac), owned by Joel Colgrove, topped the Open once again marking a 229! This duo is currently leading the Open World Championship race, and this $3,589.60 check helps their cause. It has been quite the adventure for Tarin and "Gotcha" this year with many huge runs under their belt. This one was another to remember, but we are sure there are many more to come. This young stallion has always been a special horse for Tarin and his family. When the opportunity to haul came into the mix, they were excited to give it a go. "Gotcha" has thrived in the challenge and Tarin as well!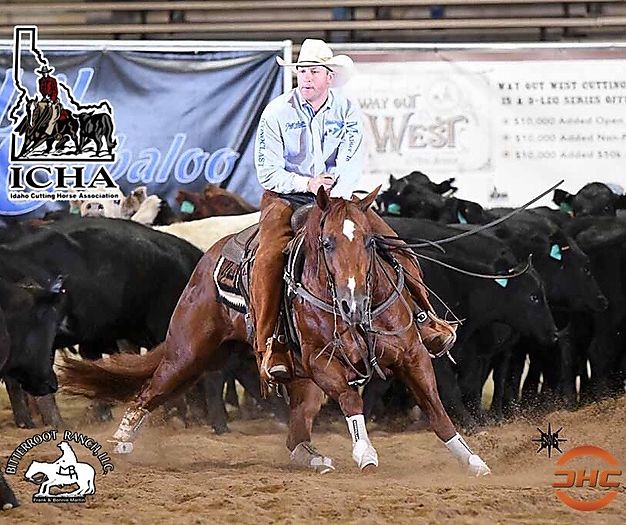 Tarin Rice and CR Gotcha Covered Photo by Scootem N Scootem Photography
Reserve Champion was Morgan Cromer marking a 225 riding Bea Pure Cat (High Brow Cat x Mae Bea Marie), owned by Bill and Jill Roth. They collected a $3,117.20 check along with their title. This check also keeps them sitting nicely in the average for the Way-Out West Series Champion. We will see how they do in El Rancho, which will determine the outcome of the race!

Third Place was Monty Buntin marking a 224.5 riding Fortune Bend (One Time Pepto x Stylish Baby Doll), owned by Theresa Gillock. They received a $2,644.80 check!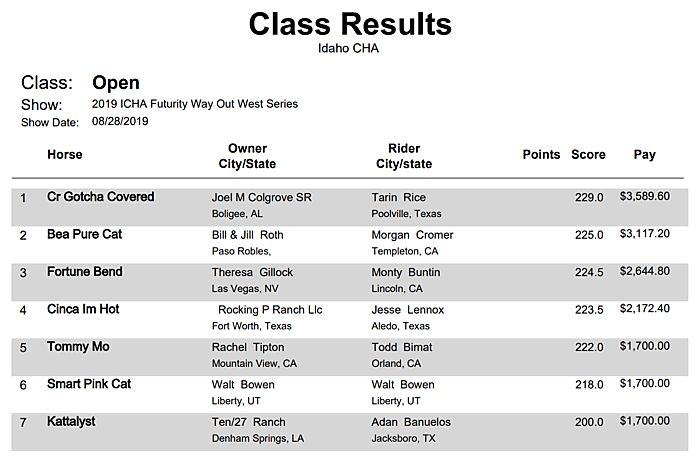 ICHA Pro-Am

The ICHA Pro-Am Finals closed out the evening where Emily Clark and LHR Who Dat Cat marked a 222 to take home the win! They took home a $2,000 check for the win! The Pro-Am Challenge is a fresh concept that the Idaho Cutting Horse Association came up with to add another fun class for the competitors. One Horse is picked for a trainer and Non-Pro/Amateur to show. The first round was the trainer, and second-round the Non-Pro/Amateur. They took the average of the two scores to determine the top six that would go to the finals then the team member that marked the highest score got to show the horse in the finals. It was also a fun event to show older horses in! Emily had a busy day being in the Non-Pro Finals as well.

Reserve Co-Champions were Tara Downs riding Halreyzn Swinger (Halreycious), and Brent Erickson riding Ringtime Style, owned by Dacole Investment, both marking a 213 to receive a $1,075 check.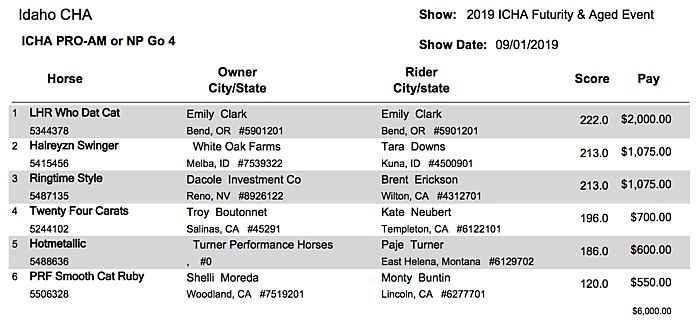 It was a memorable night of big scores in Idaho that is for sure! The crowd was terrific as always making the event one to remember. We have one day left to go, good luck to everyone and congratulations to all of the champions!
.