Way Out West Series Finishes Up at El Rancho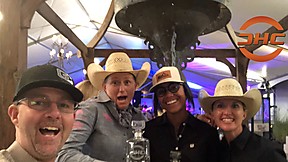 The ALL-NEW Way Out West Cutting Series was a new format designed Julie Clarke & Carol Ward to replace the previous Mercuria Cuttings that came to an end last year. With $10,000 added in the Open, Non Pro & 50K Amateur divisions consisting of a 3 show series starting at the Cascades & Idaho Futurities then finishing up with the final show at the El Rancho Futurity.
The competition was fierce drawing many of the current Top 15 "Haulers" in each division fighting it out for the premium checks up for grabs and seizing the opportunity to leapfrog their way up the standings ladder with one great finish! The final round of the series was no different and with a beautiful evening under the lights at Rancho Murieta with perfect weather and a large crowd enjoying the show it was a great way to end the series.
The 50K Amateur Finals were the first to go and after a rocky start on some tough cows the competition soon heated up and ended up with the last two horses in the six horse finals tying for the Co-Championship both earning a 221 score from the judges.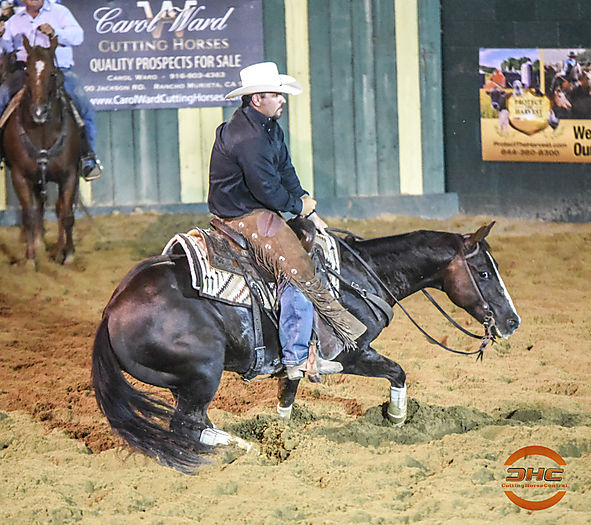 Ryan Long was the 5th rider to walk to the herd aboard Cats Lil Moon Gees (by Cats Gotta Diamond) and soon had the crowd cheering him on. When the buzzer rang they were congratulated with hugs and high fives from their helpers and the crowd showed their appreciation with loud cheers of support.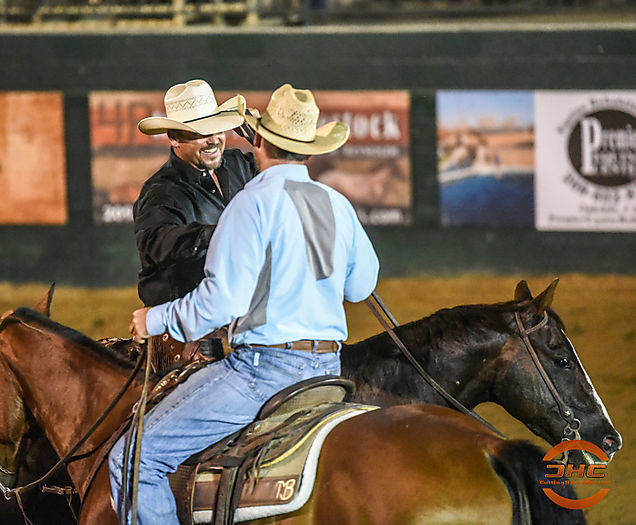 Ryan Long being congratulated by Monty Buntin as he walked out
Christy Hannon and Hy Lights (Hydrive Cat x Go N Flo), another local favorite team walked to the timeline right after Ryan and with the sounds of Tesla blaring from the speakers she buckled down and gave it her all. The crowd got even louder as her run started to build and everyone knew it would come down to the final cow.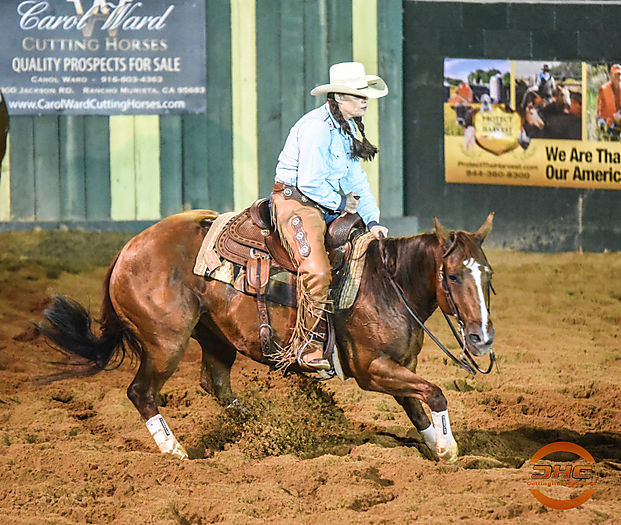 When all was said and done Christy knew she had done her part and was soon met with a high five from her herd helper Steve Schlesinger as another 221 lit up the scoreboard and sealed the Co-Championships.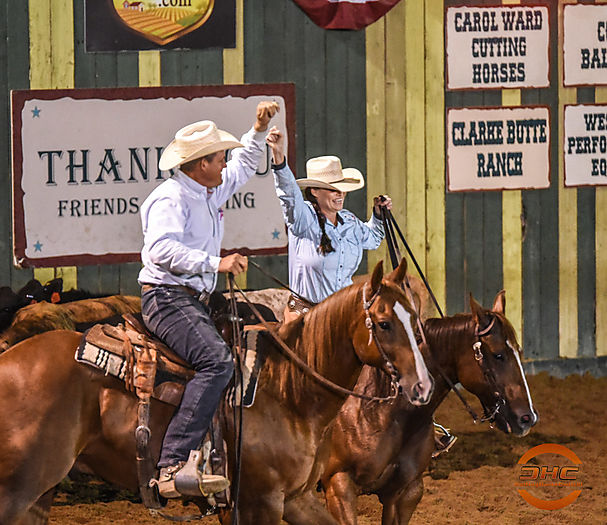 Both teams earned a nice big check for $4,711.20 that is rarely seen in an NCHA 50K Amateur Weekend Class and is another part that makes this series special.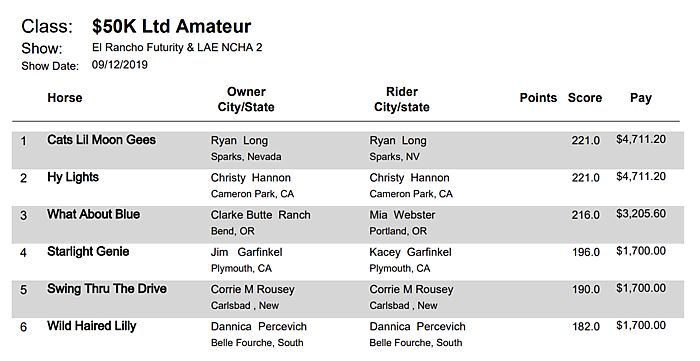 The Non pro Finals were next to go and it was a case of deja vu for Lauren Middleton and her flashy gelding Sweet Reyvenge (Reys Dual Badger x Sweet Camille), aka- "Sammy". This team was coming into El Rancho riding high after winning the Non Pro Way Out West Finals at the Idaho Futurity with a massive 229. This time they once again put on a dynamic show for the fans earning a 225 with their new theme song "Sweet But Psycho" blaring from the speakers.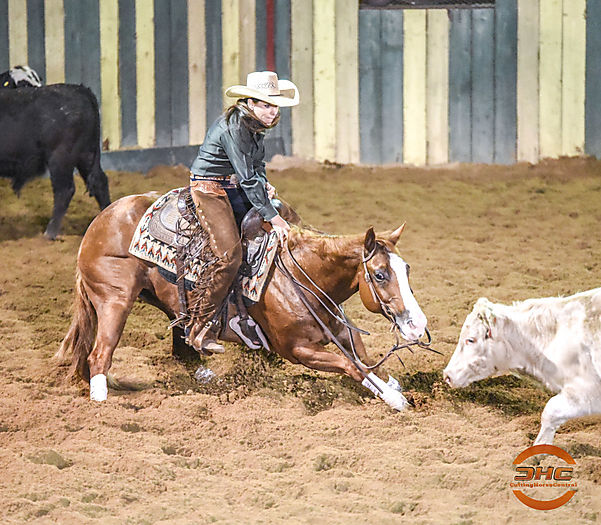 Fellow competitor and good friend Jacob Pinheiro was the designated DJ at Idaho on finals night and selected this song for Lauren as a friendly jab while she showed. After her success there he was quick to shoot long time El Rancho DJ & Announcer Dru Stewart a quick text request who quickly obliged and threw on her jam as she and Sammy walked to the herd.
We think it's safe to say Lauren and Sammy will be hoping to hear their tune at other upcoming events, especially during the finals. The win here at El Rancho was worth $4,892.24 and along with their winnings at Idaho is now making her at least have to consider making a run for the Top 15 in the Non Pro.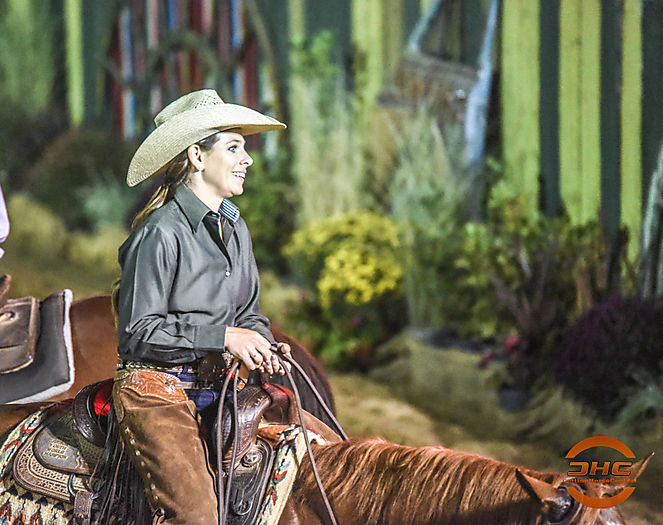 Lauren breathed a sigh of relief as the score came up as she walked out
Reserve Champion in the Non Pro was another local seasoned veteran in Katie Fonsen Young from Cloverdale, CA. aboard her great bay gelding "For Instance" (SR Instant Choice x Travelin Tessie). They were the second team in the finals to cross the timeline and set the pace early with a 222 which was good enough for second place earning them a check for $3,941.36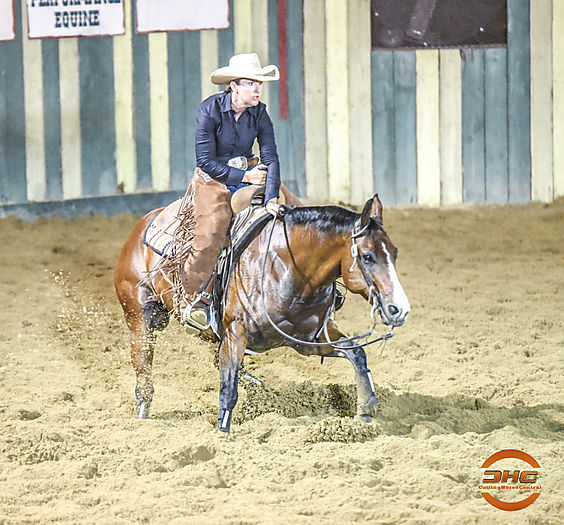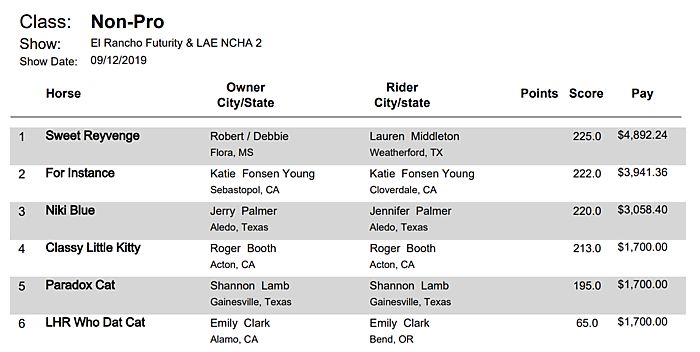 The much-anticipated Open Finals rounded out the picture perfect Friday night under lights and what a great finals it was. The cows were tough and tested each team to give their best which is why we often see some big numbers posted in this pen on finals night when the money is on the line. Tarin Rice and CR Gotcha Covered (Dualin Boon x The Catattac) came out West for their first time and put on a show demonstrating why they are at the top of the NCHA Open World Standings. "Gotcha" is a unique individual that can bend and suck through turns like few others can. They controlled the cows perfectly and when the buzzer sounded a 223 lit up the board.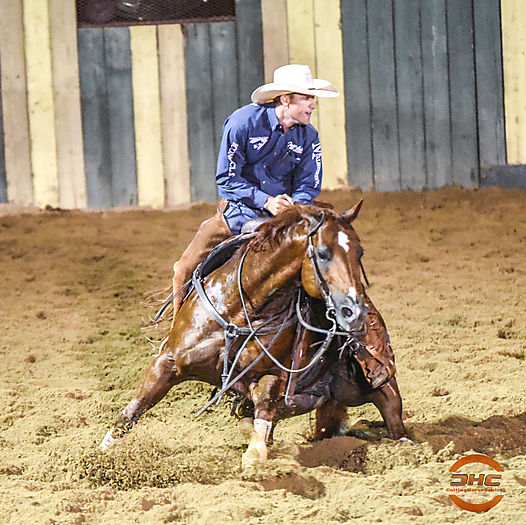 Since they were only the second team to work they knew their score wasn't safe and would need a little luck in this tough field of horses to make it stick. As is turned out the cows didn't make it easy for any of the other competitors and their score would hold up for the win adding another $4,892.24 to their bank account. This team were also "Back to Back" Way Out West series Champions coming off their 229 score in Idaho.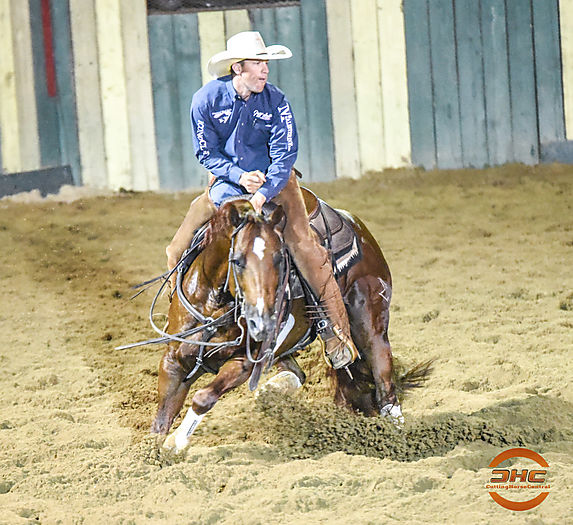 Tarin and "Gotcha" once again demonstrated why they are currently ranked #1 in the NCHA Open World Standings
The last team of the Open finals were always a threat and Lindy Burch who is a long time regular at the El rancho Futurity knows this pen better than most. Burch rode Bet Shes Smooth (Smooth As A Cat x Bet Yer Blue Boons) across the timeline fighting off some extremely feisty cows for two and a half minutes earning a 222 from the judges coming up just a little short for the win but good enough for reserve champion honors earning a check for $3,941.36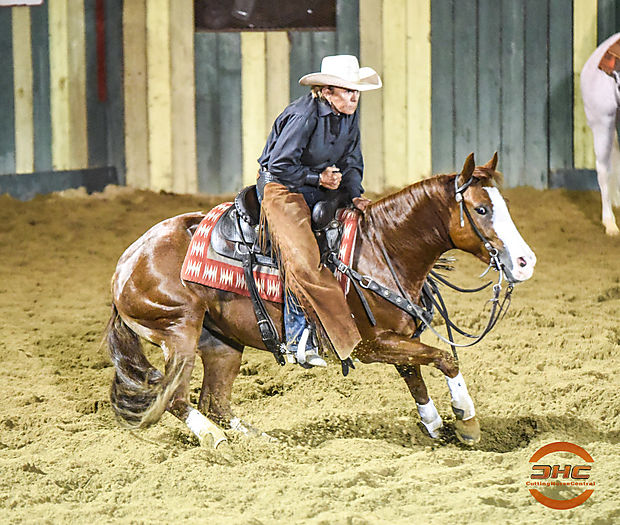 Lindy has been a long time competitor at El Rancho and used her veteran skills to overcome her last hole draw on some tough cows.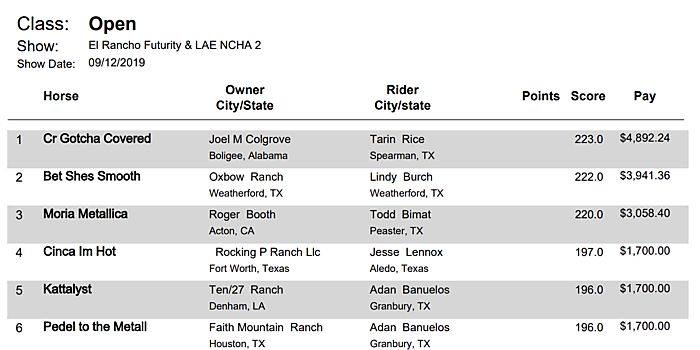 The Circuit Champions were decided by the highest money earning team in each division that showed at all three shows (Cascades, Idaho & Rancho). Each Champion received Champion Belt Buckles for the series and CHC Custom Decanter Trophies along with some other additional awards. The winners were:
Open: Morgan Cromer
Non Pro: Katie Fonsen Young
50K Amateur: Mia Webster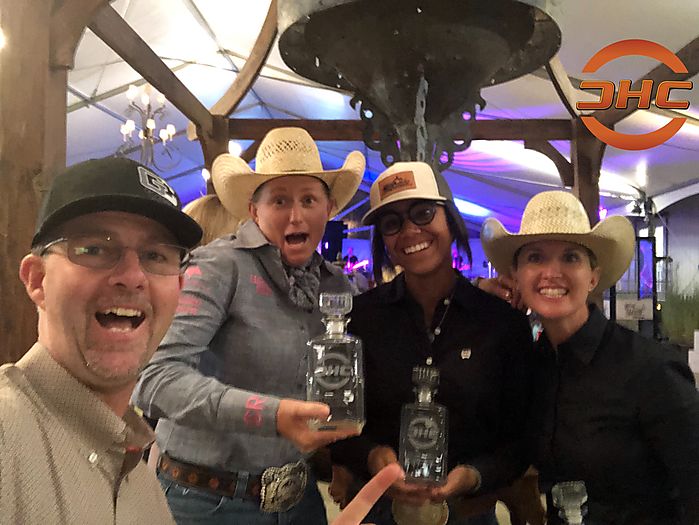 The ladies were all smiles and happy to pose for a selfie- from left: Mark Michels, Morgan Cromer, Mia Webster & Katie Fonsen Young
The 2019 El Rancho Futurity once again proved why it's not only one of the most fun and unique events on the Cutting Calendar but is also still the only remaining true outdoor cutting left on the schedule. For 13 years Carol Ward and her staff have gone above and beyond to make this show what it is and a "Bucket List" show for many cutters.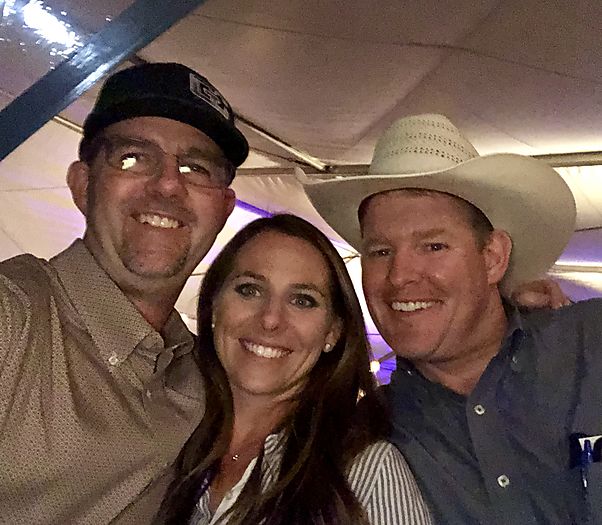 From all of us here at Cutting Horse Central, CHC Livescoring and our good buddy Dru Stew we'd like to thank Carol and David for all they do to make this show more than just an event by creating a whole "cutting experience" for everyone that attends each year.
.