New Class Format for the Southern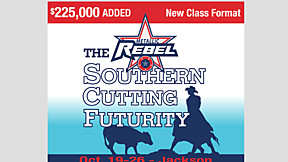 The $225,000 added Metallic Rebel Southern Cutting Futurity announced the new class format for the Oct. 19-26 show in Jackson, Mississippi. Classes & Added Money – 3YO Open & Non Pro $60,000 prorated. 4YO Open & Non Pro $61,000 prorated. 5/6YO Open & Non Pro $61,000 prorated. 3YO, 4YO & 5/6YO Open Ltd $4000 each. 3YO, 4YO & 5/6YO Non Pro Ltd $2000 each. The Amateur continues to have 3 levels in both the 4YO & 5/6YO . . . with Amateur $6500 added, Mid-$5000 added and Ltd-$1000 added.
All 3 Year Olds, sired by the forty one 2019 SCF Stallions, that are entered in the Open & Non Pro will be eligible for an additional $62,077 in the Stallion Incentive program. A list of 2019 stallions is on the web site as well as stallion nomination forms for the 2020 Stallion Auction.
There will also be five $1000 Added Cuttings, Oct. 18 thru 22 with Youth Cuttings on Saturday and Sunday. CR Gotcha Covered will be awarding two Kern Saddlery/Robert Raber saddles to the high money earners for the Open and Non Pro held during the 5 night shows.
.