Brazos Bash Open Results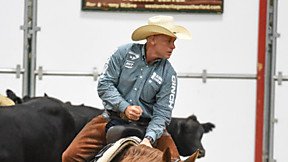 By: Lauren Middleton
The Brazos Bash is always known for big scores and epic runs from year to year. The arena makes for on edge circumstances which in turn equal some pretty impressive finals. It is hard to get to the finals because of the tough situation, but also it has to do with being in the heart of the cutting capital! This time of year should be impressive though, the four-year-old's are confident, the three-year-old's are coming into their own, and the five-six year old's well, they are better than ever. We are steadily approaching the NCHA Futurity, but there are a few big shows left before the granddaddy of them all!

Monday was a day of Open Finals at the Bash following the Sunday Open Futurity Finals. The atmosphere was exciting and had us on the edge of our seats as the greats went down to the herd one after another. It was challenging to put together a whole perfect run, but these teams were giving it their all each time. In the end, the duo's that prevailed all made for some pretty great stories.
Futurity Open

Michael Cooper started us off marking a 222 aboard A Star Is Borne (Boon Too Suen x Holly Is Smooth), owned by the Belle Terre Ranch. "Holliday" is one of the sweetest mares that Michael Cooper has had the pleasure to train, he said she is always willing to do whatever she is asked and gives it her all! She is out of one of Rose Valley Ranch's resident mares making her success hit a little closer to home. Vick and Missy Etheridge purchased the mare a couple of months back it let's just say it has been a dream come true. Holliday took home her first championship at the Cotton Stakes then turned around only to claim another at this show. This win also is "Super Coop's" third Open Futurity win in a row at this great show! It was all and all just a fantastic show for everyone involved. The little mare's win added an impressive $20,000 to her earnings for this fall.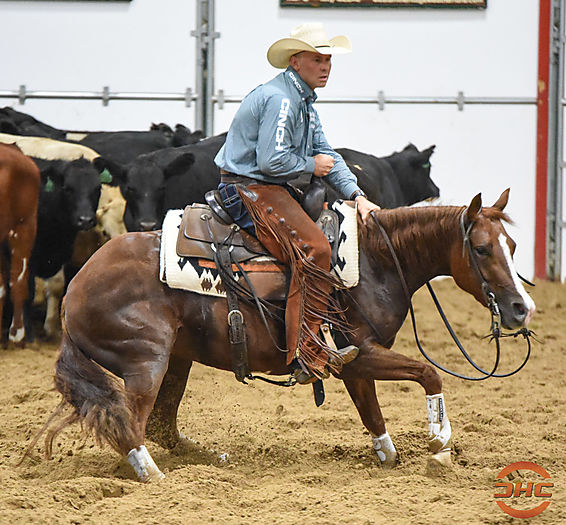 Michael Cooper and A Star Is Borne


Reserve Champion was Matt Miller marking a 219 riding Sticky Dual (Dual Rey x One Time Rey Jay), owned by the Holy Cow Performance Horses. This duo has also been very consistent this fall with this adding $17,000 to their earnings. Matt always shows up from year to year with great small futurity horses making it not very surprising to see him in the winner's circle!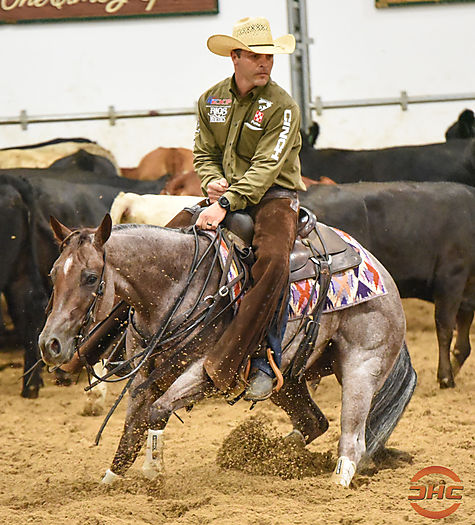 Matt Miller and Sticky Dual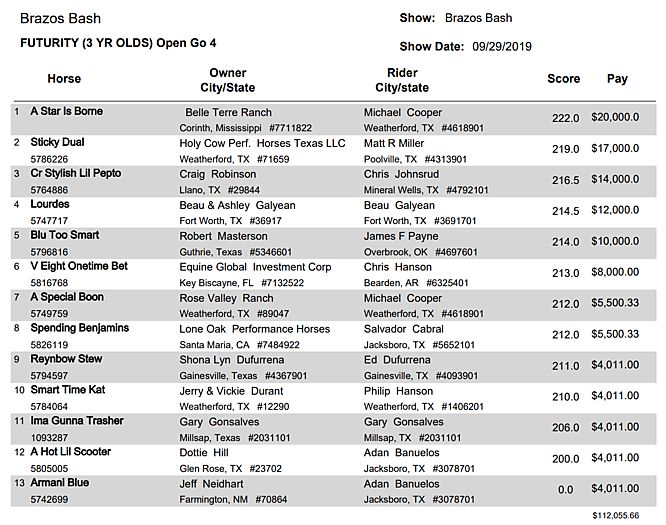 Classic Open

In the Classic Open Adan Banuelos continued his winning streak this time riding Reystylin Smooth (Smooth As A Cat x Rey N Style), owned by the Ten Twenty Seven Ranch marking a 223.5! This gelding has been on fire, winning for both Adan and owners in the Non-Pro. "Levi" seems to be getting better and better the more he is shown with this win adding another $20,000 to his career earnings. It is clear to see that Adan is beyond confident when showing him, as he is pretty gutsy executing each run with him. The Quirks purchased Levi after this show a year ago, and we think they are pretty grateful to have made this decision! There are many great things still to come for this awesome horse!
Adan Banuelos and Reystylin Smooth


Reserve Champion was Wesley Galyean marking a 222.5 riding Duramax Dually (Dual Rey x That Catomine), owned by the Glover/Galyean Partnership. They were next to last in the large set with each cow harder than the next! The quick, gritty stallion handled it all with ease earning them the $18,000 check!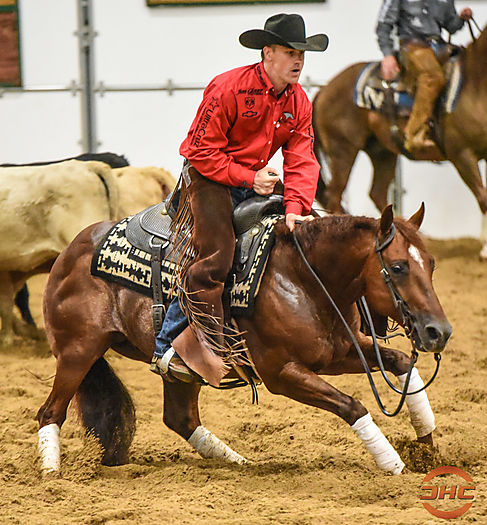 Wesley Galyean and Duramax Dually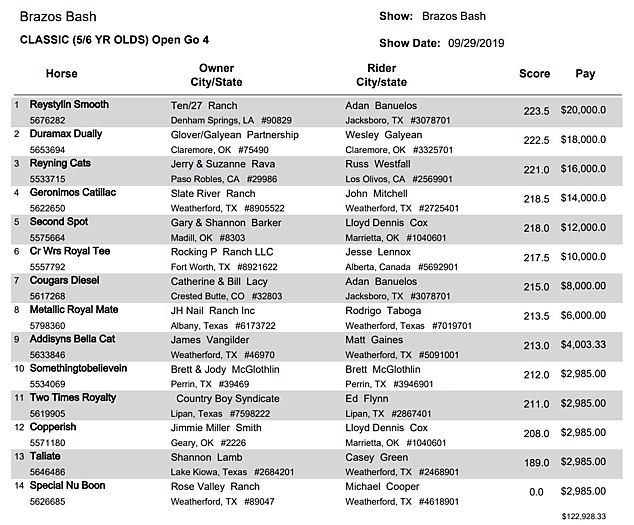 Derby Open

The Derby Open was next to go with John Mitchell laying it all on the line riding Hot Lookin Cat (Hottish x Fancy Lookin Cat), owned by The Slate River Ranch. They marked a 223 early out in the first set impressing the judges so much that they held on to the lead through the two sets of finals! John is never one to worry about when it comes to being on edge and going for the win. This instance was no different, and his horse was up for the challenge. He consistently brings excellent horses to the shows from Slate River's impressive program also getting them consistently to the finals. He is one of the most fun to watch through a run with each piece thoroughly thought out in the chaos. This seems like a funny thing to say, but if you watch him talk to all of his help, control his horses, and pick his cattle, you will get it! This win added another $20,000 to his earnings after an already stellar year.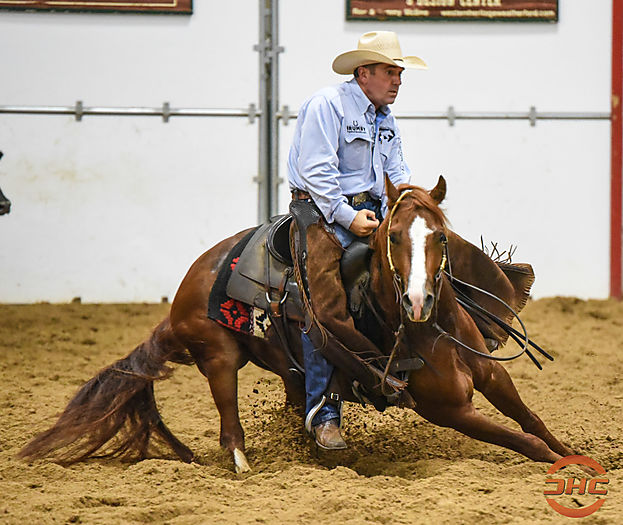 John Mitchell and Hot Lookin Cat
Reserve Champion was Beau Galyean aboard Warlock (Metallic Cat x Sweet Abra), owned by the Fults Ranch, marking a 222 to claim the $18,000 check! We are happy to see this gelding back in the show pen after being off since the NCHA Futurity. He was an Open Futurity finalist and is now making a big comeback statement! He is yet another fantastic baby out of the great resident mare of the Fults Ranch.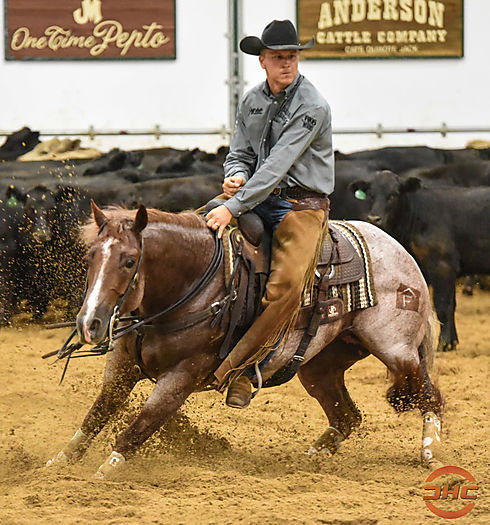 Beau Galyean and Warlock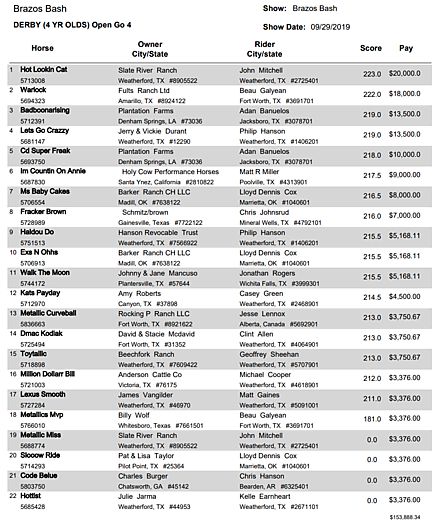 Classic Limited Open

The two limited finals were the next to go starting with the Classic Limited Open. It was a new concept for the Brazos Bash to have the Limited Divisions held separately from the regular Open go-rounds and was met with great response. These young trainers were given an excellent opportunity to show some pretty nice horse, as the go-rounds were not drawn until the conclusion of the regular open go's. There were several high-profile horses able to be shown aside from the horses they already had in their programs. The whole thing just gave these riders more experience and a chance to grow.

Rodrigo Taboga had an amazing day in these classes starting with a win in the Classic Open riding Desiresomemetallic (Metallic Cat x Desire Some Freckles), owned by the Atwood Quarter Horses, marking a 222 to take home the $4,000 check. Rodrigo, originally from Brazil, came to the US to gain more experience in the cutting pen. He has undoubtedly done that having a great deal of success with arguably one of the best programs in the industry. Beau Galyean is a name we hear time and time again in finals. Beau has allowed Rodrigo a ton of opportunity, but he has also given back results with the opportunity! It has been a cool thing to watch unfold throughout the year.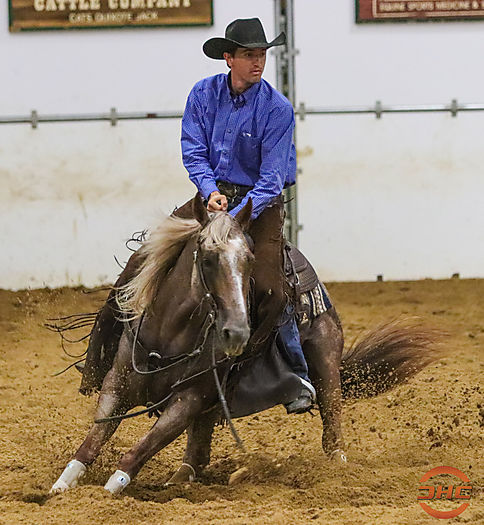 Rodrigo Taboga and Desiresomemetallic


Rodrigo was also Reserve Champion riding Metallic Royal Mate (Metallic Cat), owned by JH Nail Ranch, marking a 221.5 collecting another $3,300 for the day! He was also in the Classic Open Finals earlier in the day aboard this talented stallion.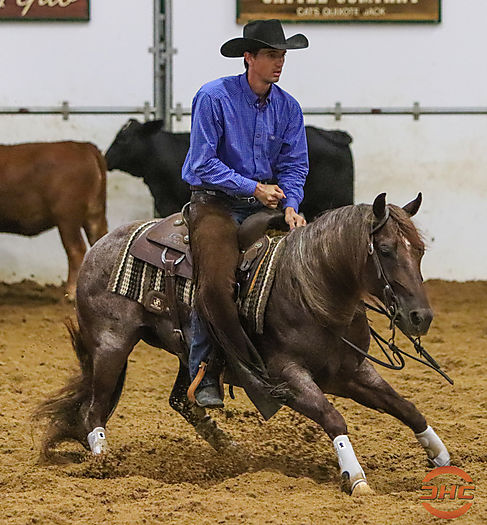 Rodrigo Taboga and Metallic Royal Mate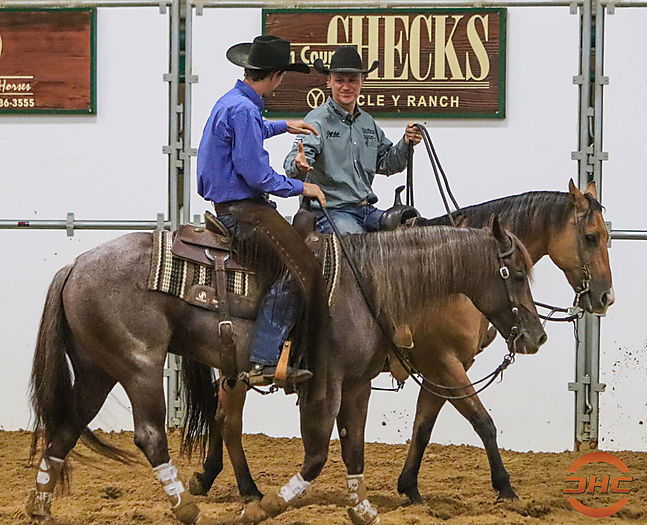 Rodrigo and Beau celebrating the day!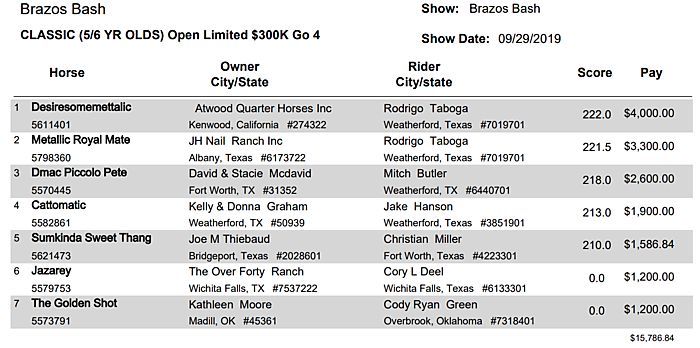 Derby Limited Open

The last Open finals to go was the Derby Open Finals where we saw more big names in the pen with these young trainers. Jake Hanson was fortunate enough to get to ride Hiss N Vinegar (Dual Smart Rey x Hissy Cat), owned by Jeff and Jennifer Foland, a mare trained by his dad Phil Hanson. He was last out in the finals marking a huge 226 for the win taking home a $3,900 check! This is by far not this mare's biggest check thus far, but it was pretty special for Jake to have the opportunity to ride "Smudge." Jake went on to compare the whole experience to back in the youth days that you could catch ride a fantastic horse. He just enjoyed every minute, and it was fun to get to share the experience with his dad and the Foland's.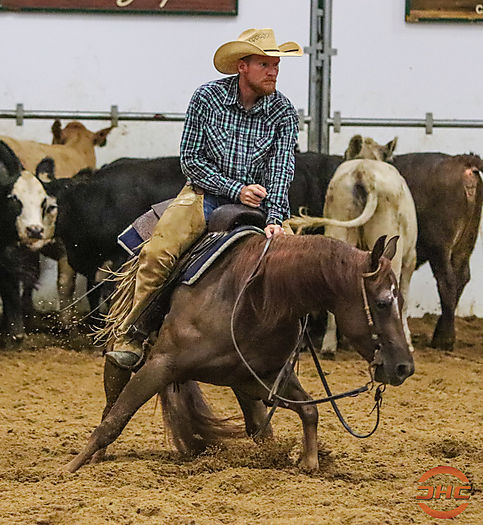 Jake Hanson and Hiss N Vinegar
Reserve Champion was Rodrigo Taboga again adding to his awesome day! He marked a 222 riding Rocky Mountain Blues (Smooth As A Cat x Diva In Denim), owned by Selena Barbosa. The young stallion took home a $3,100 check to go along with his title!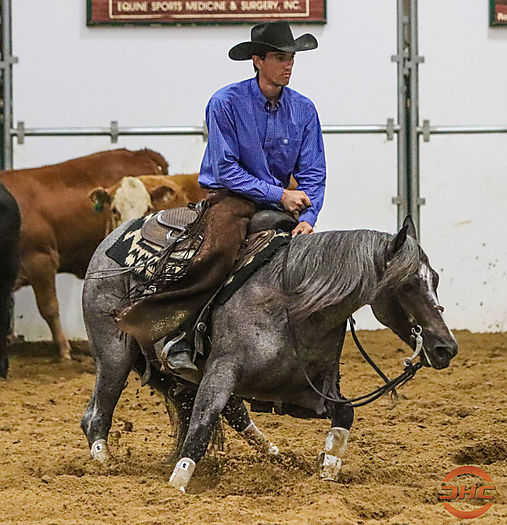 Rodrigo Taboga and Rocky Mountain Blues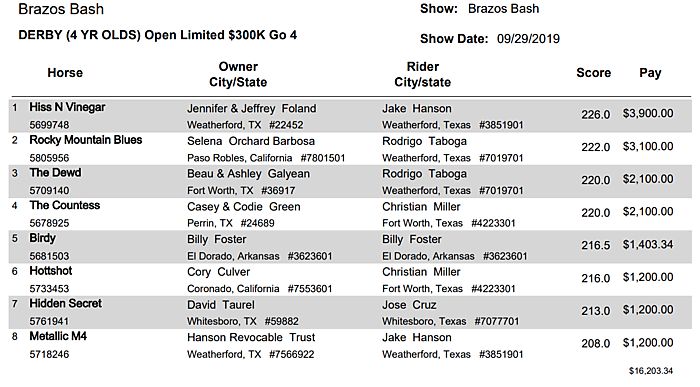 It was indeed a fun day of cutting at the Bash getting to watch all of these talented horses and the trainers going all out to get them shown. It worked for some, and not for others, but it could have been anyone's day at this point. As we approach the end of the year as said before we are starting to think about the Futurity, but it is also time to take in the last few shows for the six-year-olds. We have watched them grow through the years and feel invested in their careers. It is hard to see them leave the aged event arena, but they have certainly made their mark in the sport and our hearts!

There is still a good bit of cutting left to go at the 2019 Brazos Bash with the Non-Pro and Amateur competitors left to go. Tune in to CHC's Live Webcast to keep up with the action and congratulations to all of the open finalists from all of us here at Cutting Horse Central!
For full list of results for the Open classes visit brazosbash.com!
.