CHC Catches Up with Brazos Bash Futurity Open 3-Peat Champion Michael Cooper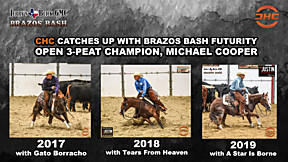 To win any Futurity Open title is a feat in itself, but to win the Championship for three years in a row at the same event is truly something special and we really wanted to highlight that.
When Michael Cooper claimed the Brazos Bash Futurity Open Championship this year aboard A Star Is Borne (Boon Too Suen x Holly Is Smooth), owned by the Belle Terre Ranch with a 222, it marked the third consecutive year Michael went home with the win at the event.

In 2017, Gato Borracho (Cats Merada x Dual Gen), owned by Jeff and Amy Jones, carried Michael to the Co-Championship, to tie with CR Tuff Mudder (Woody Be Tuff x CR Cats Meow) with Russ Westfall and Graces CD (High Brow CD x Hangem High Pep) with Matt Miller.
Last year, it was Tears From Heaven (Dual Pep x Cat O Connor), owned Rose Valley Ranch, that led him to the title.
This is such a great accomplishment, and we wanted to take the time to catch up with Michael Cooper to highlight that and get into some details about the three Championships! In addition, find out how Michael got his start and built up his program to where it is today. It is always nice to be able to sit down with trainers like Michael to hear about some of their journey up to this point!
.