Final Champions Crowned at the Brazos Bash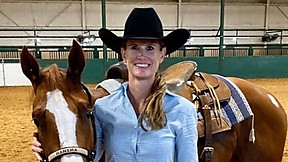 It is hard to believe the 2019 Brazos Bash has already come to a close! 2019, in general, has flown by. We have seen big dreams come to pass for so many of our cutting family, including a few made in the past week! As in many cuttings, the Non-Pro and Amateur competition finished us out.
Futurity Non Pro

In the Non-Pro Futurity, Alexa Stent brought home the win riding her home-grown mare Smooth Little Bow (Smooth As A Cat x Stylish Little Bow) with a 431.5 cumulative score. Alexa is one Non-Pro that takes pride in her breeding program, almost always showing horses that she has raised. As we have said before this makes success and championships in this case that much more special. She is personally invested with each horse, watching them grow up and develop into show horses! This was her first show riding "Peanut," starting their career together on a very high note! They claimed a $5,500 check for the win!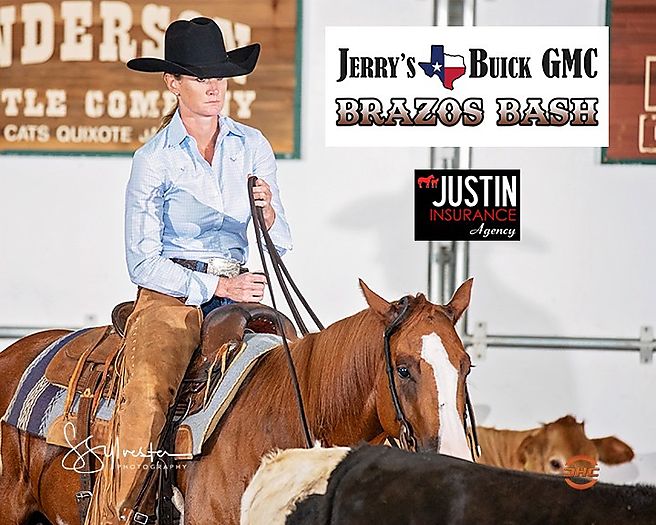 Alexa Stent and Smooth Little Bow Photo by S.Sylvester Photography

Reserve Champion was Bill Cowan aboard Metallic Lookin (Metallic Cat x Smart Lookin Hi Brow). They received a $4,500 check to go along with their title. They were also the Gelding Division Champions!

Derby Non Pro

In the Derby Non-Pro, it was Ty Moore and Scantly Clad (Metallic Cat x Scoot A Lil Closer) that took home the win marking a 220. This is this duo's second win in this arena this year with the first being at the Bonanza Cutting. The year has been one to remember for Ty, with this mare being one of the primary ones to make it that way. She has been so consistent all year, which is one thing he loves about her. They claimed the $20,000 Metallic Cat Incentive check at the NCHA Summer Spectacular along with claiming several championships and very rarely missing finals. They sweated until the end, riding the bubble into this one but usually Ty is one we always see at the top of the leader board! The Moore family is also one that is known for raising their show horses, with this one being out of one of their great mares! This win added another $15,000 to their earnings for the year.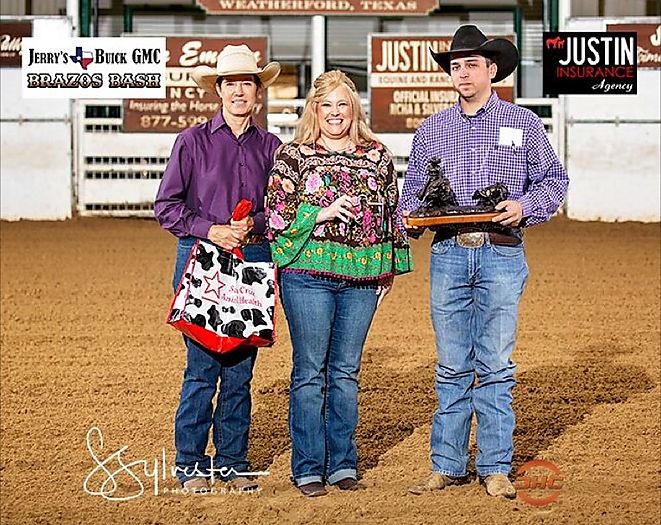 Ty Moore Derby Non Pro Champion and Paula Wood Derby Non Pro Reserve Champion Photo by S.Sylvester Photography
Reserve Champion was Paula Wood marking a 218.5 riding Mamas Primadona (Dual Smart Rey x Donas Cool Cat). Paula also rode the 2018 Horse of the Year, Cool N Hot (Hottish x Donas Cool Cat), in the Classic Non-Pro finals later in the day. They had some tough luck, but it is so special watching her compete on two horses out of that amazing mare that is such a staple to their program! Her solid run in the Derby Non-Pro earned them a nice $13,000 check!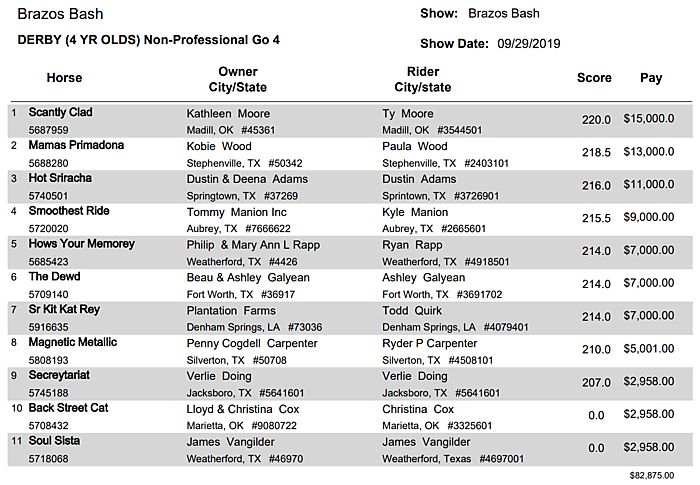 Classic Non Pro

The Classic Non-Pro finished out the Non-Pro Division, and it was Julie Jarma that dominated the field! She marked a 222.5 riding Blackish (Hottish x SS Blacks Lil Kitty) to top her other horse late in the set narrowly. The run earned them a $15,000 check to add to the young mare's impressive career. This is the second show that Julie has shown her with the first earning her a trip to the finals as well. She has been quite a dream come true, as Julie will always tell you. This mare is one that we look for in a draw since the very beginning, always standing out as one with such a presence about her.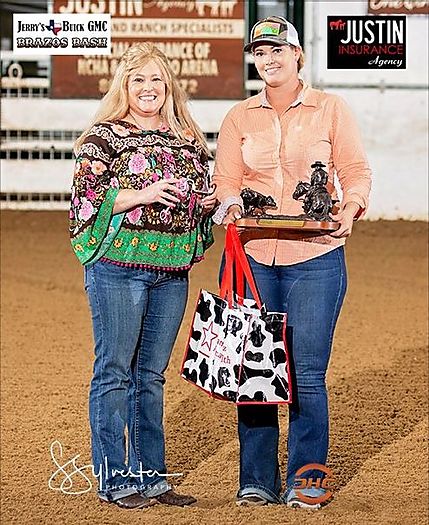 Julie Jarma Classic Non Pro Champion and Reserve Champion Photo by S.Sylvester Photography
Julie was Reserve Champion in the Classic Non-Pro riding her other horse Hot Heels (Hottish x Miss Peptoinstelletos) marking a 222! Julie purchased this gelding around this time last year, and it has proven to be an excellent investment. This title added another $13,000 to his earnings along with an added check for being the Gelding Division Champion!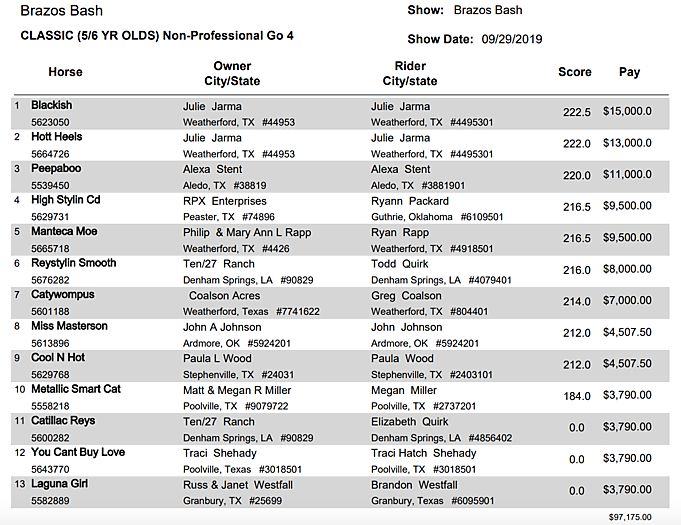 Classic $50,000 Amateur

The Amateur competition rounded out the show with a full day of amateur finals. The Classic $50,000 Amateur started us out with Bridget Trenary taking home another win riding her great mare Brenda Rreys (Dual Rey x Fancy Blue Moon) marking a 217. Bridget sweated the bubble to make it into the finals, but it does not matter how you get there as long as you get there! It was like déjà vu though because at the NCHA Summer Spectacular it was a similar story. Both times the situation has resulted in a win so we think maybe it should always work out that way! The win was worth $3,100 to add to their already great year.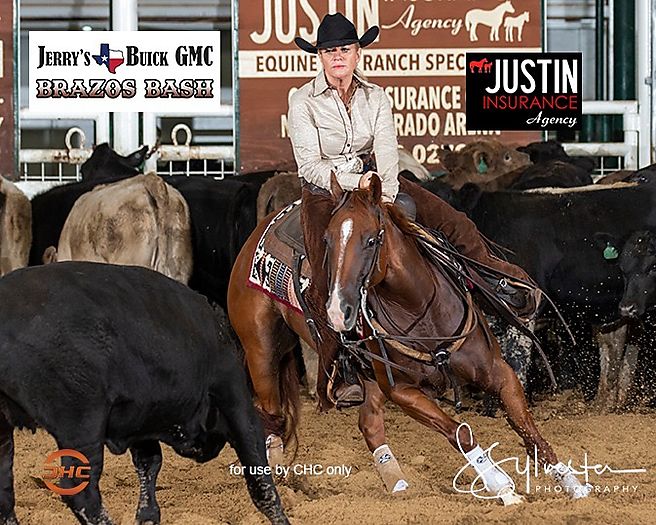 Bridget Trenary and Brenda Photo by S.Sylvester Photography


Reserve Champion was Billy Atwood marking a 214.5 riding Hebrews Eleven One (Metallic Cat x Smart Look Classic), another that the Atwood's named after a Bible verse that they love. It is a pretty neat way always to be witnessing to others just by naming your horse. They collected a $2,849 check along with their title.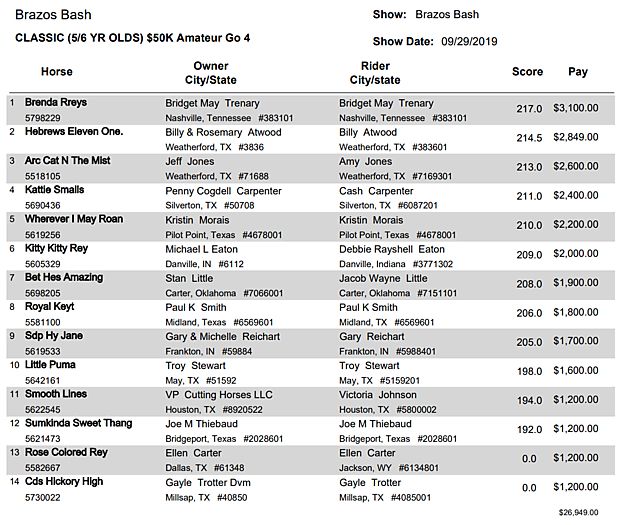 Derby $50,000 Amateur

Next to go was the Derby $50,000 Amateur with Tom Heral topping the class marking a 216 aboard Simon Sez (Dual Smart Rey x Shesa Smooth Cat). They received a $3,200 check for the win to continue their nice streak of shows the young stallion has had of late. "Simon" was out of the show pen for the past several months due to an injury but has come back better than ever! He was just a double amateur finalist and open derby finalist at the Idaho Futurity then a derby open finalist at the El Rancho Futurity! He has been a great horse for the Herold's so far, and we can imagine he will only get better.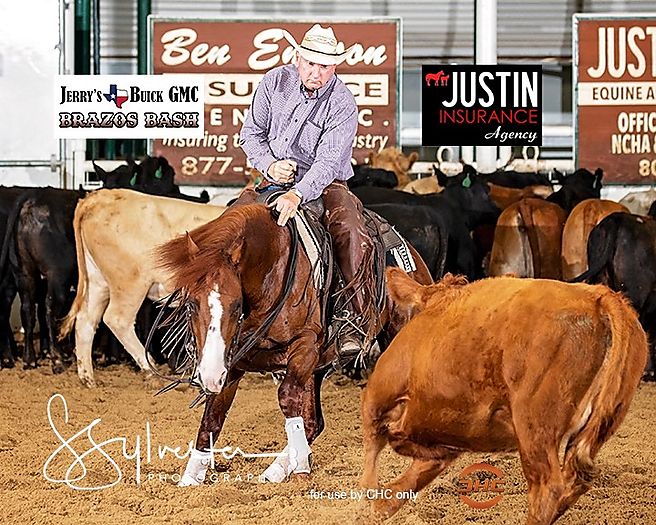 Tom Herold and Simon Sez Photo by S.Sylvester Photography
Reserve Champion was Hunter Williams riding Just Like Her (Dual Rey x One Fancy Time). They marked a 215.5 to collect the $2,800 check. Hunter is relatively new to the show pen but has already had considerable success with a great family backing him!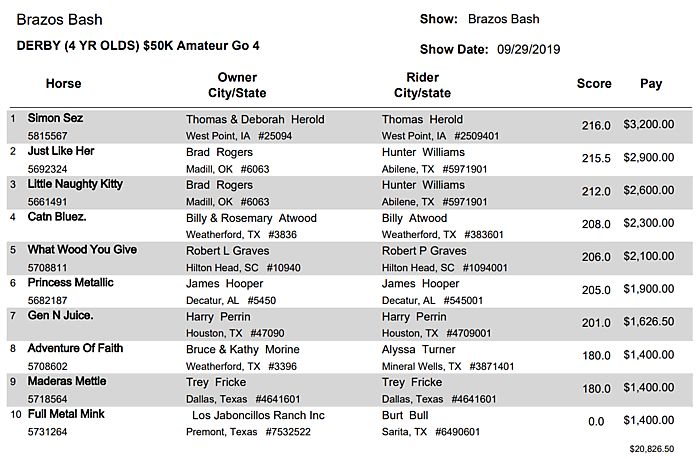 Classic Unlimited Amateur

Stephanie Sheen continued her unbelievable year with her fifth or sixth win aboard Metallic Alex (Metallic Cat x TM Smart Alexis) marking a 220 in the Classic Unlimited Amateur. "Alex" has been such a special horse for Stephanie and one that she plans on keeping around for a long time. It is hard once these horses reach the end of their six-year-old year, we all want to turn back time. Luckily, there are many outlets to show them even after aged events, and it sounds as if Stephanie has a few things in mind. They took home a $3,100 check for the win and plan to head right to Vegas for no doubt another fun show for this team.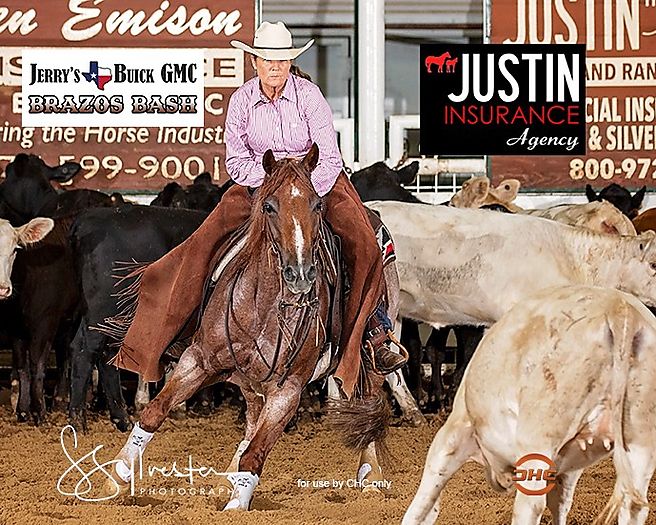 Stephanie Sheen and Metallic Alex Photo by S.Sylvester Photography
Reserve Champion was Duff Sinclair riding Goodlookinsonofaich (Cat Ichi x Sheza Skeeto Rey) marking a 219 to receive a $2,900 check! This is another very consistent duo, and we see them time and time again in finals in at the top of a leader board!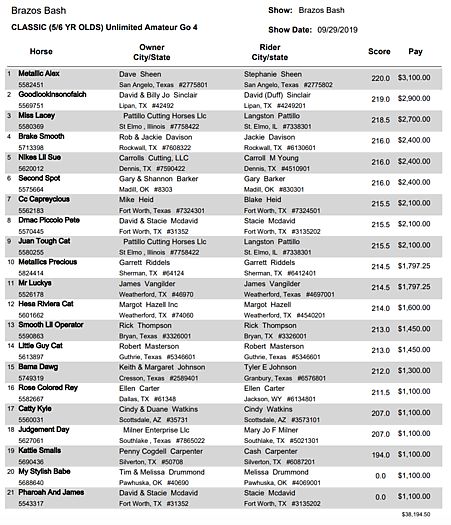 Derby Unlimited Amateur

Our final champion for the 2019 Brazos Bash was none other than Langston Pattillo marking a 220 riding his mare Shesa Tuff Teaspoon (Woody Be Tuff x Shesa Spoonful A Fun) adding the largest check offered to our amateur riders at the Bash $3,300! She is relatively new to the Pattillo barn, but Langston has had considerable success on her already having just been the 2019 Non-Pro Derby Reserve Champion at the NCHA Summer Spectacular. To follow that up with a win is a confidence builder! Langston finished out the show year at this show unless plans change, but he is looking forward to showing at the NCHA Futurity aboard a mare that happens to be a full sister to the one Michael Cooper just won the Futurity Open on this past week at this show! It is always fun to hear about what is coming next for these talented riders.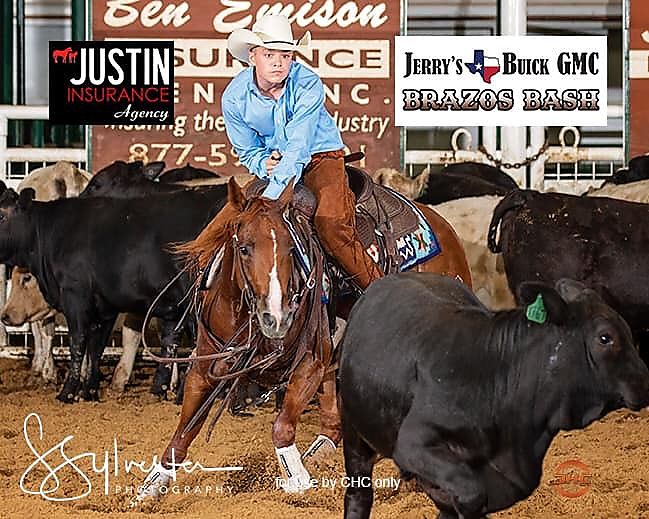 Langston Pattillo and Shesa Tuff Teaspoon Photo by S.Sylvester Photography
Reserve Champion was Cory Culver marking a 217.5 riding Hottshot (Hottish x Smart Little Reyna), a horse that topped the round earlier this week in the Derby Limited Open with trainer Christian Miller. This was one of Cory's first significant accomplishments in the show pen coming with a nice $3,000 check!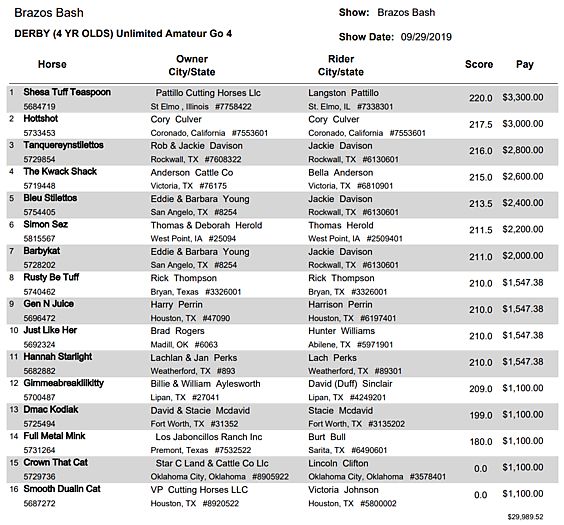 That's a wrap for the 2019 Brazos Bash; there will be many-headed to Vegas for the PCCHA Holy Cow Performance Horses Futurity, the Michelle Lynn Holsey Benefit Cutting, or they may wait for the Southern Futurity for their next stop. Whatever the next one might be good luck and safe travels to all, and congratulations once again to all of the Champions and finalists at the Brazos Bash!
.