Top 10 Average $17,120 at the Marketplace at Ardmore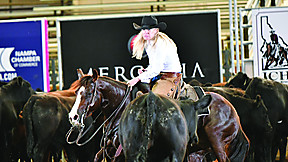 Kitty Boon Boon (pictured above) owned by Jann Parker was one of the two Top sellers at the Marketplace at Ardmore Performance Horse Sale bringing a final bid of $25,000
ARDMORE, OK – A blustery Saturday morning greeted attendees at the Marketplace at Ardmore Performance Horse Sale held November 3 in the Hardy Murphy Coliseum where the top 10 head averaged $17,120.
Sale Manager Susie Reed said, "We had a little smaller crowd than usual because the World Show and Waco Futurity were held the sale day, but we had the right kind of buyers there, and that's what counts. There was a strong market for the good horses and they sold really well. We averaged $13,515 on the top 20 head."
Lots 28 and 42 tied for High Seller – each bringing $25,000. Mosses Man, a 2012 sorrel gelding by Metallic Cat was consigned by Bruce Coclasure and sold to Keith Bambrick. Kitty Boon Boon, a 2014 chestnut mare by Spots Hot was consigned by Jann Parker and purchased by Melissa Keown.



Lot #28 Mosses Man, by Metallic Cat and out of Nurse Rey, tied with Kitty Boon Boon for High Seller bringing $25,000.



Lot #42 Kitty Boon Boon, by Spots Hot and out of a Peptoboonsmal daughter, tied with Moses Mann for High Seller bringing $25,000.
There was also a tie for second highest sellers with Lots 64 and 81 each bringing $20,500. Stop N Traffic (Smooth As A Cat x Squirrel Tooth Alice), a 2013 sorrel mare consigned by Jann Parker went to Spencer's Horse's and Alan Chappell purchased Stunning Cat, a 2014 Metallic Cat daughter consigned by JLC Perf Horses.



In addition to consigning the High Seller, Jann Parker also consigned Lot 64 Stop N Traffic, a Smooth As A Cat mare who tied for second highest seller at $20,500.
The next Marketplace at Ardmore Sale will be held on Saturday March 9, 2019 in Hardy Murphy Coliseum. Consignments will open January 1, 2019 with consignments forms available online. For more information, call Susie Reed 580-490-1103 or e-mail polo@ardmore.com
.