Note from NCHA President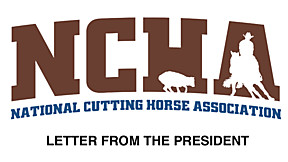 Oct 2, 2019, 11:07 AM by Ron Pietrafeso
There will be a special Directors meeting held at Futurity
Attention NCHA Members

Please take note that I will be calling a special meeting of the NCHA directors to be held on Saturday, November 30, 2019 at 1 p.m. at the Will Rogers Complex. Within the next few weeks, you will receive a formal notice advising you what room that meeting will be held in and the agenda for that meeting, including what specific proposed Bylaw changes will be considered at that meeting. The committee investigating potential governance changes, including Dan Churchill and Lew Stevens, have been working very hard putting together proposed draft Bylaw changes for the Directors' consideration. Theresa Gillock from Region 2 has also recently joined that committee. At that director's meeting, after a discussion period, the directors will be able to vote on any proposed Bylaw changes. The general membership will be allowed to attend the director's meeting as long as they can produce their NCHA membership card. However, only directors, and not general members, will be allowed to speak at this director's meeting.
I will also be calling a special meeting of the general membership to be held on the following Saturday, December 7, 2019 at 1:00 p.m. at the Will Rogers Complex. Again, the specific room and the agenda items for that meeting will be sent in a formal notice in the next few weeks. At that meeting, the general members will be able to speak on and vote on any changes made by the directors at their meeting held the previous week.
The official notices of these two meetings will be sent out in accordance with the NCHA rules in the near future, so please be watching for them.

Sincerley,



Ron Pietrafeso
NCHA President
.