The Action Kicks off at the NRCHA Snaffle Bit Futurity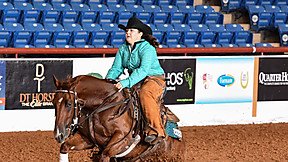 Courtesy of the NRCHA
Bet He Sparks ridden by Clayton Edsall sets the pace with Hackamore Classic herd work win.
The National Reined Cow Horse Hackamore Classic, held in conjunction with the NRCHA Snaffle Bit Futurity ®, presented by Metallic Cat, showcases reined cow horses age 5 and under shown in the traditional hackamore. Upon conclusion of seven sets of Open Hackamore Classic herd work held in iconic Will Rogers Coliseum in Fort Worth, Texas, the dynamic team of Clayton Edsall and Bet He Sparks took top honors.
A 2014 red roan stallion bred by Garth and Amanda Gardner and owned by K & L Phillips, LLC, Bet He Sparks (Bet Hesa Cat x Sparking Train x Shining Spark) lived up to his royal cow horse lineage scoring a 222 to earn $843, and more importantly take an early lead in the Hackamore Classic. Edsall and Bet He Sparks, whose lifetime NRCHA earnings were $153,738 prior to arriving in Fort Worth, are in hot pursuit of another NRCHA Premier Event title to add to their impressive resume. Edsall most recently captured the 2019 NRCHA Derby championship with Bet He Sparks in Paso Robles, California, in June, which he clinched with a massive 228 fence run.
Clayton Edsall aboard Bet He Sparks, owned by K & L Phillips.
Shiners Diamond Cat (WR This Cats Smart x Shiners Diamond Lady x Shining Spark) ridden by Justin Wright for owners Mike and James Draper scored a 220.5 for third and $703. The 2014 mare was bred by Wagonhound Land & Livestock. Rounding out the top three was another standout performer sired by WR This Cats Smart, Opus Cat Olena ( x Opus Chic x Smart Chic Olena), ridden by Matt Koch for BoxO Quarter Horses to a 220 for $562.
Earning top honors in the Intermediate Open Hackamore Classic was Red Hotz (Sweet Lil Pepto x Doc NA Box x Bob Acre Doc), ridden by Jordan Williams for owners Wes and Sarah Williams, to a 219.5. In the Limited Open Hackamore Classic herd work it was NCHA Hall of Fame rider Clint Allen aboard Hes Pistol Packin (Smooth As A Cat x Shiners Lil Pistol x Shining Spark) who scored a 217 for owners David and Stacie McDavid for the win. The high scoring team in the Level 1 Limited Open was Haidas Red Seven (Haidas Seven Heaven x Poco Dun It Right x Heeza Dun It) ridden by Zachary Hedberg to a 215. Hedberg is also the breeder of the 2014 gelding. Rounding out the day's results in the Open Novice Hackamore Classic herd work, it was Matt Koch riding One Timin Katie (One Time Pepto x Katie Starlight x Grays Starlight) for owner Orlando Gonzalez to a 218.
Open and Non Pro Futurity herd work, along with the Non Pro Hackamore Classic herd work, will dominate the next several days of action in Will Rogers Coliseum. A host of other activities are slated to take place throughout Will Rogers Memorial Center this week, among them the Cow Dog Rodear Fall Bash preliminaries on Tuesday and Wednesday in John Justin Arena.
_________________________________________________________________________________________________
Three NRCHA Professionals share top honors in the NRCHA Snaffle Bit Futurity®Open reined work preliminaries
Day No. 2 of the National Reined Cow Horse Association Snaffle Bit Futurity ®, presented by Metallic Cat,saw brilliant performances by the top 3-year-old equine tri-athletes in the country as the Open reined work preliminaries came to a close in John Justin Arena at Will Rogers Memorial Center. Each owner and rider team is gunning for their share of the total event payout, which is expected to exceed $1.2 million. The Open Futurity Champion will leave Fort Worth, Texas, $125,000 richer upon the conclusion of the Finals on October 19.
Three leading NRCHA riders shared Open Futurity reined work honors with identical scores of 223. Each horse and rider team collected a $4,167 paycheck. Nineteen Ten (Hickory Holly Time x Lil Miss Shiney Chex x Shining Spark), bred by Carol Rose and owned by DT Horses, LLC, was ridden by Kelby Phillips to a 223. Phillips and the 2016 stallion's sire, Hickory Holly Time (LTE $228,563), captured the coveted NRCHA World's Greatest Horseman title in 2018. Todd Bergen rode Flint McCullough (Smart Boons x Smart Dueling Chic x Smart Chic Olena) to a 223. The 2016 red roan gelding is owned and bred by McSpyder Ranch. Rounding out the three-way tie was the Center Ranch bred mare WooodYa (Woody Be Tuff x CR Dees Boon Meow x Peptoboonsmal) ridden by Justin Wright for owner Eric Freitas.
Kelby Phillips aboard Nineteen Ten owned by DT Horses.
Todd Bergen showing Flint McCullough for owner McSpyder Ranch.
Justin Wright riding WooodYa for owner Eric Freitas.
Playgirls Merada Cat (Cats Merada x Playgirls Miss Grace x Mister Dual Pep) was ridden to a score of 222.5 worth $1,250 by Luke Jones for ownership team the Good Ole Boys to split fourth and fifth place money in the reined work prelims with Ben Baldus and Tuff Marshall N Town (Woody Be Tuff x CR Too Catty x Cat T Masterson). Tuff Marshall N Town is owned by Sarijane Stanton and Bill Pinckard. Baldus and Tuff Marshall N Town topped the Intermediate Open reined work for $2,250 to add to their $1,250 in the Open. Here Comes The Boon (Once In A Blu Boon x Stay Outta My Shorts x Shorty Lena), ridden by Lance Johnston for owner Rocking BS Ranch, scored a 221 to finish second in the Intermediate Open for $1,750.
_________________________________________________________________________________________________
Logicality (Magicality x Boonlight Angel) ridden by Gusti Buerger for NRCHA Hall of Famer Anne Reynolds split the Limited Open reined work win with Stunt Man Blu (Once In A Blu Boon x Hollywood Stunt Girl x Hollywood Dun It) ridden by Abigayle Mixon for Troop Quarter Horses. Both teams scored 219 and earned $875. Mixon and Stunt Man Blu were second in the Level 1 Limited Open reined work for another $750.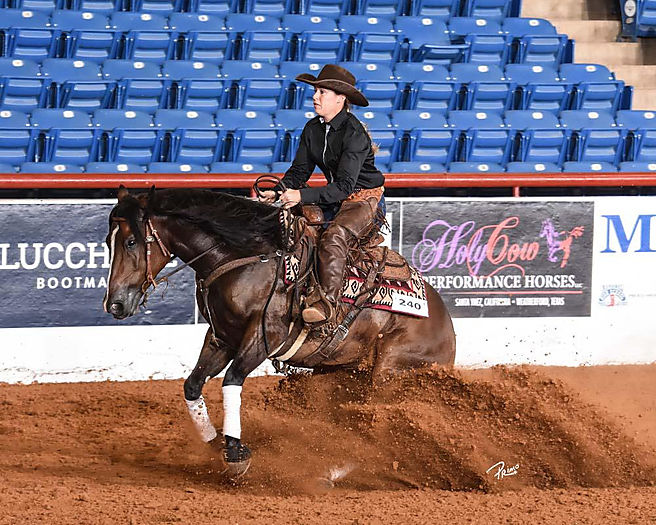 Abby Mixon aboard Stunt Man Blu owned by Troop Quarter Horses. Photo By Primo Morales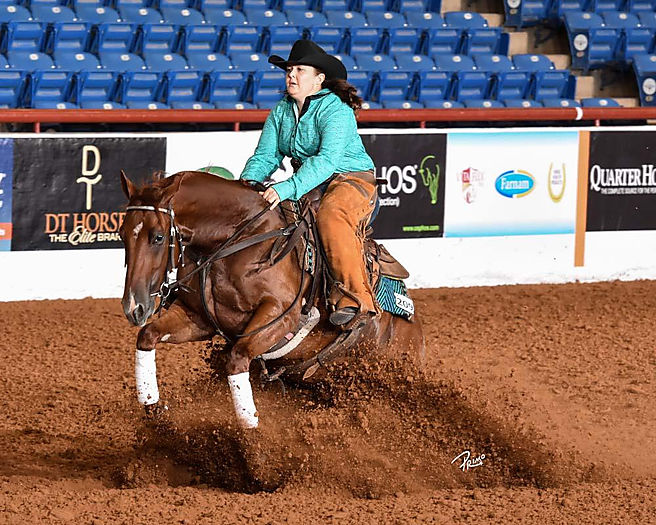 Gusti Buerger showing Logicality for Anne Reynolds. Photo By Primo Morales
_________________________________________________________________________
Winning the Level 1 Limited Open reined work preliminary round was Alexandra Ciavardelli riding her own horse, Suns Out Guns Out (Chics Playgun x Clark Jones Lass x Clark Jones) to a 220.5 worth $1,000.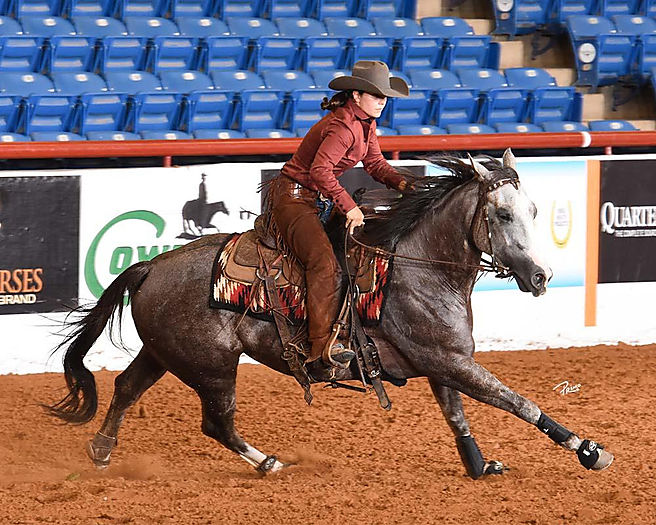 Photo By Primo Morales
Action resumes from Will Rogers Memorial Center on Sunday, October 6 when the Open Hackamore Classic herd work gets underway in historic Will Rogers Coliseum.
.