All American Quarter Horse Congress Recap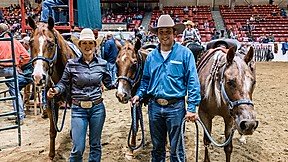 It is a busy time of year for both the NCHA and NRCHA! This past week we have had four shows going on, which is beyond exciting! Our sports are alive and well, to say the least.

We wanted to touch on the All American Quarter Horse Congress and our CHC Trainers that attended this great event. It is one to put on your bucket list if you have not already made the trip to Ohio. The final evening each year is sold out with standing room only, it's an atmosphere like no other. It is also full of real spectators that have no idea what cutting is; they just have heard about the excitement, and want to experience it. The All American Quarter Horse Congress is one of the largest quarter horse shows there is, if not the largest, to have a cutting competition included is something to be very proud of. It brings people into the sport which in the end that is one huge thing that is needed, our great sport to keep growing!

As mentioned, we wanted to highlight a few of our CHC Trainers that competed at this show. Their success is well noted as well as the success of their barns! Gabe Reynolds, from the great state of Kentucky, is one who always takes part in this show. This is one that he and his customers look forward to each year. It is hard to cover all of the accomplishments of each barn, for fear of leaving anyone out. We will say that they took home a number of Championships, Reserve Championships, and top ten finishes in Open, Non-Pro, and Amateur Divisions! One highlight to close the show for the Reynold's barn was claiming the Bridleless Open Championship aboard Hot Dona marking a huge 152!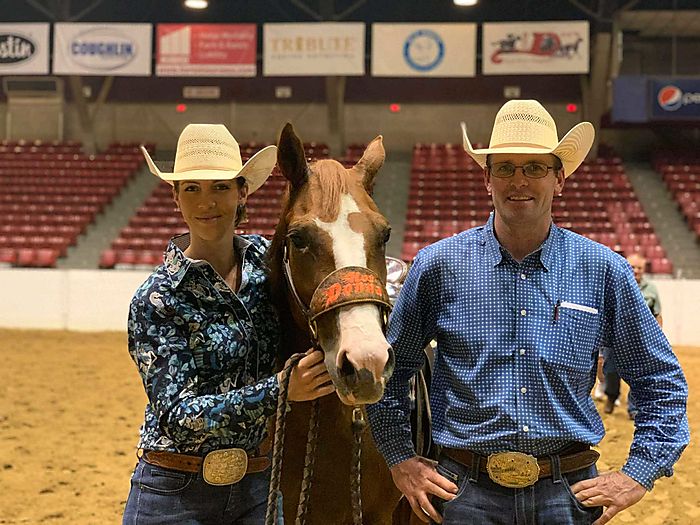 Gabe Reynolds and Lauren Minshall standing with Open Bridleless Champion Hot Dona. The duo marked a 152 for the win!

Bradey Davis of Texarkana, TX, made the long trip to Ohio as well, leaving with several championships to his barn's name. In fact, Bradey qualified three horses to the Champion's Challenge held on the final evening! To be in the Champion's Challenge, you had to win one of the classes through the week. It was a final shootout for money and prizes, making for added excitement to finish the show. Bradey actually walked away with the Championship in the challenge marking a huge 153 riding Redhead From Denver, a mare we have seen in the spotlight several times this year already.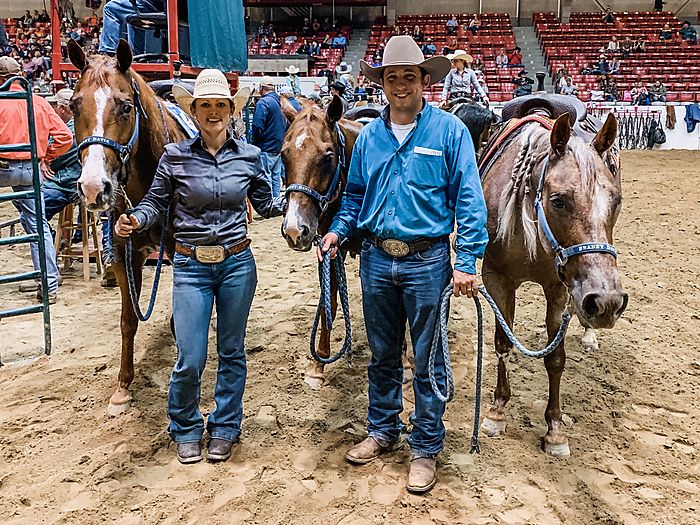 Bradey and Ashley Davis with their three qualifiers for the Champion's Challenge!

Another one of our trainers was Walt Erwin from Georgia. Walt racked up countless finalists throughout the week and a number of Amateur Championships and Non-Pro finalists. His kids Lily and Will also made their presence known in the show pen, having claimed a Reserve Championship and Will finishing in the top ten of the Junior Youth his first appearance at this great show!
Classic Amateur Champion in Walt's barn, Joey Varnador and Sly Smooth Girl, along with Lily and Will Erwin with their horses!

Nick Pilcher of Indiana was also in attendance, leaving with Championships, Finalists, and top ten finishes! Nick was also part of the Champion's Challenge to finish out the show. His customers were recognized time and time again through the week, and his daughter Joscelyn was Co-Champion of the first go of the OPEN Bridless Cutting! A pretty cool accomplishment, to say the least.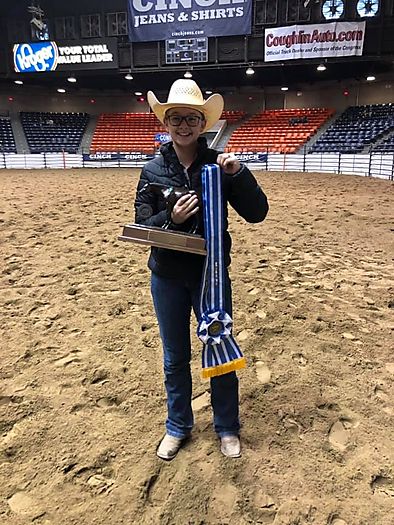 Joscelyn Pilcher and her loot!

Bill Riddle from Oklahoma, made his first trip back into the show pen since an accident last year breaking his femur, claiming the Open Reserve Championship as well as his customers enjoying a good bit of success. We are so happy to see one of our legends back in the show pen and right back on top where he should be!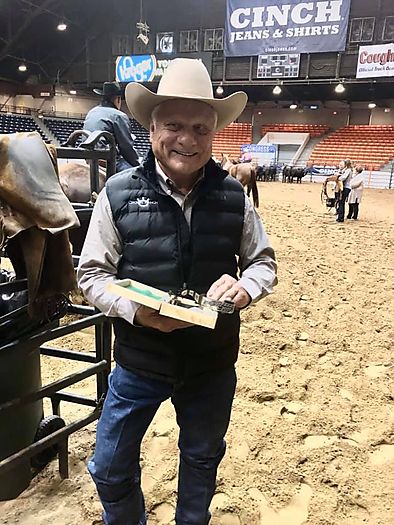 Legend Bill Riddle back in the game, and we are so glad to see it!

Brett Davis made the trip as well from Texarkana with his son Bradey. He is one who is always excited about promoting our sport and shared several videos with us during the show. It was great to see so many people getting into it all and having a wonderful time. He not only has a positive outlook on everything to do with cutting, but he also enjoyed a good bit of success at the Congress as well having a number of finalists throughout the show!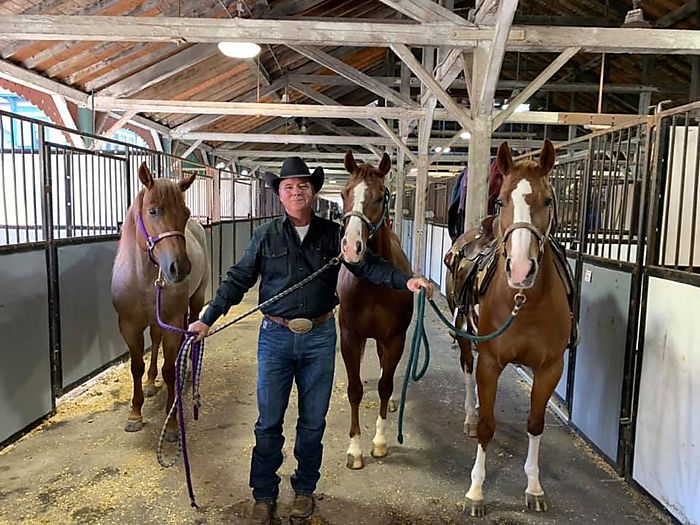 Brett pictured with three of his aged event finalists this week!
Last, but certainly not least was Trey Wilson who resides in Georgia as well. He and his barn also had a spectacular week with highlights such as numerous top ten finishes in the weekend events and aged events. Trey himself placed third in the Futurity Open while his wife, Priscilla, tied to win the $5,000 Novice Non Pro which qualified her for the Champion's Challenge! She then went on to take home the Championship in the challenge marking a 149. This is another group that are very close knit always supporting each other at every event and this show proved to be no different!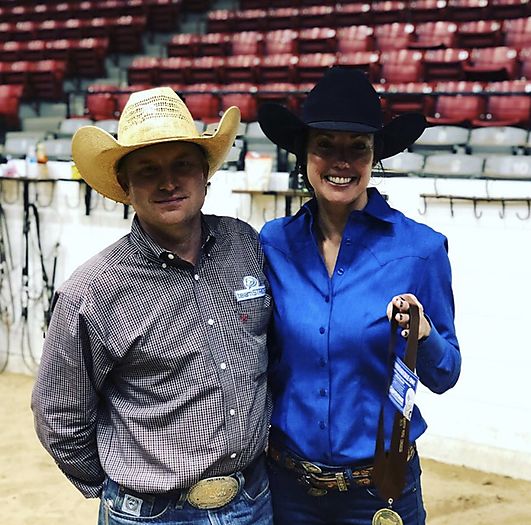 Trey Wilson celebrating a great show with customer Nikki Dill!
There are many other things about this show that make it one to put on your calendars, but mostly it is the fun atmosphere. Everyone enjoys themselves above all else. Of course, everyone wants to do well, but it is the fellowship and friendships that keep people looking forward to Columbus, OH each year. The beautiful weather and fall colors help a little as well, we think! It is starting to feel a bit like fall everywhere, though, which means we are steadily approaching the end of the year. We will continue to enjoy these last few shows though, they seem to have a different feel to them, a more laid back and reflecting time on the amazing year we have all been able to experience, because let's face it, if we have been able to work with these incredible animals all year then it has been one to remember! Congratulations to all of the Champions, Finalists, and our CHC Trainers at the All American Quarter Horse Congress!
.