Final Open Results & Special PCCHA Award Recipients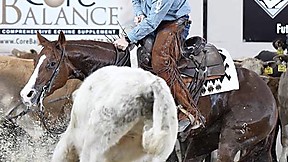 The PCCHA Holy Cow Performance Horses Open Futurity Finals are always great watching and this year's finals didn't disappoint. With 16 teams split up into two sets competing for a total purse of $153,835 in prizemoney the Open riders had the pedal to the floor trying to impress the judges.
The first set of cattle were pretty tough, and Michael Cooper drew the first two holes and took full advantage of the "picks" in the herd of steers wasting no time posting a 226 on A Star Is Borne working first out to get the finals started. Despite some valiant efforts from the other contenders and a better 2nd set of cattle "Super Coopers" score would hold up and earn the Championship which included the $25,000 winner's check.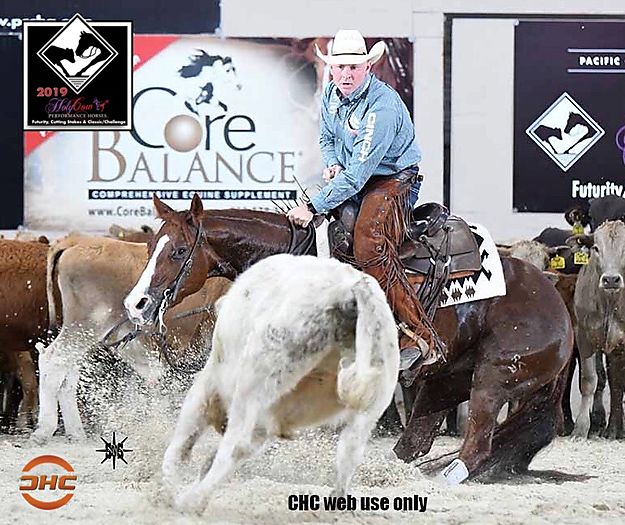 Michael Cooper & A Star Is Borne - photo by: Scootem-N-Shootem Photography
"Holiday" as she is affectionately known around the RVR barn where she was bred and raised is sired by Boon Too Suen and out of Holly Is Smooth, she was purchased earlier this fall by Belle Terre Ranch. Since then, she has gone on to capture three Open Futurity Championships including wins at the Cotton Stakes, Brazos Bash and now the PCCHA Futurity.
Watch the winning run thanks to: Video West Productions
Beau Galyean did an incredible job on his string of three year olds in Las Vegas qualifying four to the Open Futurity Finals making up 25% of the finalists. Beau had one entry deep in the first set and then 3 entries all back to back to back in the middle of the second set. "Super G" proved he was up to the challenge posting some impressive scores including a 220 on Lourdes (Metallic Cat x Moras Spoonful) owned by he and his wife Ashley taking home the Reserve Championship and a second place check for $20,000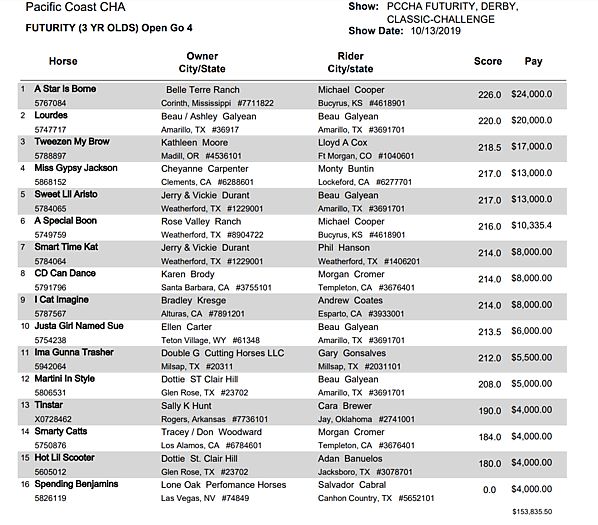 Beau has had an incredible show here at the South Point Casino this week. He won The Cutting Stakes Championship earlier in the week aboard Warlock owned by Alvin Fults, was the Reserve Champion on Metallics MVP owned by Billy Wolf then added the Reserve Champion Futurity and Gelding Champion title among multiple other Finalists and Gelding checks adding up to just over $83,000!!!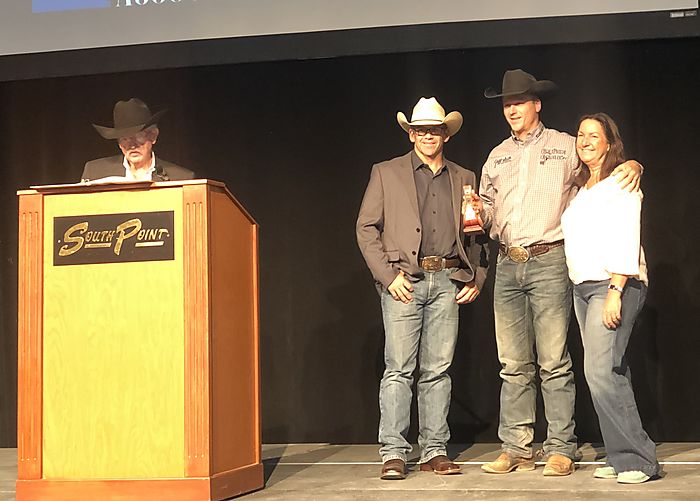 Beau was awarded the High Money Open Rider for the show. The Trophy stirrup was awarded by PCCHA President Kathy Cardon (right) and PCCHA Executive Director Phil Benadum (left).
The PCCHA Hall Of Fame Awards Dinner is held each year during this show right after the Open Futurity Finals and includes several prestigious award presentations. This year was special since it was the 40th running of the PCCHA Futurity and Tom Holt who started announcing this event in 1985 has been a fixture at this show for 35 years and was the "MC" once again for this special evening.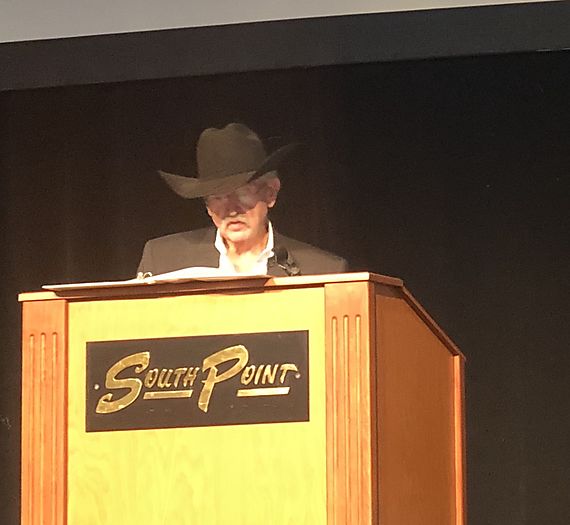 One award that is special to the PCCHA is the Ed & Modine Smith Sportsmanship Award. It's one of the top honors awarded to a special PCCHA member each year that goes above and beyond in regards to sportsmanship. This years winner was none other than Morgan Cromer who is definitely another worthy recipient that has done more than her fair share to promote the sport of cutting not just on the West Coast but Nationwide.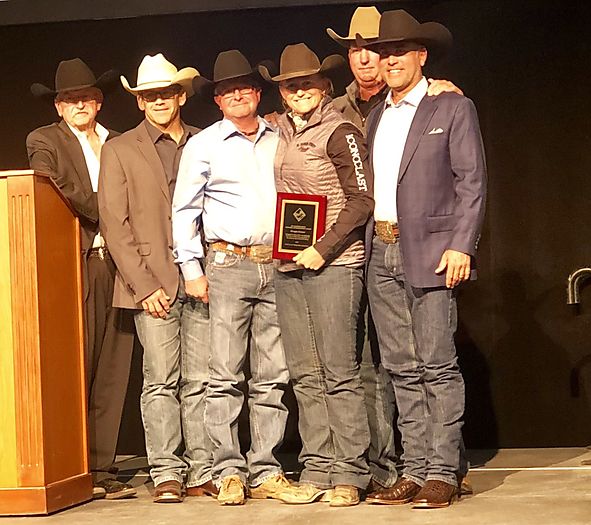 Morgan is pictured with some of the other previous award recipients
The PCCHA Hall Of Fame is another prestigious group of people who have given much of their lives to promote the PCCHA and support the sport of cutting on the West Coast. There were three members inducted at this show including: Art Miller (who was posthumously inducted), Sammy Nevis and Mike Wood. All three are very deserving and were honored to be chosen to join this elite group.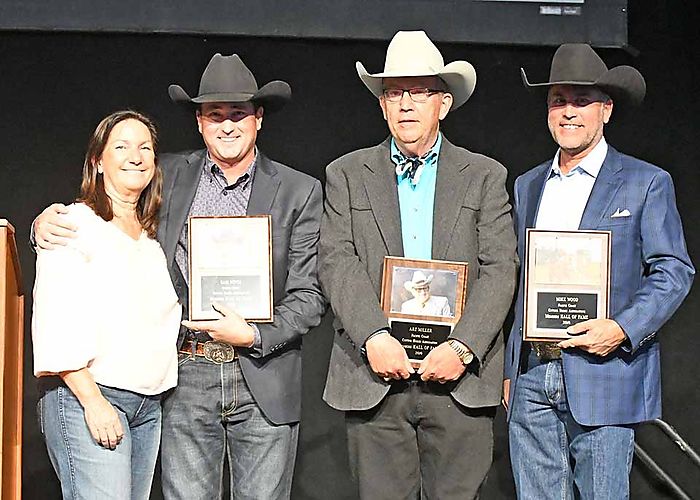 Watch the CHC Facebook Live Video from the PCCHA Hall Of Fame Awards
Limited Open Futurity Champion:
Billy Foster made the long drive out to Las Vegas from El Dorado, Arkansas and after two goes and the pencil finals was awarded the Limited Open Futurity Championship riding Sweet N Glitzy sired by Sweet Lil Pepto, out of Glitzy Goose and is owned by Billy. They collected $4,837.24 for the win.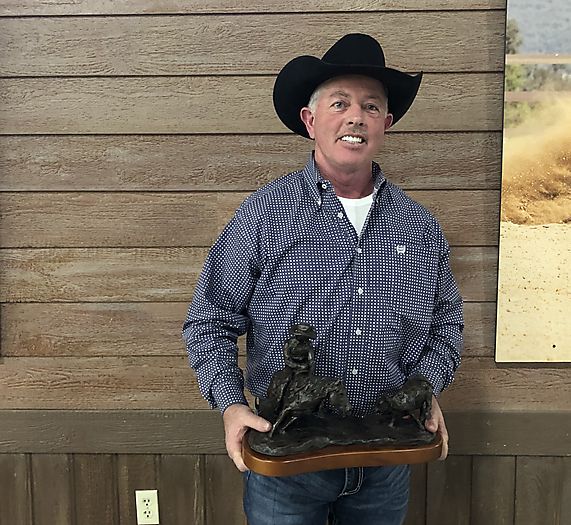 2019 PCCHA Limited Open Futurity Champion Billy Foster
Limited Open Reserve Co-Champions were Kirk Ferris aboard Heavenly Lights (Tomcat Chex x Light Up My CD) owned by Jack Ferris and Cody Lamont riding Oh M Gee Its Me (Love Em N Leave N x Wild Chaparral) owned by Israel Valles both taking home $2,727.38

Intermediate Open Futurity:
The Intermediate Open Futurity Finals were held on Wednesday and had a total purse of $30,212 up for grabs and it was Salvador Cabral who walked away with the two biggest checks.
"Chava" posted a 222 for the win aboard Candy Man U owned by Billy Powell taking home the $5,500 champions check and awards.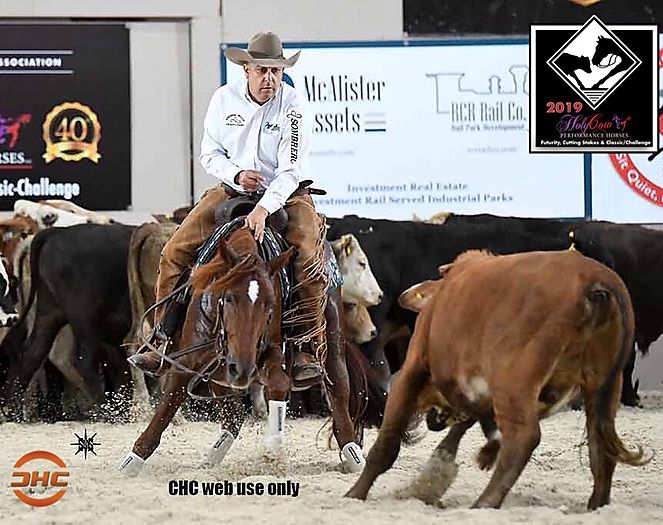 Salvador Cabral & Candy Man U - photo by: Scootem-N-Shootem Photography
Watch the winning run thanks to: Video West Productions
If that wasn't enough, Chava also took home a Reserve Champions check for $4,462.50 after scoring a 219 on Spending Benjamins owned by Lone Oak Performance Horses.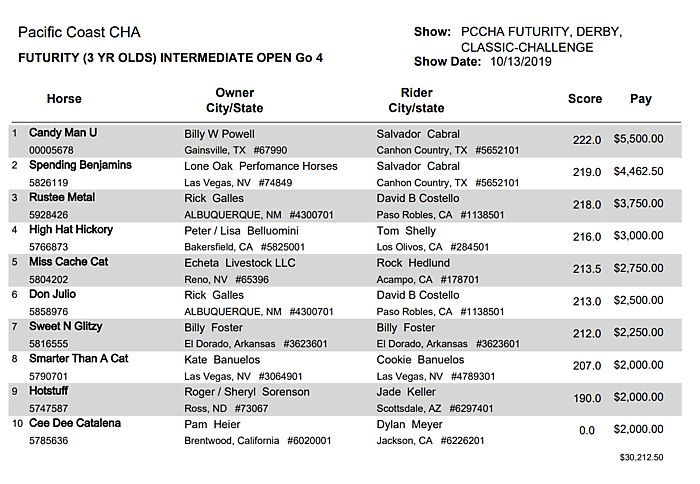 This wraps up the Open divisions and makes way for the Non Pro's and Amateurs who will try their luck in the sandbox at the beautiful South Point Casino. Stay tuned for more results as the 2019 PCCHA Futurity wraps up on Saturday with all the Amateur Finals.
.