Episode 3 Farrier Talk With Tommy Boudreau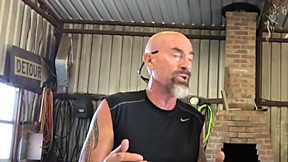 In today's episode of "Farrier Talk" with Tommy Boudreau, he talks to us about some of the legends in the sport of cutting he's been fortunate enough to be a part of. This goes all the way back to when Tommy was shoeing for Bill Freeman and being involved with NCHA Triple Crown Champion and legendary sire Smart Little Lena as well as many of the other great horses in that program during those years.

Tommy has built up an impressive list of names on his resume' and was also an integral part of other such great cutting horse sires such as Freckles Playboy, Peptoboonsmal and Dual Pep while they at Alpha Equine Breeding Center with Dr. Baker. Most recently while shoeing for Tatum Rice he has also been an integral part of Hashtags career over the last few years who will this year claim the NCHA Open Horse Of The Year Title.

Tommy takes great pride in being associated with these notable horses and considers it an honor to have been trusted with their shoeing responsibilities.



Be sure to tune in next week as Tommy discusses the importance of building up a relationship with not only the trainer but also the vet responsible for the horses he shoes.
.