Nineteen Ten and Kelby Phillips top herd work finals at the NRCHA Open Futurity ®, presented by Metallic Cat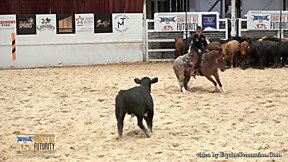 Excitement was high as herd work—the first leg of the Futurity Finals triathlon—got underway this morning in the famed Will Rogers Coliseum at the $1.2 million dollar
National Reined Cow Horse Association Snaffle Bit Futurity ®
, presented by
Metallic Cat
. First on the schedule were three sets of Intermediate and Limited Open herd, followed by two sets of the Non Pro Futurity presented by Discount Tire, and finally the start of the highly anticipated Open Futurity Finals.
Each of the 25 Open competitors is battling for a chance at the $125,000 first-place paycheck, hoping to see the journey they began
in Fort Worth, Texas, at Will Rogers Memorial Center on October 4, produce a championship.
With 15 Limited Open teams testing the herd, it was Tweenkle Lights (CD Lights x For Her Eyes Only x Colonels Smoking Gun), ridden by Tyler Merrill for owner Andi Paul, moving to the top spot with a 219.5. The 2016 mare was bred by Mike and Kelly Warner. Tweenkle Lights and Merrill are the only pair qualified for all three Open Finals. Their 219.5 placed them fifth in the Intermediate Open herd, as well as tying them for fifth in the Open.
Shiners Tuff Chic (Shiners Voodoo Dr x My Boots Are Tuff x Woody Be Tuff), the stunning 2016 palomino mare bred by W.T. Waggoner Estate and owned by Lana Corless, was ridden by Sarah Lyn Kennedy to a 216.5 for second in the Limited Open herd.
Working last in the first set TBR Wright Moonshine (Cats Moonshine x Wright Time To Play x Lenas Wright On), ridden by Shane Steffen for owner Darci Roat, cruised to a tie for the top spot in the Intermediate Open herd with an outstanding 222. TBR Wright Moonshine was bred by Diane Edwards. Sharing top honors with an identical 222 was PRF Peptos Smart Cat (WR This Cats Smart x Wild Francine x Peptoboonsmal), ridden by Jared Jones for Tori Simons.
TBR Wright Moonshine ridden by Shane Steffen
PRF Peptos Smart Cat ridden by Jared Jones
_________________________________________________________________________________________________
Non Pro Futurity Finals Herd Work
With precise cuts and the same poised showmanship that made her a 2019 NRCHA World's Greatest Horseman Finalist, it was Abbie Phillips and CR Tuff Guns N Roses (Woody B Tuff x Gypsy Rose Rey x Dual Rey) with a commanding 221.5 who won first across the board in the Non Pro, Intermediate Non Pro and Novice Non Pro Finals. The silky smooth 2016 gelding bred by Center Ranch gave the same consistent performances in the preliminaries where Phillips cashed big go round checks all the way through in reined work and herd work.
The stylish 2016 roan stallion PRF Peptos Smart Cat, bred by Peter De Leeuw, is pulling double duty having qualified with Tori Simons for all three divisions of the Non Pro Finals. Simons was all smiles following her 220 out of the herd, which placed her second in the Novice Non Pro and third in both the Intermediate and Non Pro divisions. Splitting second and third with Simons in both the Non Pro and Intermediate Non Pro with a big 220 was Parke Greeson. Greeson rode SCR BetThisTime (Bet Hesa Cat x PRF One Time Candi x One Time Pepto), bred by Milton and Bridey Greeson. The 2016 stallion is owned by Sarco Creek Ranch.
_________________________________________________________________________________________________
Open Futurity Finals Herd Work
The husband and wife team of Kelby and Abbie Phillips had a successful day in the Will Rogers proving their herd work skills. Nineteen Ten (Hickory Holly Time x Lil Miss Shiney Chex x Shining Spark), bred by Carol Rose and owned by DT Horses, LLC, was ridden by Kelby to a 224 out of the herd to win the Open Futurity herd work by a decisive three-point margin over second. Nineteen Ten entered the Finals in a 14-16 place split with a 665.5. A testament to the caliber of 3-year-old equine talent on display, it took a score of 654 to be amongst the 25 Open finalists out of the initial 274 Open entries.
RYourChecksSmokin, which is one of two horses qualified for the Open Finals by leading NRCHA Professional Sarah Dawson, worked eighth in the second set to a crowd-pleasing 221 for second. RYourChecksSmokin (Dual R Smokin x Checkers Live Oak x Im Countin Checks) came into the sudden-death finals ranked second overall with a 662 out of the prelims. The 2016 mare was bred by Stuart Bozeman and is owned by Nonie Casselman-Reed.
Third and fourth in the Open herd, as well as in the Intermediate, were Here Comes The Boon (Once In A Blu Boon x Sta Outta My Shorts x Shorty Lena), owned by Rocking BS Ranch and ridden by Lance Johnston with a 220, and Fabulous Fletch (Royal Fletch x Little Smart Ginger x Smart Little Lena), owned by Kit and Charlie Moncrief and ridden by NRCHA $1 Million Dollar Rider Boyd Rice to a 220.
Rounding out the top five in the ultra-competitive Open herd finals with a score of 219.5 was a tie betweenTweenkle Lights (CD Lights x For Her Eyes Only x Colonels Smoking Gun), ridden by Tyler Merrill for owner Andi Paul, and Annies One Time (One Time Pepto x Shiney Nu Annie x Shining Spark), ridden by Nick Dowers for Wagonhound Land & Livestock.
.