2019 NRCHA Metallic Cat Snaffle Bit Futurity Open Championship Earned After Thrilling Fence Runs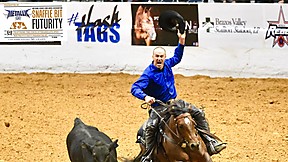 The National Reined Cow Horse Association Snaffle Bit Futurity is an event that so many look forward to all year because it is packed with action from beginning to end. This year did not disappoint, to say the least!
When the Open finals kicked off with the herd work, it was clear that everyone was really going for it to get a big start on their composite. That paid off for Kelby Phillips when he earned a leading 224 on Nineteen Ten (Hickory Holly Time x Lil Miss Shiney Chex), owned by DT Horses LLC.
When Kelby and the stallion then marked a 221.5 to top the rein work, their 445.5 was leading the composite by a significant margin – but they say it all comes down to the fence work, and that certainly proved true last night.
Lance Johnston and Rocking BS Ranch's Here Comes The Boon (Once In A Blu Boon x Stay Outta My Shorts) had a solid composite of 438 going into the fence work, but since he was trailing Kelby by 7.5 points, he knew something really special would have to happen down the fence to have a chance at the title.
Something special is exactly what happened when the pair put together an incredible run with a spunky black cow that was backed by everyone in the coliseum! When Lance was making his last circle, he threw his fist up in the air knowing that the run made all the difference. A 226.5 lit up on the board and launched his composite to a 664.5, which tied Kelby's composite after he and Nineteen Ten marked a 219 down the fence.
Since the fence work is the tie breaker, Lance and Here Comes The Boon reigned victorious in the Open and also picked up the Intermediate Championship to make the night even sweeter. Between both Championships, the pair banked hefty paychecks totaling $155,000.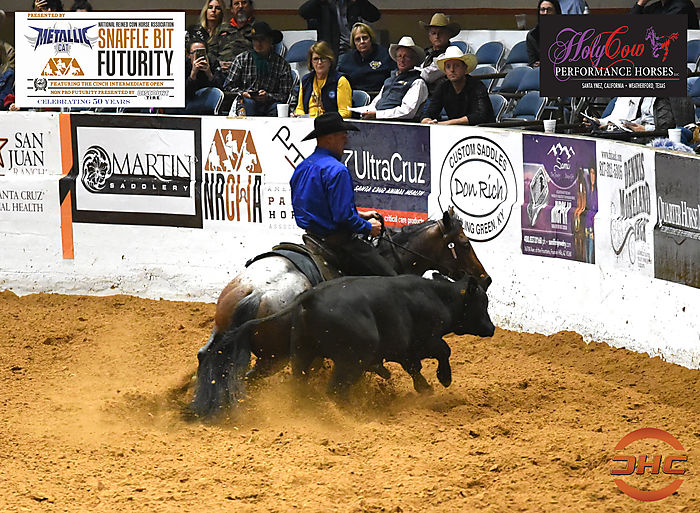 Lance Johnston & Here Comes The Boon
Lance knew the stallion was special from the moment he saw him and encouraged Brent and Susie Stewart to purchase him last year at the 2018 NRCHA Western Bloodstock Performance Horse Sale last year. Here Comes The Boon was last year's high-selling 2-year-old at $50,000, but we would say he was well worth the investment! They banked an additional $8,512 for taking fourth in the NRCHA Western Bloodstock Sale Incentive Open composite.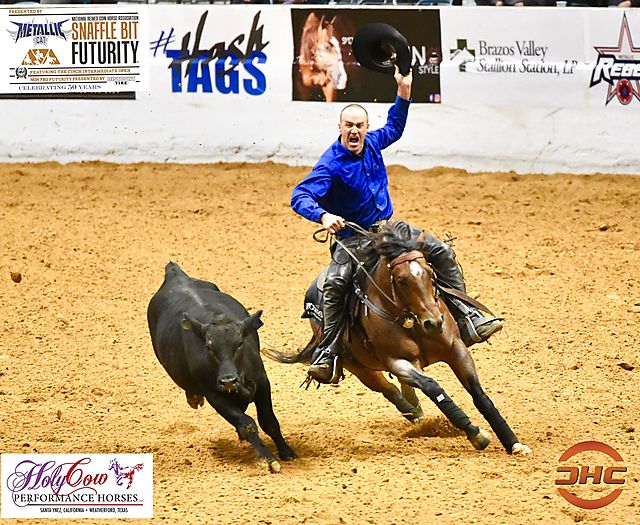 Lance Johnston & Here Comes The Boon
The NRCHA Snaffle Bit Futurity Open Championship is a title that Lance has had his sights set on throughout most of his life, and we just want to congratulate him on an incredible show that allowed that dream to become a reality!
Kelby Phillips and Nineteen Ten certainly did not go home empty handed after their great performances in Fort Worth. They took home the Reserve Championship and $100,000 for their efforts, and we are looking forward to seeing what the talented pair will do in the future.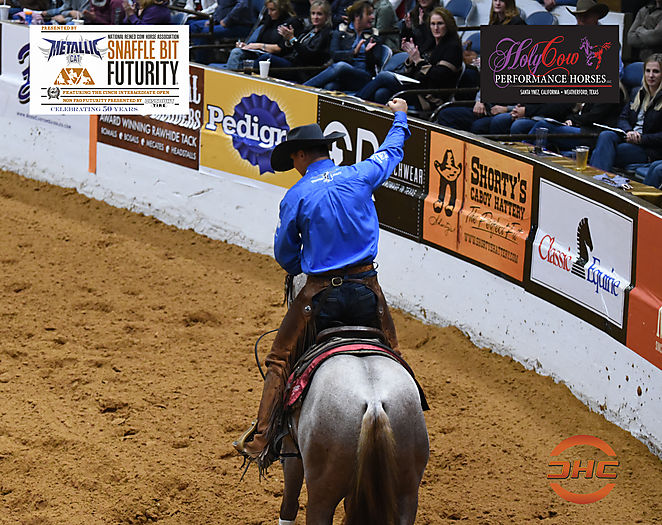 Kelby Phillips & Nineteen Ten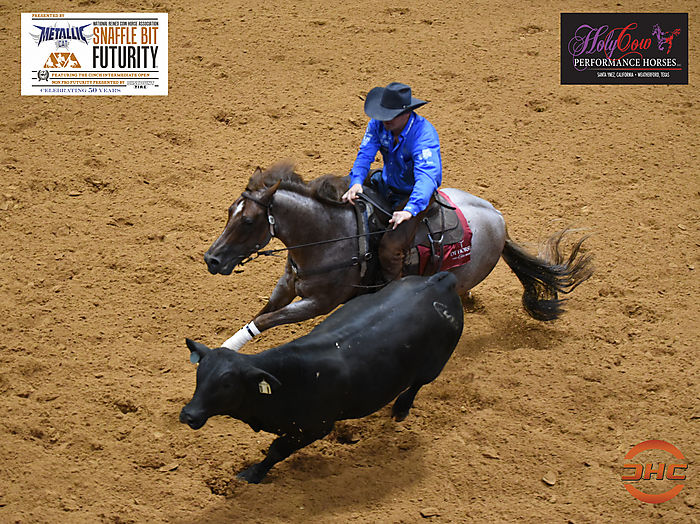 Kelby Phillips & Nineteen Ten
Nevada cowboy, Nick Dowers always puts on a show when he enters the pen and grabs everyone's attention with his great horsemanship and his trademark mustache, and last night he proved yet again that he is a force to be reckoned with. He piloted Annies One Time (One Time Pepto x Shiney Nu Annie), owned by Wagonhound Land & Livestock, to a 662 (219.5 herd/217 rein/225.5 fence) to take home third place, worth $70,000.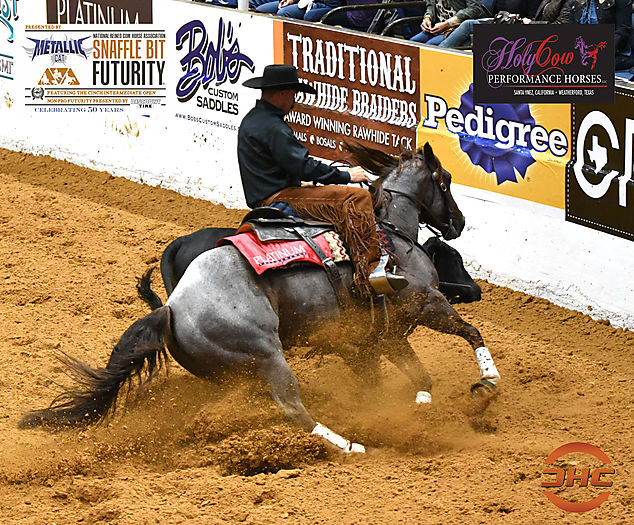 Nick Dowers & Annie One Time
CINCH Intermediate Open Futurity
As mentioned above, Lance Johnston and Here Comes The Boone also took home the Intermediate Open Championship after rounding out there show with an amazing fence run!
The Reserve Intermediate Open Championship was awarded to Shane Steffen and TBR Wright Moonshine (Cats Moonshine x Wright Time To Play), owned by Darci Roat, after marking a 222 out of the herd, a 220.5 in the rein work and a 221.5 down the fence. That impressive 664 composite earned them $25,000 to take home!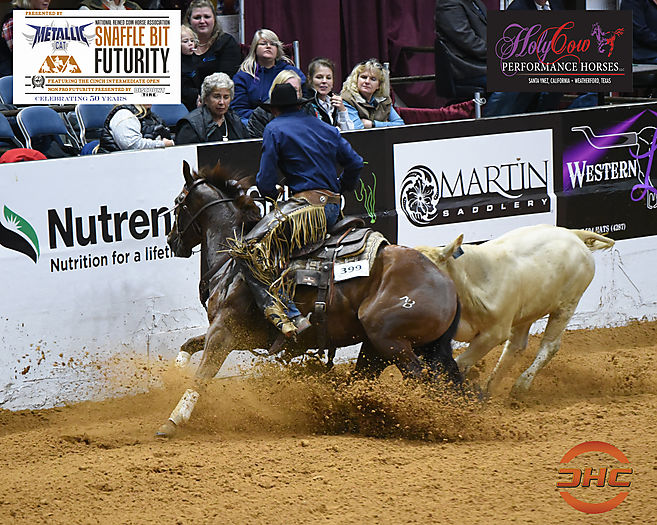 Shane Steffen & TBR Wright Moonshine
Boyd Rice and Fabulous Fletch (Royal Fletch x Little Smart Ginger) stayed consistent and strong throughout each leg of the finals. Their 220 in the herd, 217.5 in the rein work and 222.5 down the fence gave them and strong 660 composite.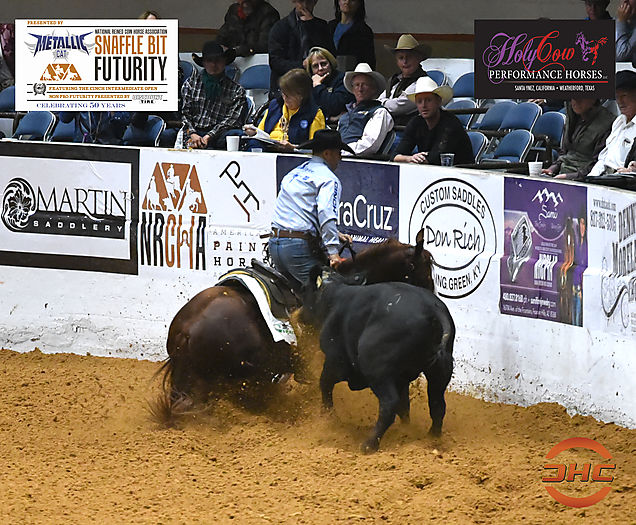 Boyd Rice & Fabulous Fletch
Boyd and the stallion, owned by Charlie and Kit Moncrief, took home third-place honors in the Intermediate and fourth in the Open for their efforts. They took home a total of $75,000 for their placings in both divisions.
Limited Open Futurity
The Limited Open Futurity Championship went to Tripp Townsend and TRR Lucky Brazos (Pepcid x TRR Ms Lucky Gun), who is owned by Tongue River Ranch after marked a great fence run worth a score of 223. That gave them a 653 composite (214 herd/216 rein) to top the field of Limited riders. The title was worth $17,534!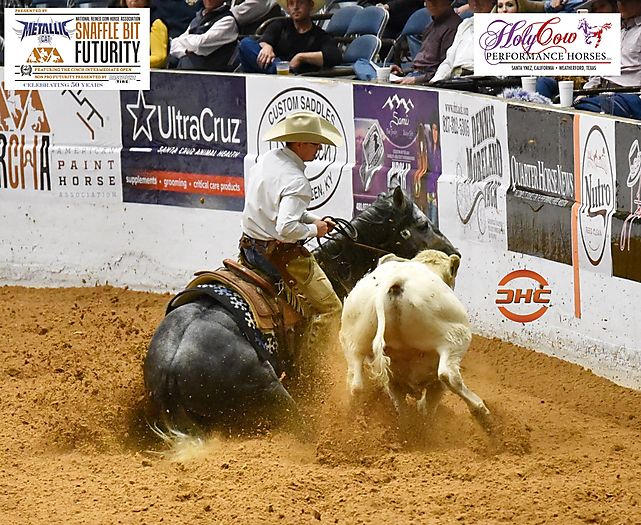 Tripp Townsend & TRR Lucky Brazos
Vintage Ambrosia (One Fine Vintage x Miss Fancy Juice) and James Ferreira, marked a 216 in the herd and rein work and a 219.5 down the fence for a 651.5 composite. James and the mare, owned by Robertson Ranches, picked up the Reserve Championship and $13,158 for their good marks.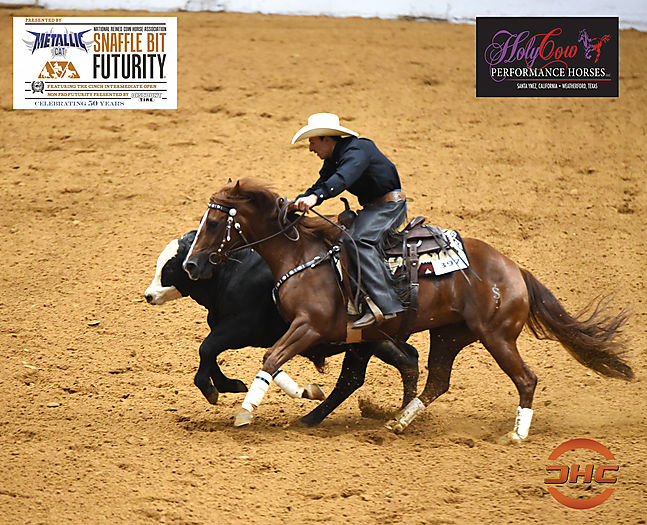 Vintage Ambrosia & James Ferreira
Third place went to Cantankerous Kitty (One Time Pepto x Cancan Kitty), owned by Troop Quarter Horses, and Clayton Anderson who marked a 647.5 (215 herd/ 217 rein/ 215.5 cow). They took home $10,965 for their performances.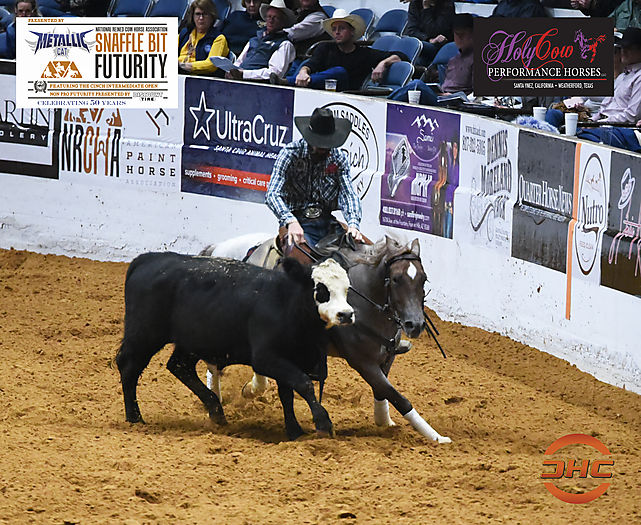 Cantankerous Kitty & Clayton Anderson
Congratulations to all of the finalists and a big thank you goes out to Holy Cow Performance Horses for partnering with us to help us get everyone updates from the event. We couldn't do what we do without the support of our great sponsors!
.