Metallic Rebel Southern Futurity Open Results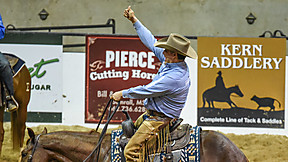 The 2019 Metallic Rebel Southern Futurity is well underway and the Open classes in the books! With more money than ever before added to this year's payout it has been one to remember in Jackson, MS!
The producers of this show always go out of their way to make it a special stop for competitors each year, but this year has been the best yet. They added more money, prizes, and classes to make it a great experience for everyone. We commend them for going the extra mile for our competitors! That being said, we will go into a little breakdown of the Open classes that started off the week.
Classic Open
In the Classic Open it was Beau Galyean and Desiresomemetallic (Metallic Cat x Desire Some Freckles), owned by the Atwood Quarter Horses, that finished on top marking a huge 226! "Desi" was just recently purchased from Beau and his wife Ashley but they were fortunate enough to be able to keep the talented mare in their barn. She is gritty like her mother who is now one of the all-time leading cutting producers and a beautiful mover to boot! This win added another $15,000 to her already over $150,000 in lifetime earnings. Desi's Championship was only the beginning of the awesome show Beau's barn has had so far in Jackson!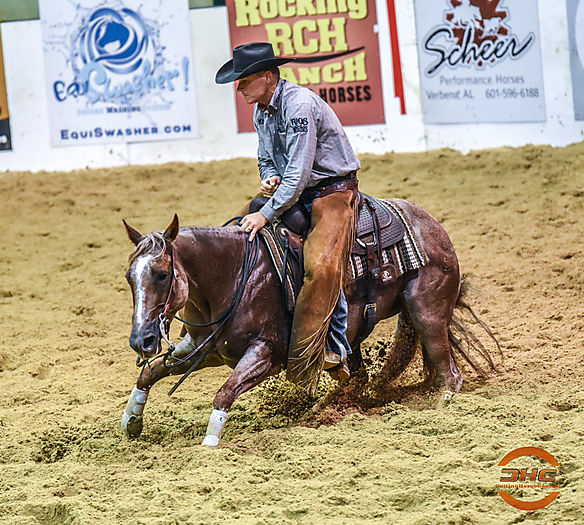 Beau Galyean and Desiresomemetallic
Reserve Champion was Brett McGlothlin marking a 222 riding Somethingtobelievein (Hydrive Cat x Playin T Etta), owned by he and his wife Jody. This was "Kate's" last Open aged event finals and certainly bittersweet. She has been a once in a lifetime mare for this family and we are thinking will have a forever home. She received a $12,742.40 check to go with her impressive $300,000 already won in the cutting arena!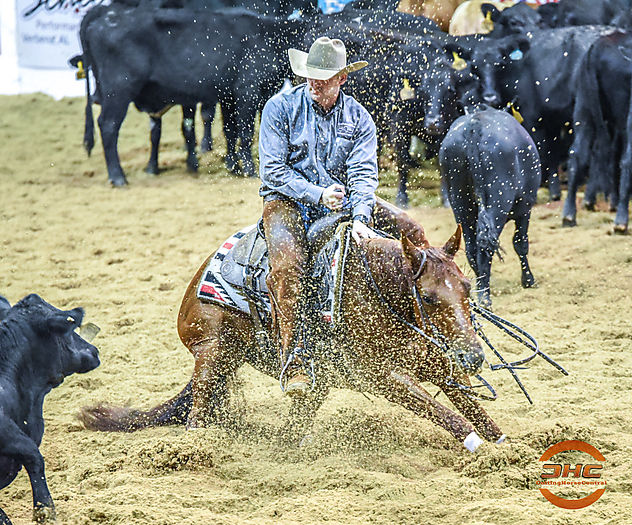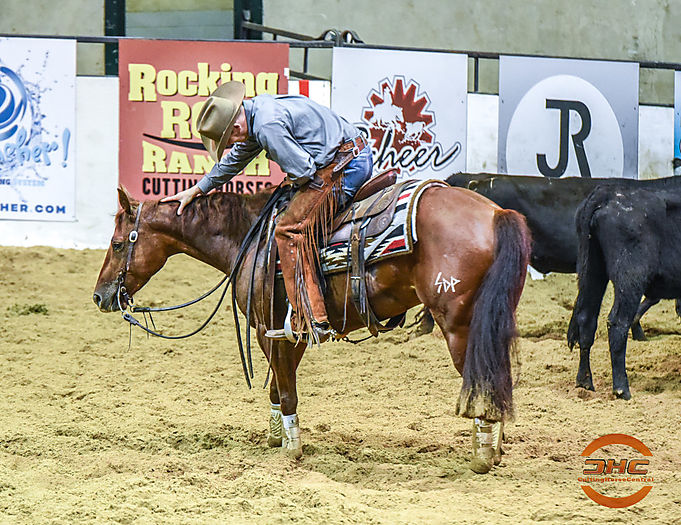 Brett McGlothlin and Somethingtobelievein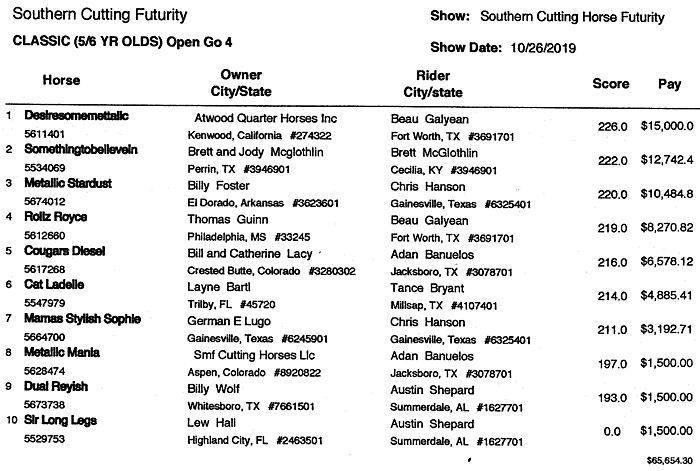 Classic Limited Open
In the Classic Open Limited Division Finals it was a new face, Chet Simoneaux and Cat In A Dually (High Brow CD), owned by Khader Daoud, that marked a 223 for the win! Chet is assistant trainer to Austin Shepard, now $8million dollar trainer in the cutting horse industry. The separate Limited classes gave many of these assistant trainers a chance to showcase their skills and get some quality experience in the show pen. Chet definitely rose to the occasion topping these finals with a fantastic run! This win added $5,024.76 to his earnings and we are sure there will be much more to come for this talented, young trainer!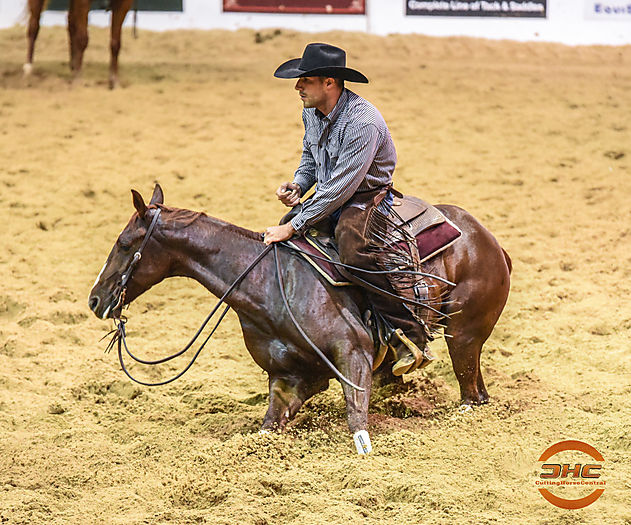 Chet Simoneaux and Cat In A Dually
Reserve Champion was Florida native, Bill Kid marking a 219 aboard That Sly Katz (That Sly Cat), owned by Sharon Overstreet. They collected a nice $4,155.93 check to go along with their title! This was another new addition to a program and we bet that they are very happy to have purchased this great gelding not long ago!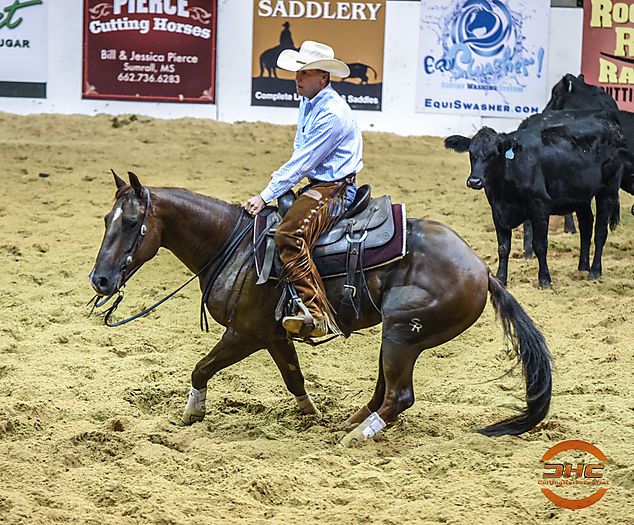 Bill Kid and That Sly Katz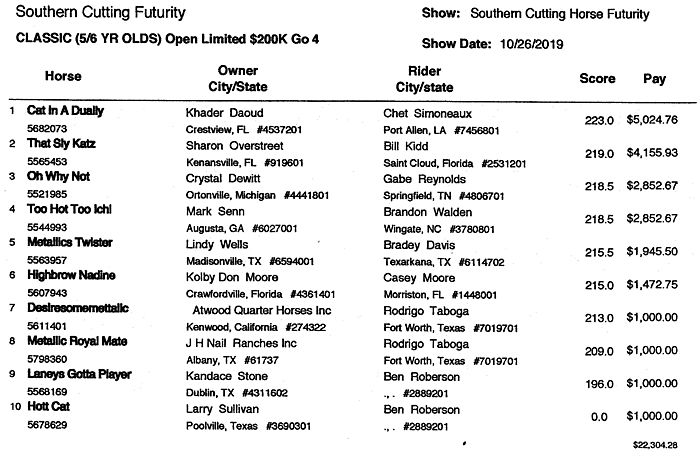 Derby Open
The Derby Open was full of huge runs and talented teams. As we have said many times before, it is anyone's game in these Open finals. The horses are all so special along with the best riders in the country piloting them. There were five duo's with a 220 or better and many more going for the gusto to try to catch them. It was a fun finals to watch. In the end it was Rodrigo Taboga and The Dewd (Metallic Cat x Sweet Abra), owned by Beau and Ashley Galyean, that continued their barn's amazing show marking a stellar 228 for the win and the $15,000 check!
Rodrigo joined the Galyean team at about this time last year and has been in the spotlight ever sense. He has won countless limited division championships this year and now has made several open finals. This was his first Open Division win but he is always one to keep your eye on if he is in the finals! "Dude" holds a place in the hearts of the barn being a full sibling to Metallic Rebel and just an all-around sweet horse. He has been a winner for every person that has shown him but he and Rodrigo have made an excellent team all year long.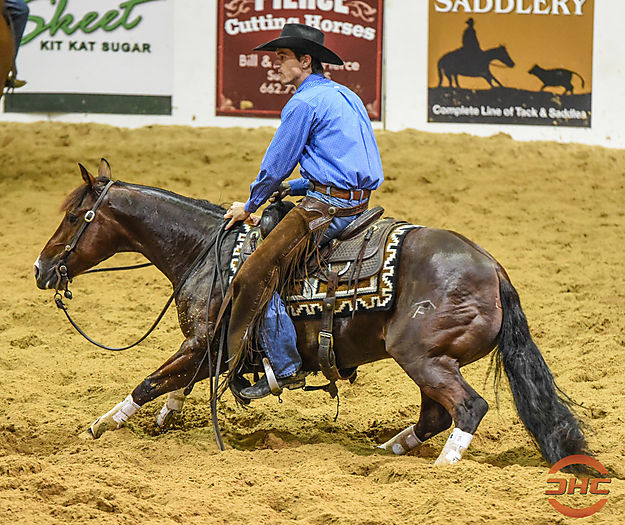 Rodrigo Taboga and The Dewd
Reserve Champion was another duo we have seen many times over in the winner's circle this year. Kelle Earnheart and Hottist (Hottish x Light N Lily), owned by Julie Jarma, marked a beautiful 225 to take home the $12,500 Reserve Champion's check! "Julio" is a very unique horse with tons of ability it will be exciting to see what the future has in store for he and Kelle!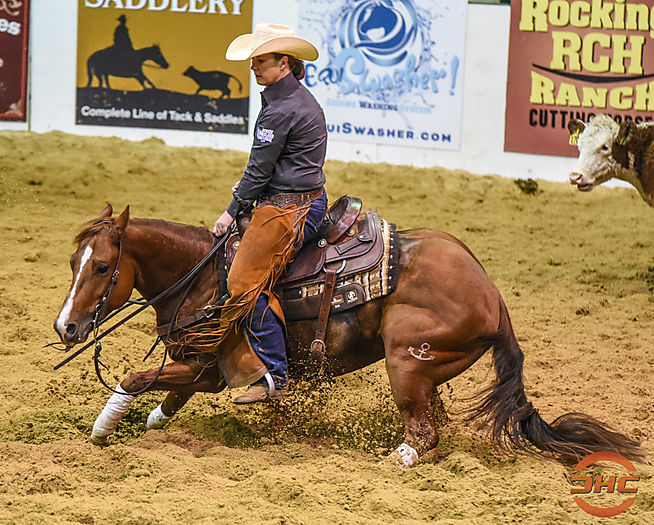 Kelle Earnheart and Hottist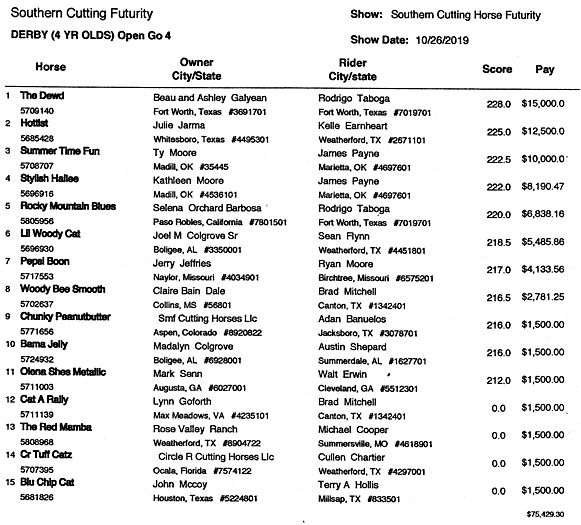 Derby Limited Open
In the Derby Open Limited Division Rodrigo Taboga dominated once again marking a 225 aboard Rocky Mountain Blues (Smooth As A Cat x Diva In Denim), owned by Salena Barbosa. They claimed a $5,188.31 for their first Championship together! "Rocky" has had a great year especially lately making several finals and taking home a number of titles. He was also one of the five marking a 220 or better in the Derby Open finals! He is coming into his own with so much style and eye appeal, something that was anticipated by many. It is always fun to see a plan work out the way it was envisioned!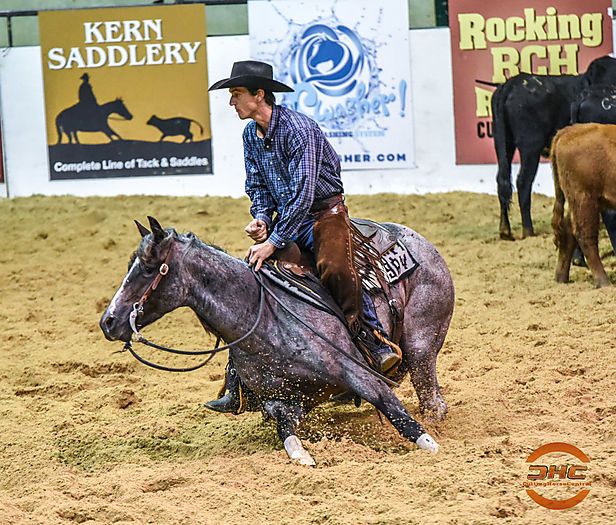 Rodrigo Taboga and Rocky Mountain Blues
Reserve Champion was also Rodrigo marking a 222 aboard The Dewd (Metallic Cat x Sweet Abra), owned by Beau and Ashley Galyean. They added another $4,207.90 to their earnings for the show! "Dude" is also being shown by Ashley in the Derby Non-Pro and will hopefully add even more to his earnings at the Southern Futurity!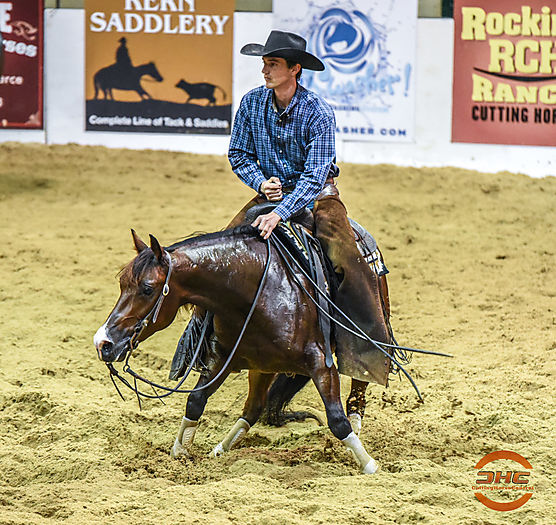 Rodrigo Taboga and The Dewd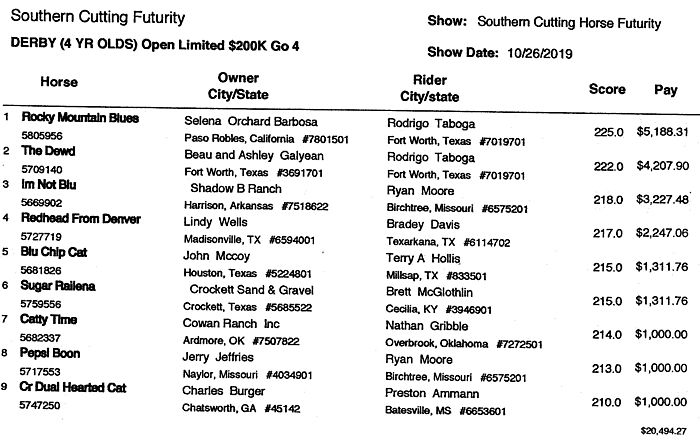 The Futurity Open was last to go and the show went above and beyond to make it a special evening! There was a formal grand entry posting our colors along with the title sponsor for this show, Metallic Rebel, being recognized. It was then stated that some very exciting things were coming about in Jackson with over a million dollars' worth of improvements to be done over the next year at the Kirk Fordice Equine Facility! There was a catfish dinner as well put on by a few of some of the biggest supports of cutting on this side of the Mississippi. Everyone was excited for the finals to say the least.
Futurity Limited Open
First to go in the evening was the Limited Open Futurity final where Jessie Pritchard rode Who Ya Callin Shorty (High Brow CD), owned by Shannon Daugherty, to a fantastic 220 to take home the Championship! This win was a sweet one in that this is one of Shannon's first show horses to own herself, and if anyone knows her they know she works so hard for everyone. Jessie is also one who puts the time in to do an excellent job on all of his horses. As we stated before this separate Limited Division has been great for all of the talented up and coming trainers to showcase their talents. This class was no different and Jessie was a fun one to watch. They collected a nice $4,637.14 for the win!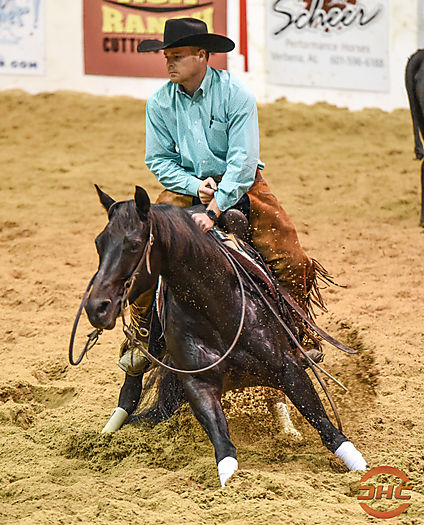 Jessie Pritchard and Who Ya Callin Shorty
Reserve Champion was Brett Cauble riding Pretty Kat (Kit Kat Sugar), owned by Jessica Cauble, marking a 212 to claim the $3,424.76 check. This duo lead the go rounds of both the Open Division and Limited Open Division making a statement at this show!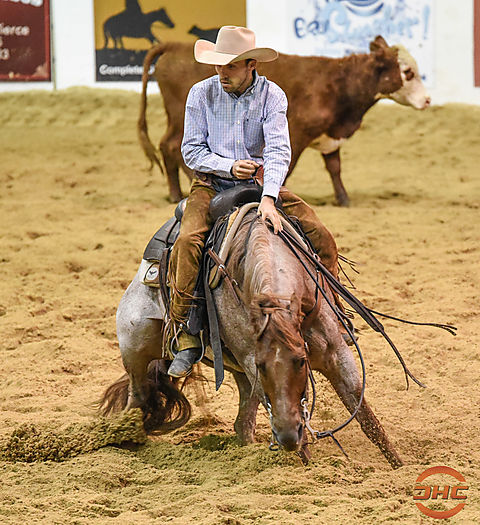 Brett Cauble and Pretty Kat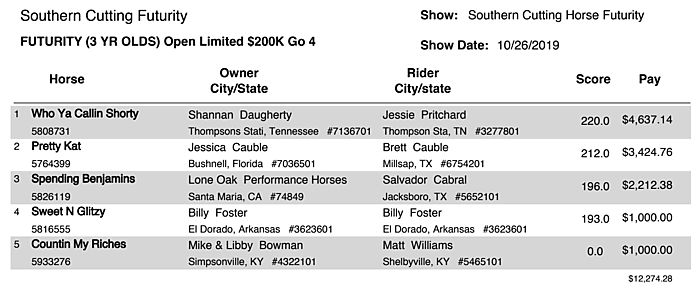 Open Futurity
The Open Futurity Finals rounded out the evening after the Paul and Julie Hansma horse raffle was drawn. Our cutting family raised over $143,000 for this special family which is humbling to think about. We are so thankful for everyone who played a part in making this possible for the Hansma's from the ticket buyers to Jenna Hunt who donated the beautiful colt. It was truly inspiring to watch unfold.
Once things settled after the raffle it was time for the finals to begin. It was a tough set of cattle but Salvador Cabral and Candy Man (Kit Kat Sugar x Cotton Candy), owned by Billy Powell, came through last out in the set marking a 224 for the win! It seemed like the cards were stacked against him being late in the testy set as several before him tried their hardest to put together a good run and it proved to be difficult. "Chava" as we all know him, was able to set up his cute gelding for success handling the situation beautifully. He and everyone in the arena were beyond excited for their success when the buzzer rang it was definitely goose bump worthy! The win brought in an impressive $15,050.67 check along with the $10,027.80 Southern Futurity Stallion Incentive check! It was a memorable night for this team!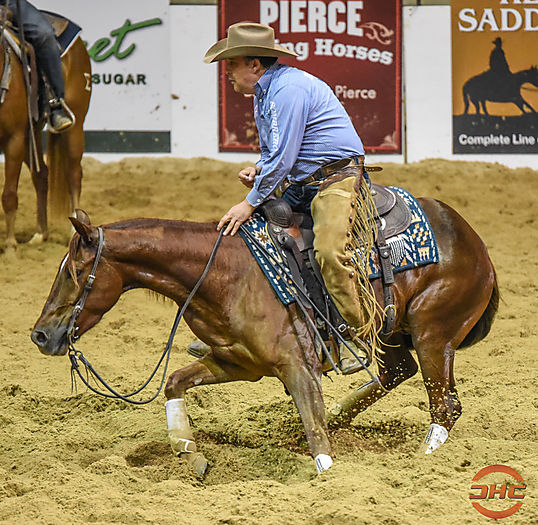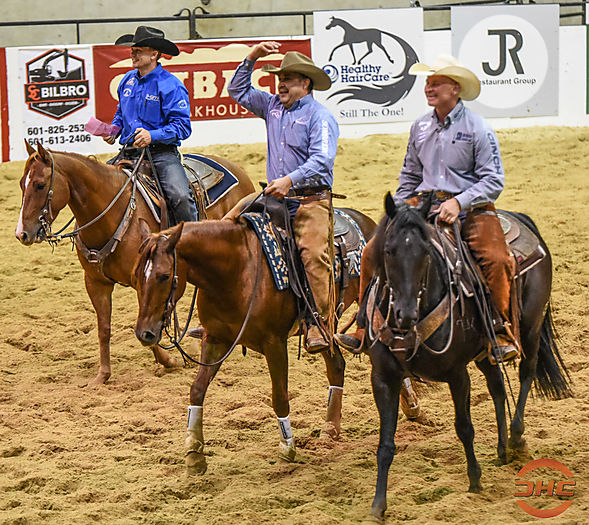 Salvador Cabral and Candy Man
Co-Reserve Champion was actually James Payne with himself marking a 218 aboard both of his finals horses. He rode Blu Too Smart (Once In A Blu Boon), owned by Robert Masterson, who also was second place in the Stallion Incentive winning $8,022.24; and Rey Playin Up, owned by Kathleen Moore. They each received an $11,949.33 check to go along with their titles. James proved once again how great he is at getting these small futurity horses ready to go for the fall, it is always impressive to see.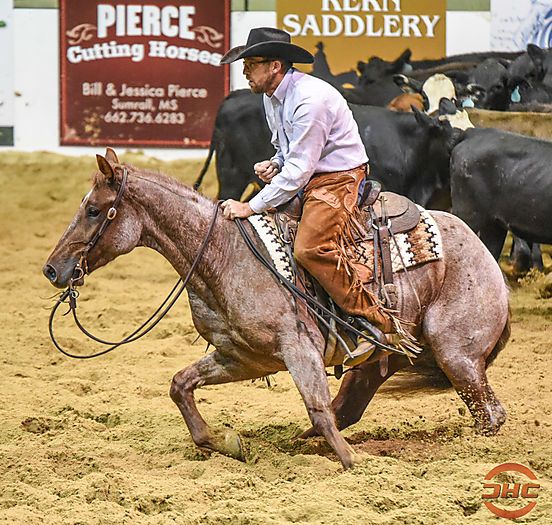 James Payne and Blu Too Smart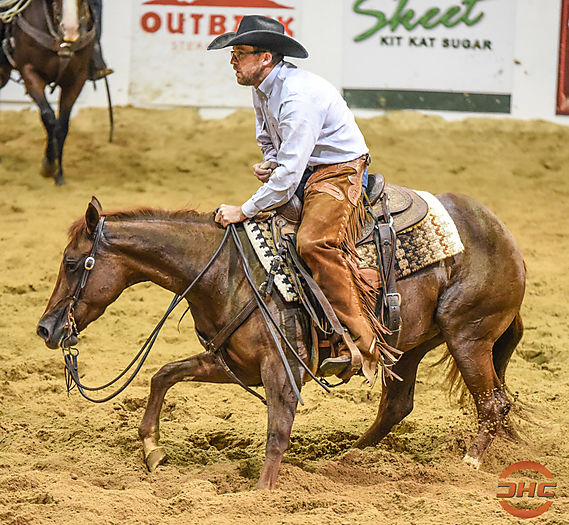 James Payne and Rey Playin Up
The Open Classes mark the end for many of these six-year old's aged event careers. We have enjoyed watching them and seeing their careers unfold over the past several years and feel fortunate to have done so. It also gets us even more excited to see the new three-year olds make their debut next month to join all of the small futurity horses that now get a little vacation. That being said, we still have a few shows to go including the Waco Texas Futurity next week. It seems as though there is always another show coming up, but that is why we love this crazy sport so much, there is always something exciting yet to come!
Congratulation to all of the Champion's and finalists from all of us here at Cutting Horse Central! For full results from the show check out www.southerncuttingfuturity.com
.