High Brow Cat Dies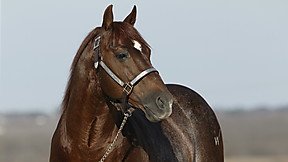 By: Quarter Horse News
The Western performance horse industry has changed forever with the loss of an undeniable legend.
All-time leading sire High Brow Cat was humanely euthanized earlier this week, co-owner Darren Blanton confirmed Thursday. The stallion was 31 years old.
"We all loved him and this was a difficult decision," Blanton said. "It's a sad time for us. But, we had no choice — he was 31 and it was time. It wasn't painful for him, but it was painful for him to continue."
An Equi-Stat Elite $82 Million Sire at the time of his death, High Brow Cat has arguably made the biggest impact on the cutting horse industry of any stallion in the sport's history. His sons and daughters have carried the industry into the 21stcentury.
Of the 1,853 performers recorded in Equi-Stat on High Brow Cat's offspring record, a remarkable 236 have garnered more than $100,000 each. Seven of his foals have surpassed the half-million-dollar mark in earnings, and they're all topped by $850,628 earner Dont Look Twice (out of Tapt Twice x Dual Pep), the 2011 National Cutting Horse Association (NCHA) Horse of the Year.
To read the full article, CLICK HERE
.