Eric Magby Trainer Spotlight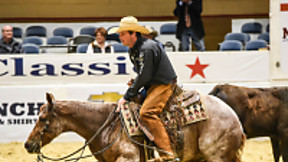 Eric Magby is the resident trainer for Brown XL Ranch, owned by Spanky Brown, in Wilburton, Oklahoma. With the help and support of his wife, Buffy, Eric trains the ranch's horses while also being able to take horses for the public. He started in the industry by showing in the youth and amateur classes, but, after he graduated from high school in 2003, he turned in his card to train professionally and started his career under Mackie Hursh. Eric has worked for many trainers including one of his biggest influences, Boyd Rice. He has also been largely influenced by Hall of Fame trainer Lloyd Cox. Both Lloyd and Boyd have helped Eric so much over the years both in and out of the show pen.



Eric and One Sneaky Bluegrass

Eric grew up helping his dad farm. Around 15 years old, he would drive a semi pulling a trailer full of green beans from Mule Shoe, TX to Fort Smith, AR, and back again. After his dad's passing when Eric was only 18 and about to graduate high school he put a lot of thought into what he wanted to do with his life career wise. As he thought about all of his dad's hard work and sacrifices, Eric was inspired to pursue a future as a cutting horse trainer. He wanted to put his dad's lessons to good use and make him proud. With that goal in mind, Eric has continued to work his way up in the sport and has quickly made a name for himself. Like so many others, he has his eyes set on the NCHA Futurity and is striving to achieve the honor of making the NCHA Open Futurity Finals. It is one of his major goals he wants to accomplish when talking about what he has his heart set on in the future.




So far, Eric's best showing memories have been making his first finals in the Will Rogers and making the Derby Open finals riding One Sneaky Bluegrass, a very special gelding to this family.




The aspect of cutting Eric loves the most is the process of training these amazing athletes. He enjoys seeing and feeling the progress the horses make and being a part of it. Starting them and taking them all the way to becoming show horses is so rewarding. The experience and the satisfaction he gets from being able to provide for his family keeps him going each day. Ultimately, families are the biggest part of this sport, and Eric wants to be a good example for his son by achieving the goals he sets for himself and the horses.



Eric with his wife Buffy and son Brody

Of course, we all know this sport is challenging, and we have to take in every worthwhile moment. However, sometimes the most important moments are not the best memories because they were the lost cows, the missed cuts, and the hard to swallow critiques. Eric knows the low points are invaluable to shaping you into the competitor you want to be. He takes criticisms and works toward getting better in all aspects, and he offers the same piece of advice to up and coming trainers. He wants to remind them to always work hard, never give up, take in the lessons that will make them better, and to remember too the funny moments along the way. For Eric, his funniest memory is when his saddle pad came out from under his saddle right in the middle of when he was showing in Sweetwater, TX. Almost everyone in the sport has a similar experience that has us laughing with our friends and is a part of what keeps us truly hooked!




Eric told us that if he had to choose to be anything other than a horse trainer he would be a rancher and incorporate his knowledge from working with his dad as a kid. We are certainly glad he is a cutting horse trainer though! He and his family are loved by many and always supported in their endeavors. It has been wonderful seeing them reach their goals and watching Eric become one of our best up and coming trainers as of late! We want to wish him and all the other trainers luck with the NCHA Futurity quickly approaching! We are looking forward to seeing everyone's hard work pay off in the biggest show of the year! To learn more about Eric and his training program check out his trainer profile on Cutting Horse Central! Eric Magby Trainer Profile
.